Here is my guide to the best ways to organize kitchen utensils.
Whenever I help people to declutter and organize thier kitchens. I start by finding a utensil holder.
Organizing your utensils upright into a pot frees up space in the kitchen drawers. Also, it makes finding and grabbing the utensil you want during cooking simple and convenient.
**Affiliate Disclosure: As an Amazon Associate I earn commission from qualifying purchases**
It has amazed me at the different choices available here are some of my favorites.
✅ Homemade Lazy Susan Hanging Utensil Project
Here is a clever idea using a lazy Susan upside down attached to the bottom of a kitchen cabinet.
Spin the holder around and easily grab the utensil you need. A great DIY project for a small kitchen.
✅DIY Wooden Utensil Holder
A simple DIY project with lovely rustic feeling result. The wooden container holds glass jars that are perfect for countertop storage in your country kitchen.
✅Hanging from a Bar
This picture show us clever and inventive ways to house you kitchen tools and utensils.
Note the wooden knife block, hanging rail with hooks and stainless steel utensil caddies.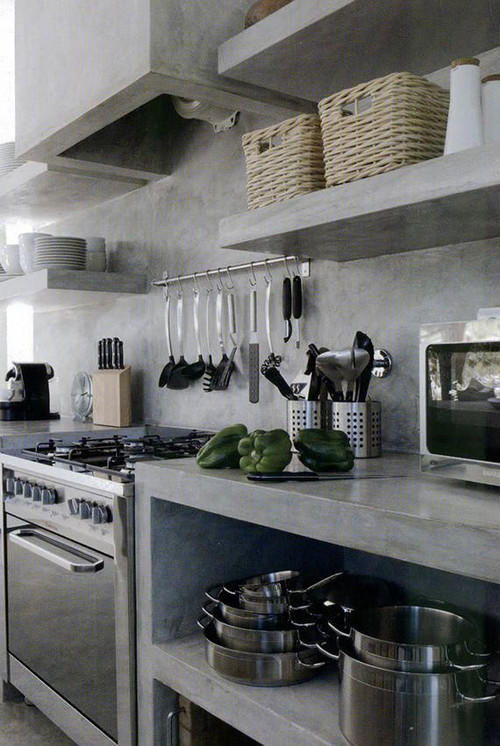 ✅ Inside Cupboard Using Hooks
If you are a keen baker, you will need to find clever storage solutions for all the equipment you regularly use.
Here a cupboard with hook is used to great effect.
✅ Use the Power of Magnets
Magnetic knife holders are a great way to keep knives organized and accessible while saving space in your kitchen
This is my own I've had it for many years. It holds all the cooks knives I own all in one place.
The magnets are really strong so everything is secure and safe.
✅ Green Ceramic Utensil Holder
My sister would love this green utensil holders. She is obsessed with buying green items for her kitchen, for example, her toaster and electric kettle are green.
✅ Bamboo Utensil Holders
I just love the look of this bamboo utensil holders. Will look great in most kitchens, fitting in with most kitchen styles of decor.
I love this design lattice bamboo utensil holder this looks really modern yet stylish.
✅ Country Kitchen Utensil Pots
I love the look of this country farmhouse kitchen utensil pots. The perfect way to keep your kitchen organized and tidy
This container made from galvanized corrugated steel and wood giving the impression of a barn door.
✅ Easy DIY Kitchen Utensil Organizer with Pegboard
They show here a simple DIY pegboard kitchen utensil hanger. The video shows easy to follow steps to installing a practical small kitchen tool holder.
✅ Le Creuset Utensil Crocks
I know plenty of people that just love the Le Creuset kitchen equipment ranges. This kind of utensil holders would really look great alongside a set of Le Creuset pots and pans in the same color.
Le Creuset utensil holders come in a wide range of colors. I love this blue crock that has a subtle ombre coloring.
Top 10 Tips for Choosing Utensil Holders
Before you organize the all your kitchen tools have a good declutter first. No point in organizing, broken, outdated or unused utensils. Either donate or discard unwanted items. Top Tip: never try to organize clutter!
Countertop utensil organizers need to be practical but attractive to look at.
when choosing a utensil holder consider those that come with a selection of kitchen utensils.They are often the same price as an "empty" holder but you end up with useful utensils as well.
Easy to access when you are cooking you need all your tools to be close at hand so you can just grab and go.
Simple to put the utensils away when cleaned and dry.
Make sure anything you choose for utensil storage is easy to clean and maintain.
Look around your home for items that can be repurposed for kitchen storage. For example, a pretty vase could become a utensil holder.
On a budget? Look at items in dollar stores that could be used for kitchen storage. Dollar stores sell hooks, screws and containers that can be cleverly to hang and store all your kitchen tools.
Give careful consideration to the way you store cooks knives. They need to be close at hand, yet in a safe place. I would recommend either a knife block or a magnetic knife holder.
To give your kitchen a minimalist look, try to keep all kitchen tools and utensils in drawers or cupboards.
Conclusion
I think every kitchen needs find a tidy way to store utensils on countertops. I hope you have been able to find the perfect utensil organization system for your kitchen.
Looking for More Kitchen Organization and Storage Ideas?