Please enjoy browsing my selection of vintage-inspired kitchen accessories and decor.
Including old-fashioned kitchens ideas. and vintage kitchen ideas on a budget. 1950s to 1930s style kitchen design ideas. Also, tips on how to do a retro kitchen with little money.
Vintage will mean different things to different people. However, usually belongs to those styles from 30 and more years ago.
**Affiliate Disclosure: As an Amazon Associate I earn commission from qualifying purchases**
It is now becoming difficult to find original vintage items. Never fear there are plenty of modern items you can find that has vintage styling.
Inspirational Picture of a Modern Vintage Style Kitchen
Here is an impressive picture of a well-styled vintage kitchen with modern touches.
I just love the colors and styling here is vintage but with modern conveniences.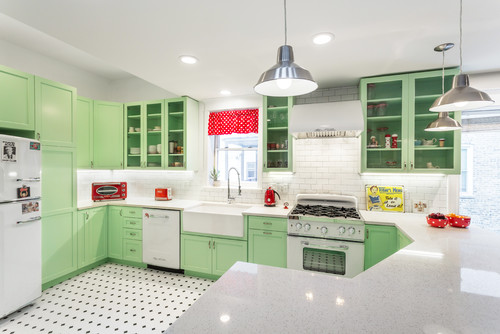 What makes this a vintage style kitchen?
Here are the elements I've picked out that make this kitchen a such good example of vintage style.
✅Retro and Vintage Kitchen Accessories
I've selected a few of my favorite retro-inspired accessories below.
✅Enamelled Kitchen Signs
Anyone for Coffee?
This sweet kitchen sign shows a lovely hot steaming cup of coffee in a stylized background.
This artwork will fit into any kitchen where the color scheme is creams, mochas, and browns.
✅ Old Style Coca Cola Bottle
Enamel signs are an easy and cheap way to bring retro accents into the kitchen. Great for vintage style on a tight budget.
I love the picture with the coca-cola bottle and a cheeky little girl peeking around the side.
✅ Retro Style Hot Fudge Sundae 20 Cents
Wow, I bet you can't buy a hot fudge sundae for 20 cents and more.
They have aged this tin sign with a crackle background to give an antique look.
✅Red and White Polka Dot Kitchen Accessories
Red polka dot kitchen accessories are gorgeous, they will perk up the color scheme in any kitchen but they go really well in a Kitchen that has a vintage or retro style.
✅Red and White Polka Dot Teapot
Polka dot items bring a sense of the past into your home. I could just imagine Grandma pouring out a cup of tea out of something similar.
✅Pioneer Wooden Polka Dot Utensil Holder
Here a pretty red and white polka dot is set off by a turquoise rim.
This utensil holder is practical too, as it is wide enough for all your cooking utensils. Keeping them all in one place so you just grab and go.
✅Vintage Green Kitchen Accessories
I think this particular color green works really well in a kitchen that is predominately white or cream.
This kind of pale green certainly makes a statement in the kitchen and is just so 1950s in style.
✅Wrought Iron Kitchen Accessories
Wrought Iron is a great material to choose for accessory products in the kitchen.
Wrought iron can be bent into all kinds of shapes and sizes, as we can see here with this attractive paper towel dispenser.
✅Reproduction Vintage Porcelain Canister Sets
Easily and relatively cheaply, you can get the vintage look for your kitchen by purchasing a set of old-fashioned style canister sets.
There are plenty of interesting vintage-styled canister sets, I like the sets that have an early 20th-century look about them with distressed-styled advertising logos printed onto the canisters.
✅Pink Retro Style Kitchen Accessories
If you have a daring personality, you can go for pink Kitchen accessories to grace your kitchen.
I have to say I'm just not bold enough to go for the pink, but admire anyone who does.
✅Retro Style Pink Whistling Tea Kettle
This is bold and bright that will look great in any kitchen with a pink and white theme.
✅Pink Bread Bin and Canister Set
More pink here with this practical set of canisters with a large bread bin.
The set is made from metal and the top of the bread bin is made from bamboo and can be used as a cutting board.
✅Vintage Clocks for Kitchen Walls
A quick and cheap way to introduce an old-fashioned kitchen design into the kitchen is with a clock that has vintage styling.
✅1950s Style Kitchen Curtains
These kitchen curtains are really fun and funky. I love the geometric fifties or sixties-inspired designs.
Look out for bold prints and colors, as will be a fabulous addition to your kitchen windows.
✅Old-Fashioned Kitchen Timers
One gadget that I just have to have in the kitchen when cooking is a reliable timer. I like the analog types as you never have to worry about changing the batteries.
I am a forgetful person, so a timer helps me stop burning everything as I make dinner.
There is a huge range and designs of kitchen timers to choose from.
✅Vintage Kitchen Scale with Bowl
These scales are attractive enough to leave out permanently on your kitchen countertops, where they will be ready to use immediately.
✅Vintage Style Kitchen Gadgets from the 1950's
Here are some suggestions for kitchen tools and gadgets that will fit in with your vintage kitchen decor.
✅Aqua Blue Measuring Spoon Set
Such a practical set of measuring spoons that come in a really pretty shade of pale blue.
So nice you can leave these out on display.
✅Teal Utensil Set
So practical, yet beautiful in this teal color.
Comes with everything you need to cook in the kitchen, like a pro.
Tips for Achieving a Vintage Look
I love the older looking look items that hark back to the 1950's, to style my kitchen. However, it is wise to stand back and make sure you are not overdoing it. Particularly in a modern kitchen.
Choose smaller items that do not cost too much money tike wall clocks, storage jars, and mug sets.
Consider combining modern and older styled items together. For example, I have an old-fashioned looking clock on the wall but a modern looking electric kettle.
Another great style trick is to find a genuine old piece in an antique shop, flea market or thrift store and match this up with a modern but old looking items.
With original antique items in short supply, you can still get the look with modern items that are made to look older.
You Might Enjoy Reading These Posts About Kitchen Decor