If you are interested in a timeless, rustic farmhouse feel to your home, consider Tuscan inspired kitchen decor.
There are plenty of beautiful Tuscan style kitchen accessories to choose from.
However, it is important that you realize that just having the accessories in your kitchen does not mean your kitchen follows a tuscan theme.
In order for a kitchen to be considered Tuscan, it needs to fit a variety of criteria, ranging from color choices to building materials used.
**this post contains affiliate links for products. If you click a link and buy something I may receive some compensation. At no cost to you**
What does a Tuscan Kitchen Look Like?
Overall, you are looking for a kitchen with wooden beams, organic natural materials like stone and rustic style accessories.
Below is a nice example of a Tuscan style farmhouse kitchen that includes all these elements.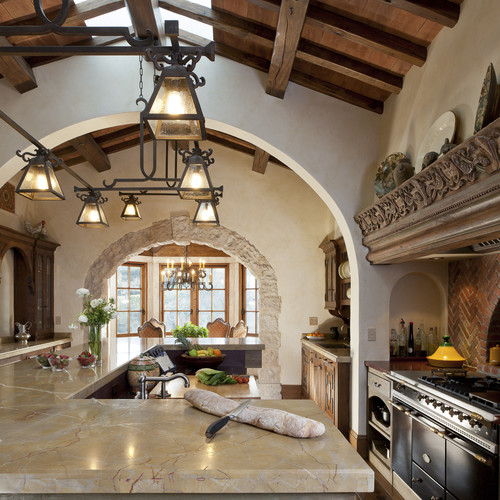 How to Achieve the Tuscan farmhouse look?
wall colors include earthy shades of brown including terracotta, cream and sandy yellows.
flooring can be terracotta tiling, wooden flooring (not too polished and finished) or flagstones.
wrought iron kitchen accessories like this pendant lighting
large range style oven and hob
large wooden hutch for displaying and storing dinnerware sets and plates.
backsplash made from bricks in a herringbone pattern
architectural designs like the archway faced with natural stone
open ceiling with wooden beams
large serving plates on display above the range
✅ Ceramic Grapevine Cookie Jar
This Tuscan cookie Jar is the perfect centerpiece for any kitchen countertop and makes a thoughtful gift for anyone who Italian style kitchen accessories.
The Tuscan design of this stylish and practical jar will complement any decor style in the kitchen, designed to store not only cookies but candy, nuts or other food items too.
✅ Olive and Lemons Kitchen Dish Towel
This kitchen dish towel's pattern of bright unripened olives, lemons and plums is inspired by the sights and tastes of a Mediterranean kitchen.
It is practical too, as they make it from 100% cotton and will absorb water quickly and while drying fast.
✅ Colorful Set of Tuscan Canisters
Designed to coordinate with this Tuscan kitchen decor collection, this set includes four ceramic storage canisters with beautiful fleur-de-lis relief designs.
They offer a colorful and stylish way to store coffee, tea, sugar, or other pantry items.
✅ Grape Design Kitchen Curtains
These kitchen curtains and valance set showcases an artful grape design for a fresh and bold look.
The embroidery and grape pattern details add eye-catching charm to any kitchen decor.
✅ Tuscan Countryside Kitchen Rug
Inspired by the rich colors of the Tuscan countryside, this durable kitchen rug features a striking countryside view.
Perfect for both underfoot and making a statement in an Italian Tuscany style kitchen.
✅ Utensil Holder with Grape Design
Keep utensils and kitchen tools well organized with this ceramic kitchen utensil holder with wooden kitchen tools.
The grape pattern on the utensil holder matches beautifully with other Tuscan style decor in your kitchen.
✅ Kitchen Wall Art of Italian Landscape
We celebrate the Tuscan countryside with this bold artwork.
It focuses on the imagery of busy paths, hills, and vineyards that show us the beauty of a Tuscan landscape.
This Tuscan countryside wall art will be perfect for those seeking beautiful pictures of the natural world.
✅ Wine and Grapes Kitchen Paper Towel Holder
Decorate your kitchen with lavish fruits of the orchard and vineyard, as you display your paper towels on this beautiful antique inspired design.
This paper towel holder is tastefully decorated with a pretty design of red grapes, pears and vine leaves.
✅ Mediterranean Scene Table Cloth
The Mediterranean street scene tablecloths is a super vivid print of the view of old stone houses you typically find Italian rural areas.
This table cloth can grace any dining table or kitchen counter and makes an enjoyable addition to the ambiance of your kitchen or dining room decor.
✅ Grapes Tuscany Kitchen Wall Clock
This beautiful wall clock will make a statement in any farmhouse kitchen.
Features include an antique-style dial with a second hand and ornate clock hands.
Around the edge features a beautiful red grape vine design on a pale yellow brown background.
What to look out for When Shopping for Tuscan Kitchen Accessories
Tuscan kitchen accessories blend old fashioned style from Italy coupled with the conveniences of modern times.
When you invest in your accessories, ensure that every item that you bring into your kitchen either serves a purpose or will enhance the decor of your kitchen.
It's so easy to to buy kitchen accessories based on the concept of a Tuscan ktichen. That you could end up with overdoing it! For example, canisters and cookie jars look great on a countertop, but only if there is space to house them.
Making wise choices for your tuscan kitchen accessories can make a vast difference in how satisfied you will be with your kitchen design and decor.
However, there are many fine touches that you can add to your kitchen without taking up space. The first thing you should consider when decorating your kitchen in the tuscan style is your color choices.
Tuscany themed kitchens use warm earth tones to achieve a rustic look. Ranging from rich browns to burnt oranges, your kitchen should be warm and inviting.
Focus on the use of natural stones and textured walls and counters for a more traditional appearance. Blocky wooden furniture and wrought iron are equally used in this style of kitchen.
Depending on your budget, you will want either natural stone or wood counters and mosaic in earthen and warm tones where you can.
All tuscan kitchen accessories should match the color choices you make, regardless of whether it is in paintings selected for the wall or the spoon and pot holders used on your stove.
Although modern Tuscan style kitchen accessories are readily available, consider looking at antique accessories that would fit in with the colors and style of your kitchen.
Flea markets and thrift stores are great places to find interesting items. Also consider looking at the options of antiques available online, for example on Ebay.
Antiques, especially vases and ornamental pieces, can go a long way to setting the atmosphere in your kitchen.
Just make certain that you leave yourself enough space to easily and comfortably work, as all of your accessories should be selected to make certain that your kitchen is not only presentable, but functional as well. Avoid cluttering up your kitchen with your new items.
You can select and purchase your Tuscan kitchen accessories online. Some local retail stores will carry a moderate selection, although the best Tuscan items require importing from Italy.
Conclusion
I hope you have been able to find the perfect Tuscan style kitchen accessory for your kitchen.
I intend the ideas featured here to help you decide on what product or idea would look great in your farmhouse style Tuscan kitchen.
You May Also Enjoy