The short answer to the question "What the Hell is a She Shed" is that it's the female version of a man cave.
For the long explanation read on…
Why shouldn't women reclaim spaces around the home or garden for their exclusive use?
**Affiliate Disclosure: As an Amazon Associate I earn commission from qualifying purchases**
She sheds can be anything from small spaces with just a chair and a table for reading and relaxing. To more sophisticated versions with a kitchen and toilet, for entertaining guests.
What is a She Shed Used For?
Generally, these spaces are used for rest and relaxation away from male company.
Also, women use these spaces as quiet places to work for example offices, craft rooms, or artists' studios.
Generally, they have comfortable seating and feminine decorations. They can be customized in many different ways.
This is usually achieved by installing a small office desk and chair. If you are a writer just imagine the books you could write in this kind of sanctuary.
Also, they can be turned over to become artists' studios or practical places for crafting or dressmaking.
For the more social they can include a bar for drinking cocktails or a small kitchen area where hot drinks can be made.
Some people like to keep a day bed in the shed as a place for rest and daytime naps.
For bigger sheds they can be turned into guest accommodation.
Cool Shed Interior Ideas
First of all, you need to come up with a decorating theme to follow. Common themes include beach, coastal, shabby chic, minimalist modern, or floral.
Here are some examples of the types of she shed. These should give you ideas and inspiration for a shed makeover giving you a lovely space of your own.
Here are three of my favorites. I'm sure you will love as much as I do.
Pretty Floral Shabby Chic Style Summer House
This is such a pretty arrangement of lovely floral patterns in pinks and white. This would be perfect for having a chat with friends over coffee.
Alternatively, this tranquil space could be used for reading or even taking a lovely afternoon nap.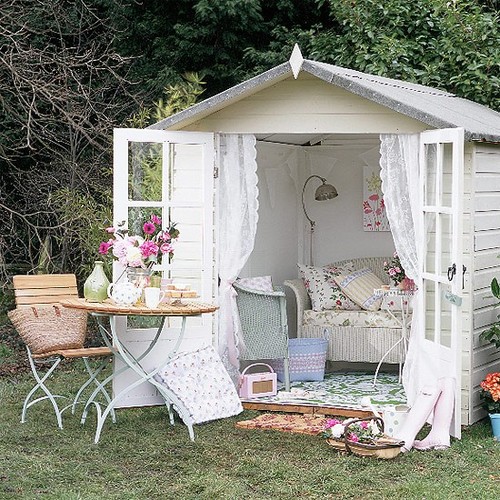 Perfect Shed for Enthusiastic Crafters
This wonderful space has been set up as the ultimate She Shed for crafters.
It contains everything a crafter needs to get on with her projects. I love the shelving and storage baskets. Crafters tend to have a lot of materials to store so this kind of system is perfect.
Doing craft projects can be very messy so a large table or desk as show below is perfect for working on.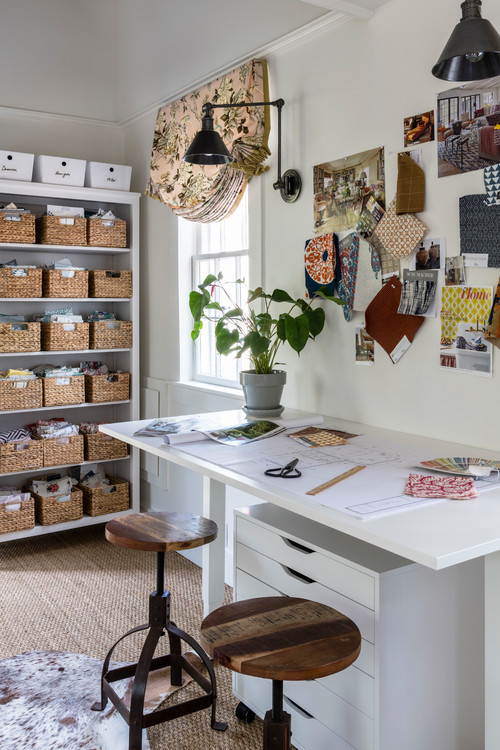 She Shed Guest Room with Bar
I love this space so bright and breezy, with plenty of windows that allow the light to just stream in.
At the back of the shed is a window that drops down to provide an outside bar area.
The great thing about this space is the way it can be converted into a guest room.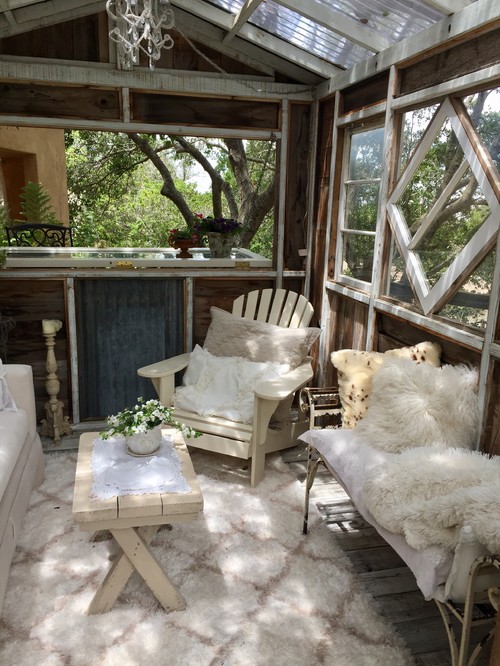 She Shed Signs
Here is a great sign that would look great in any she shed.
This could be either hung up on the shed door or added to the decorations in side.
 She Shed Welcome Sign
This metal sign is going to look great attached to the wall of a she shack. It has a list of things that happen in the shed and some rules to follow.
I love the rule "What Happens in the Shed Stays in the Shed".
I could see this as a gift idea for a she shed owner.
 She Shed Rules Metal Wall Plaque
She Shed Makeover Before and After
In this video, we see an amazing makeover that has totally transformed an ugly old shed.
The majority of the furniture pieces are items that were already at hand, making this the kind of project that is perfect for anyone on a budget.
She Shed Made from Pallets
Here you can see how a she shack can be made using very cheap materials and old pallets.
This shows that you don't need to spend a fortune to find a fabulous room of ones own.
She Shed Gift Ideas
If you have a friend or family member than owns a she shed why not buy them a related gift.
Maybe something they could put in the shed like a pretty clock or a throw pillow that coordinates with their chosen decor style.
Personalized Throw Pillow
Here is a lovely turquoise throw pillow that will look great in any she shack. The pillow can be personalized to put your friend's name on it.
 She Shed Style Throw Pillow

Cute She Shed Personalized Large Clock
This cute clock is going to great in any She Shed. The nice thing about this product is the way that it can be personalized.
Other Names for She Sheds
She Shack, Woman Cave
Conclusion
I hope you have found this article that is all about She Sheds useful.
More Related Posts That May Interest You