Here are my top 10 rustic French country kitchen ideas and decor accessory items to add style to your kitchen.
To achieve the French rustic style look out for distressed kitchen accessories that are in pretty muted colors, like pale blue and lavender.
Pair these accessories with larger wooden items like a kitchen table in wood.
**Affiliate Disclosure: As an Amazon Associate I earn commission from qualifying purchases**
Example of a Modern Style Farmhouse Kitchen
Here we see a beautiful example of a French farmhouse kitchen with modern styling.
How to get the look: I have studied this kitchen carefully and noted the following that I believe have helped to bring in the French farmhouse style
hardwood flooring throughout the kitchen
white farmhouse style sink with the apron showing
the island has a distressed painted finish
pale blue kitchen storage cabinets with chicken wire doors
black iron accessories
simple white painted walls
farmhouse style faucets in black
open shelving
white vaulted ceiling with wooden beams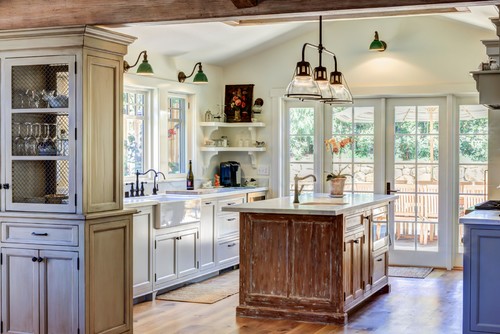 ✅ Galvanized Rustic Style Salt and Pepper Shakers
I love the way this comes as a sweet set with two shakes for both salt and pepper.
This will look fabulous on any farmhouse kitchen table.
✅ Farm Animals Dish Towels
This lovely set of dish towels just screams farmhouse country kitchen. With the muted colors, stripes and checks.
Plus the bonus of an attractive towel with farm animals printed on it.
✅ Galvanized Dish Sponge Holder
This item looks so rustic, with its galvanized metal finish and wooden handle.
Its purpose is practical as they design it to hold the dish wash sponge.
✅ White Ceramic Utensil Holder
Here is a lovely French farmhouse style utensil holder in the shape of a jug.
This is ideal for keeping all your utensils close at hand on your kitchen counter-tops.
✅ Two Tier Tray Counter Top Storage
I love this tray that can store all kinds of things. From fruit and vegetables to indoor plants like herbs.
It has a lovely rustic look, so will fit in with any farmhouse style kitchen.
✅ Farmhouse Country Kitchen Canisters
Double-sided kitchen storage canister set. These canisters have a different design on either side of the canisters.
So you can choose what design is facing out into your kitchen. I think this is a great idea.
✅ Blue Framed Distressed Farmhouse Kitchen Clock
This clock will fit perfectly into a French farmhouse-style kitchen. I like the blue clock frame here that is aged to look like a vintage piece.
As it has a distressed shabby chic, finish to both the frame and the clock face.
✅ Buffalo Print Gingham Kitchen Curtains
To get the look of an authentic French kitchen, try dressing the kitchen windows with traditional style prints like this lovely blue gingham print.
This would fit perfectly into a French blue kitchen.
✅ Antique French Kitchen Style Artwork with Blue Hydrangeas
This is such a pretty wall hanging that is going to work well in a country-style kitchen.
The colors on this artwork are just right for the farmhouse look.
✅ Antique Style Lavender Box with Towel Bar
This is a vintage-style galvanized steel wall box that is designed to hang a kitchen towel.
You fill the top with lavender, to bring a wonderful smell into your kitchen.
There is nothing more "French" than that!
How to Decorate a French Country Kitchen Design Tips
If you are searching for rustic French country kitchen ideas and accessories, there are a lot of things that you can use in order to get the rustic effect that you are looking for.
Unlike other styles of decor for a kitchen, a French farmhouse allows you to use things otherwise unsuitable for display to create a work of art in your kitchen. This lets you choose the items that you want for the price that you want.
Once you have checked your garage for old items, you can purchase virtually anything as French farmhouse kitchen accessories. There are several things that you will want to keep in mind when you purchase French farmhouse kitchen accessories.
First, they do not need to be of perfect quality. In fact, worn, shabby, or used items fit best in this style of decor.
The concept behind French farmhouse is to take something used and transform it into something rustic and aged.
Your kitchen should have a worn appearance that denotes age. Worn cracked paint effects and smoothed metal are the trademarks of French farmhouse style and could be added for that shabby chic look.
However, while almost anything goes when you purchase farmhouse kitchen accessories, there are a few general rules that you should stick by.
Whitewash or paler colors fit best with this style of decor. Your accessories will have all the colors that you need, so the basic wood, paint, and appliances should be pale or light tones so that your kitchen keeps the country style.
Stainless steel and modern style accessories do not fit well with French farmhouse style items.
However, wrought iron and bronze are both perfectly at home in a rustic-styled kitchen, which allows you to add touches of metal to your decor without straying from the rustic farmhouse style.
One of the true benefits of purchasing French farmhouse kitchen accessories is the price. Unlike stainless and modern accessories, a French farmhouse is always affordable.
French farmhouse isn't suited to those expensive, elegant designs. It is meant to be an authentic down-to-earth kitchen you would expect in the old days, were less often meant more.
All farmhouse kitchen decor items that you choose should serve a purpose in your kitchen.
Pieces that do not should have a story behind them, as farmhouse rustic style is often more about how something got into the kitchen rather than what exactly the item is.
Conclusion
Finding suitable pieces for a rustic French country kitchen is easy nowadays, as the pieces available online are a comprehensive selection.
Pair bought pieces with items you may already have in your kitchen to get the look.
I hope this guide has assisted you.
Want More Information on Kitchen Accessories? then Check Out these Posts!