I hope you enjoy browsing my top 21 picks of pictures of yellow bathrooms. I have tried to pick ideas out for every budget and decorating style.
There are plenty of design ideas here to choose from. These range from modern to traditional, including everything in-between.
Here are some yellow bathroom ideas that will help you decide on the best way to decorate your bathroom.
**Affiliate Disclosure: As an Amazon Associate I earn commission from qualifying purchases**
Yellow is such a bright, cheerful color that used well always looks good in a bathroom. There are many shades of yellow to choose from, from sunny yellow to darker mustards.
Please enjoy this selection of images that show clever ways to add yellow into your bathroom decor scheme.
Artisan Yellow Bathroom with Inlaid Tile Flooring
The design feature that stands out the most here is the way the yellow tiles from the walk-in shower have been inlay and blended into the wooden floor in the bathroom.
An amazing piece of work from a real craftsperson, I imagine.
Other design ideas I love are the bold yellow and green wallpaper that goes so nicely with yellow painted wooden panels.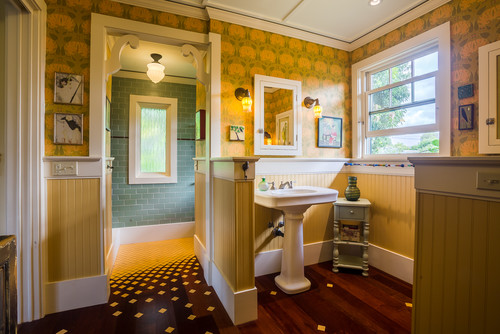 Modern Funky Gray and Yellow Bathroom
Fun and funky, this gray bathroom is brightened up by a very unusual towel warmer in a bright yellow.
Going bold with a statement piece like this towel warmer can make your bathroom the envy of all.
Bathroom With Subway Tiles
White subway tiles always look great in a bathroom. Here the white tiles contrast well with a dark mustard yellow wall paint color.
Other things I like about this bathroom are the down lights and the house plants that are kept in lovely decorative metal pot holders.
Gray and White Bathroom with Yellow Cupboards
Here a lovely modern gray and white bathroom is brightened up by a vivid yellow vanity unit.
It is always nice to have plenty of storage in a bathroom. The roomy drawers in this vanity will have plenty of space for all the bit and bobs needed in a bathroom.
Having plenty of storage in a bathroom can help you keep clutter on the vanity tops at bay.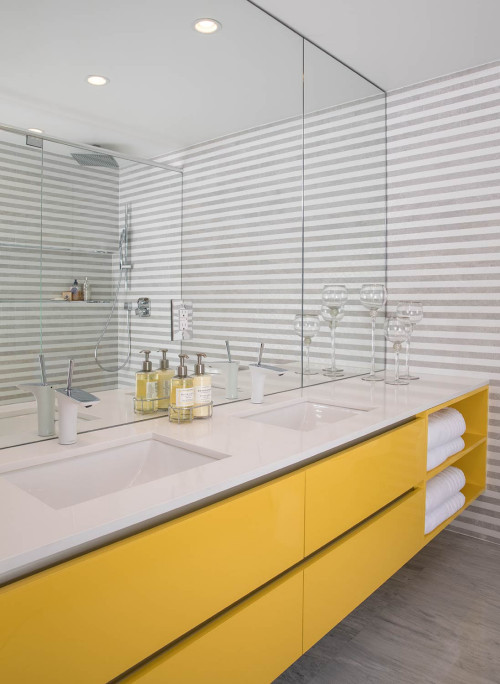 Modern Bathroom with Yellow Tiles and Black Accessories
Here we can see how nice a black and yellow color scheme works in a bathroom.
The black toilet sinks, and mirror frames here ensure the yellow does not become "too much".
Bathroom Refresh Project
Here we have the original and yellow and black tiles from an older house.
The homeowner was keen to preserve these tiles and I can understand why as they are beautiful.
Bright Modern Yellow Bathroom with Walk-in Shower
Wow, this design makes a very bold statement! With the walk-in shower and part of the wall tiled in bright yellow.
Before you go ahead with bright tiling like this, you need to know for sure you love yellow!
A brave choice, but it works so well.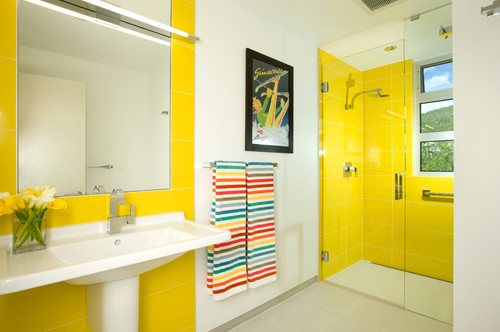 White Bathroom with Yellow Wall Highlight
Here is a primarily white bathroom that was saved from being too bland by a narrow strip of bright yellow painted onto the wall.
Black and Mustard Yellow Bathroom
The color scheme here is a lovely mustard yellow, black and white.
This is an example of a bathroom that's yellow yet could easily be updated to another color should the yellow become unloved.
This is because the rest of the bathroom has white tiles and a black vanity that will coordinate well with most other colors.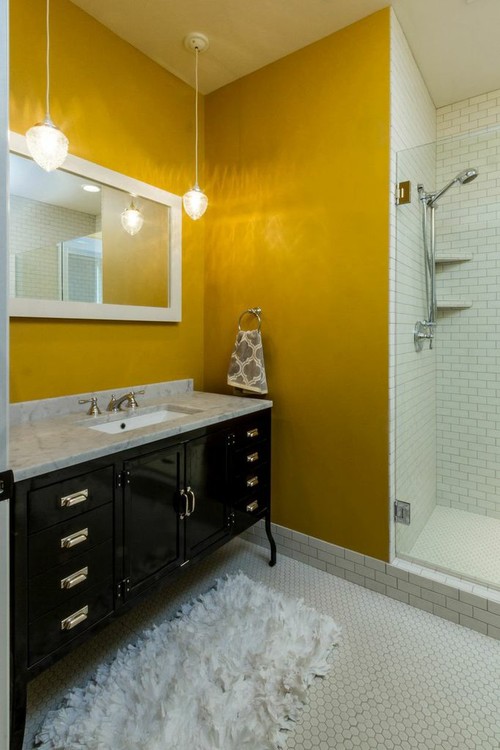 Yellow Feature Wall Behind Toilet
In a small bathroom to give the illusion of more space. Paint the walls white and the back wall a bright yellow.
Large Yellow Bathroom with Patterned Tiles on Floor
Here the black and white tiled floor works well with the deep yellow walls.
Yellow Bathroom with Funky Floral Design Elements
They have brightened this tiny bathroom up using a row of floral design tiles.
The 1960s clearly influenced the flower design here. With these lovely bold daisy shaped flowers.
Black and White Wall Tiles with Colorful Feature Wall
The black and white tiled walls could have overpowered this bathroom. Instead, adding bright yellow to one wall has calmed the pattern down.
Yellow and Gray Shower Curtain
Such a pretty floral shower curtain, in white, gray, and yellow. If you have a bland white bathroom, adding a shower curtain like this would brighten it up.
Guesthouse Makeover with Yellow Bathroom
I love everything about this updated bathroom that was part of a guest house project.
The entire room looks wonderful with the wooden vanity and gold-framed mirror.
I love the cheetah or leopard cat print above the toilet.
Country House Bathroom Decor
A great way to introduce color is to choose a beautiful wallpaper. Here we see a brilliant choice of flowers and birds in a delightful pattern.
The choice of wallpaper further emphasizes the Georgian looks to this bathroom. I know this kind of wallpaper is really expensive, but so worth it. As you can end up with a room with these classy looks.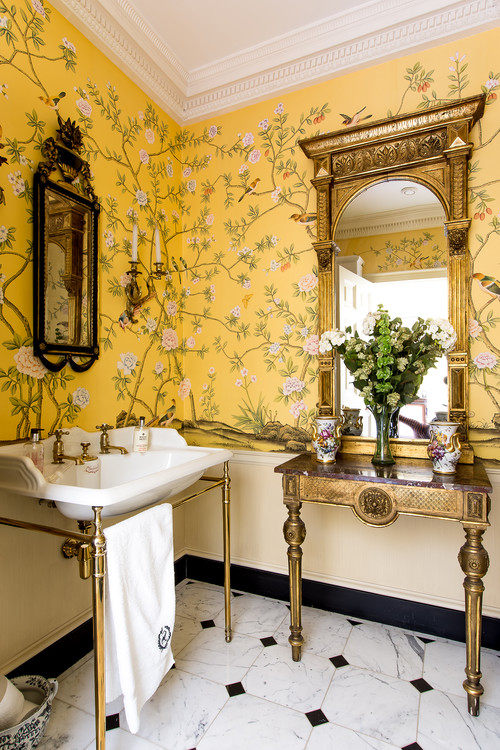 Modern Yellow and Gray Bathroom Decor
I love this kind of deep rich yellow the homeowner has used here. It pairs well with the gray and yellow polka dot decorative panel.
Sunflower Bathroom Accessories
If you cannot change the decor in your bathroom, you can always add bright sunflower yellow accessories.
Maybe you live in a rented apartment, and they do not allow you to redecorate. This could be a brilliant solution.
Yellow Artwork for Bathroom Walls
A pretty set of floral prints looks great against the gray wall of this bathroom.
I like that the print designs are understated, highly recommended to go with a yellow and gray color scheme.
Traditional Style Master Bathroom
This really is a posh bathroom. No expense is spared here as the fitting and accessories are all top end.
The yellow on the walls brings the entire scheme together, giving a wonderful glamourous look.
The glam look is achieved here by the use of luxury products like chandeliers, mirrors, and window drapes.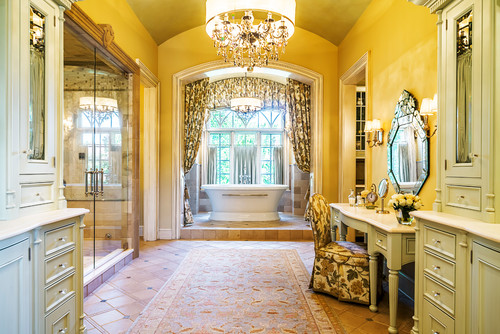 Bold Yellow Rose Pattern on Shower Curtain
An interesting way to add a splash of yellow into the bathroom is to buy a shower curtain that makes a statement.
The large yellow rose on a dark gray wood plank background looks great.
Ideal for a modern bathroom.
Questions About Painting Bathrooms Yellow
Is yellow a good color for a bathroom?
Yellow works really well in a bathroom. It is a bright, cheery color that can brighten up a dingy space.
It is useful for brightening up the bathroom without natural light from windows.
Yellow is a popular color for bathrooms walls.
What color contrasts well with yellow?
In the color wheel, yellow is a contrasting color to blue. So a blue and yellow decorating scheme can look great, providing you choose the same kinds of hues.
In bathroom decor schemes yellow contrasts well with black, white, and gray.
What are different shades of yellow?
Shades of yellow come in a never-ending array.
At the pale end of the spectrum, we have almost white, yellow, creamy colors.
In between, there are pale and darker hues of bright yellows often given names like daffodil and sunshine.
Darker yellows go towards the mustard or gold colors.
To choose the right yellow for your room, look at all the different yellow paints that are available in the paint store.
Take home color swatches so you can take time choosing the perfect color for your circumstances.
If available, take home some tester pots to try on the walls. After painting the samples and allowing them to dry. Stand back in good light and make your choice.
Do yellow and gray go together?
Yellow always looks great with gray.
You can either go for pale grays with pales lemon colors. Or a darker gray with vibrant acid yellows.
Is a Yellow Bathroom the Right Choice for You?
Now you have looked at all the different yellow bathroom options, if you said to yourself yes I like that then go for it.
My advice is to introduce yellow either by painting the walls in the shade of yellow you most like or by adding yellow accessories.
Avoid choosing yellow tiles as these can't be changed without a lot of expense and upheaval. Instead, choose tiles in a neutral color like white, gray, or cream and add yellow to the walls or by using accessories.
Painting the walls means you can easily re-paint if you absolutely hate the color.
Choosing yellow accessories like rugs, shower curtains, window curtains, and bath towels, is a great option if you are on a budget.
Further Reading