Here are some amazing pictures of small bathrooms with walk-in showers. I hope these will inspire you as you plan your dream bathroom.
Walk-in showers are a great option for a small bathroom, as shower stalls can take up less space than a bathtub.
Here's an amazing choice of small bathroom designs. I have featured bathrooms that are both modern and traditional.
**Affiliate Disclosure: As an Amazon Associate I earn commission from qualifying purchases**
Walk-in Shower for an Awkward Corner
One of the significant advantages of a walk-in shower is the way they can be fitted into awkward spaces.
Here is an example of a well-utilized corner space. Here, it would have been impossible to install a bath or a shower with a shower base.
The design features are interesting as well. Texture and color were used to wonderful effect here. This is achieved by adding a panel of mosaic-style tiles in a contrasting blue and green color.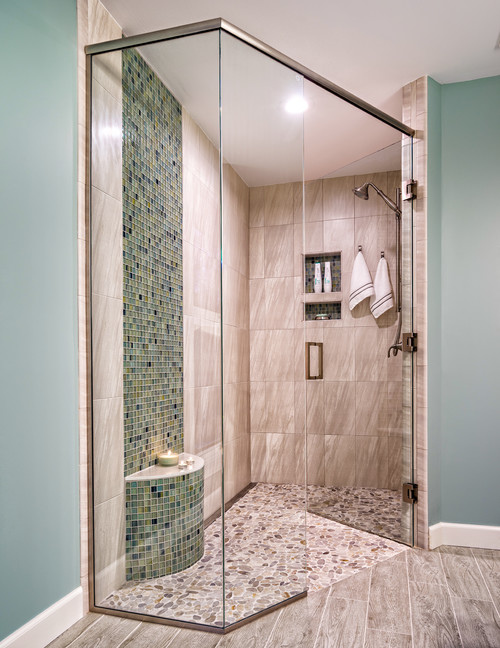 Bathroom with Gray Tiling With Red Accents
This small bathroom has grabbed some space in the corner to make an effective shower area.
This is the perfect layout for tiny guest bathrooms.
The dark gray tiles coordinate well with recessed panels of red mosaic tiles. This gives interest and depth to the bathroom decor.
Walk-in Shower with Sliding Doors
One of the best ways of installing a shower in a small space is to use sliding glass doors.
A shower like this only takes up the same amount of room as a tub. However, it has the advantage of being accessible to anyone with mobility issues.
Curbless Shower Example for a Tiny Bathroom
Here is a shower that fits nicely into a very narrow bathroom.
It would be quite difficult to fit a bathtub into this space.
One great design feature I love is the way the tiling on the floor moves seamlessly under the glass shower panel. This tricks the eye into thinking the bathroom is larger than it actually is.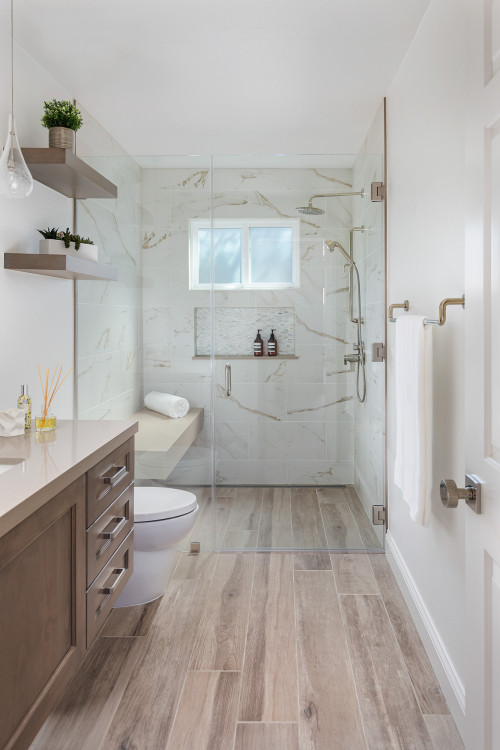 Brown and White Bathroom with Small Shower
Here we have another example of a shower being installed into a very tiny space.
I love the brown and white decor in this bathroom. A great color scheme for any bathroom.
Ideas for Walk-In showers to Replace Tubs
If you love showers, why not get rid of the old tub and install a lovely modern walk-in shower instead?
I love the minimalist look of this bathroom, with its white tile on the walls and floor.
I can see the complete bathroom will be easy to keep clean.
Minimalist Style Bathroom with Wooden Features
I think this bathroom is stunning. I love the wooden stats that make up the base of the shower.
I can see they have based the design on Scandinavian decor, with wood and other natural products like marble.
It is amazing they can fit so much into such a small space.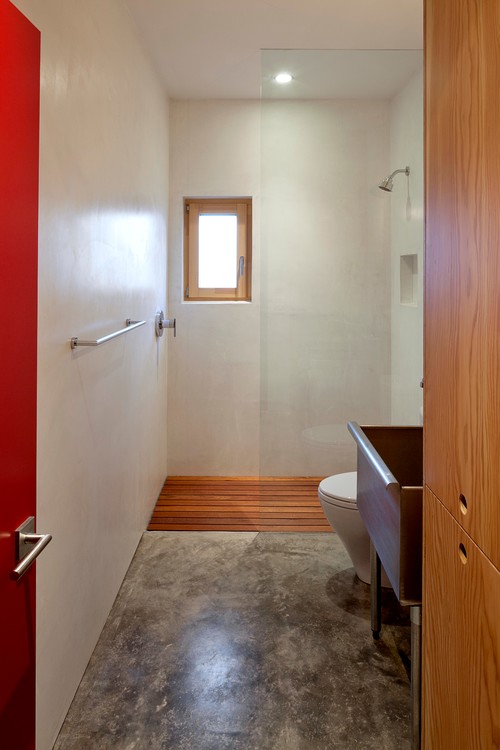 Shower with Marble Tiling
When I first saw this shower, I thought they had decorated the shower with wood.
Then I looked closer and I can see that they have used marble tiles. These marble tiles really look like strongly grained wood.

Black and White Walk-in Shower
This bathroom is stunning, I just love the black and white theme show here.
It features a really nice set of glass sliding doors that almost look like they are barely there.
Here the same black and white tiles effectively cover the whole of the bathroom floor. Use this idea to make a small space look larger.
Small Guest Room with Shower
I love this tiny guest room design that shows us how to fit in a shower into the smallest of spaces.
This walk-in shower is unusual, as it doesn't feature a door. Instead, there is a glass screen halfway along to stop the water from splashing everywhere.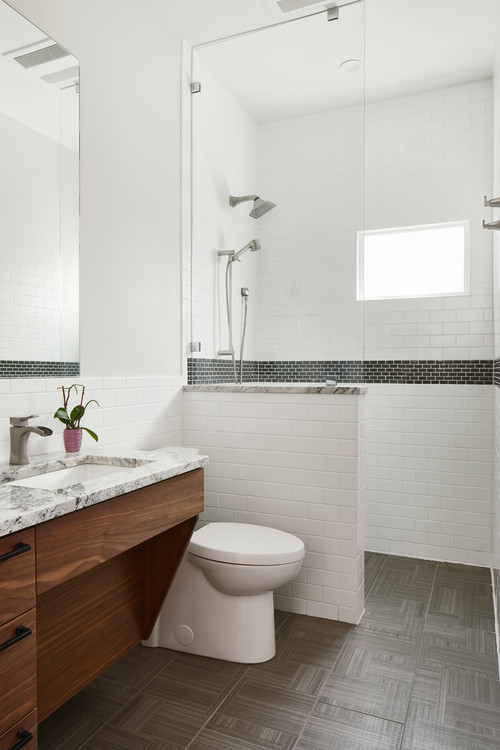 Shower with White Textured Tiling
Just because space is short, doesn't mean you can forget about adding design features into the space.
I just love the textured white tiles they have used on the bathroom wall here.
White and Black Bathroom with Curbless Walk-in Shower
For a bathroom, you can't beat black and white bathroom decor.
I love the geometric design of the black floor tiles.
Modern Bathroom with White and Yellow Tiling
This is a stunning bathroom design, featuring yellow and white tiles on the wall. They have paired this with black and white floor tiles in a geometric design.
If you like bold modern design, then this is the bathroom for you.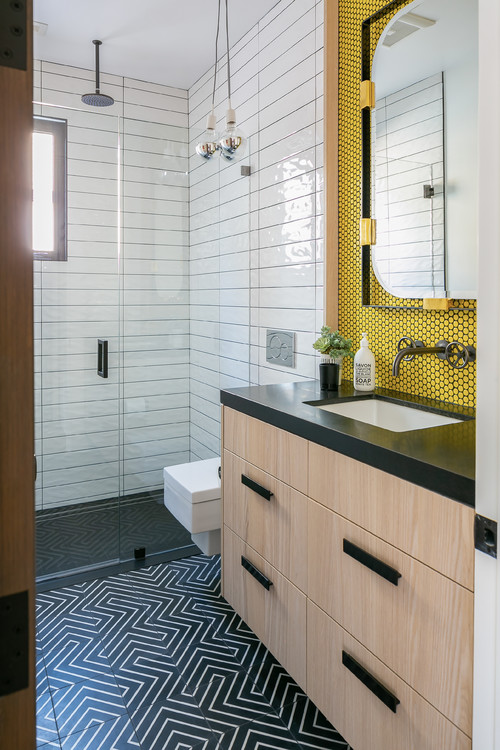 Example of a Small Walk-in Shower Cubicle
Great use has been made of the space here. As a shower is installed here in a very narrow bathroom.
I love the pink, brown color of the wall tiles.

Guest Bedroom Bathroom in a Tiny Space
I love this minimalist tiny bathroom with its gray and white decor.
I love the modern toilet that is almost shaped like a cube!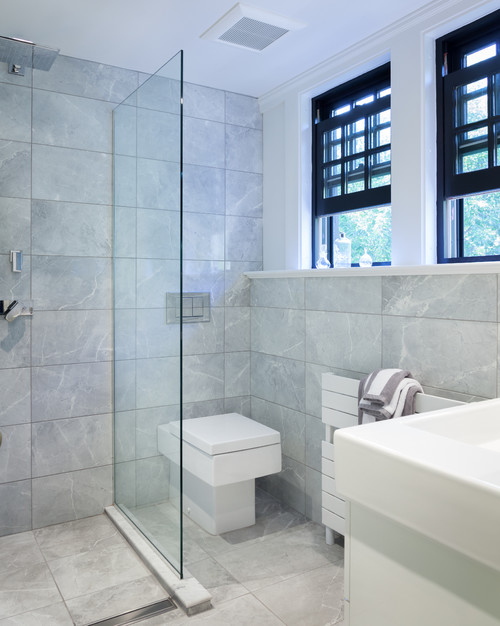 Photo by Thomsen Construction Inc – Look for bathroom design inspiration
Frequently Asked Questions About Walk-in Showers
What is the smallest size for a walk-in shower?
According to Hunker.com the absolutely smallest size you could go for a walk-in shower is a very snug 32 x 32 inches.

What does walk-in shower mean?
Essentially, this means a shower that does not have any kind of step up.
However, I often see showers that have no doors described as "walk-in".
So I think we can take "walk-in" to mean either a lack of a step and/or a shower with no door.
Are Walk-in Showers Practical?

Yes, they are in several ways. They are much more accessible and easy to use for people that find bathing in a tub too difficult.
Also, they are easy to keep clean, there are fewer places for grime to build up.
Walk-in showers can be installed in the tiniest of spaces.
Final Thoughts
I hope you have enjoyed the variety of small walk-in shower designs that are available.
If you are planning a walk-in shower for your bathroom, keep these design suggestions in mind as you plan your dream bathroom.
Further Information