I hope you enjoy browsing these fabulous pictures of small bathrooms with tubs. These range from ultra modern minimalist to Georgian style and everything in between.
I hope these images will give you some great ideas to help you next time you plan to remodel or decorate your small bathroom.
You can see showcased here are a selection of different ways to fit a tub into a tiny place.
**Affiliate Disclosure: As an Amazon Associate I earn commission from qualifying purchases**
These include
using a bathtub as a shower as well
placing the tub at an angle
installing a bathtub with smaller dimensions than is deeper than usual ,
putting the bath under a sloping ceiling
consider a corner bathtub
White Small Bathroom with Tub
Here is a lovely bathroom that shows what we can do in a small space.
I particularly like the marble flooring that adds a hint of luxury.
As the bath has a showerhead over it, you can have the best of both worlds. A nice soak in a hot bath to relax and unwind, or a quick shower before you are off to work for the day.
Making this shower tub combination is both practical and luxurious.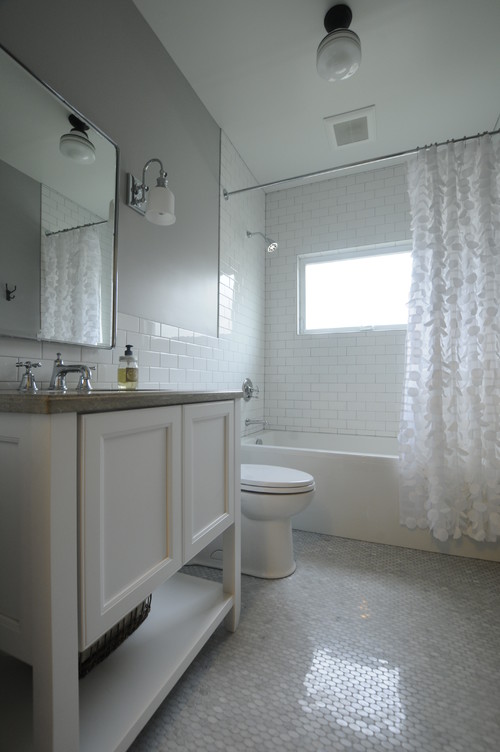 Corner Bathtub Design
Here is a practical solution for fitting a tub into a small bathroom. Corner bathtubs save space by having rounded-off corners that don't stick out into your remaining bathroom space.
Measure carefully to ensure a corner bathroom will fit but still leave you enough space for everything else needed in the bathroom.
Small Mediterranean Master Bathroom
Here we can see what can be achieved when designers are creative with the use of a small space.
The tub has been cleverly installed at an angle so it fitted into this tiny space. It is so clever to use space that they can also use this tub as a shower.
I love the decor here with blue and white ceramic tiling and turquoise mosaic tiles for the floor.
I always think that various shades and hues of blue are perfect for any bathroom.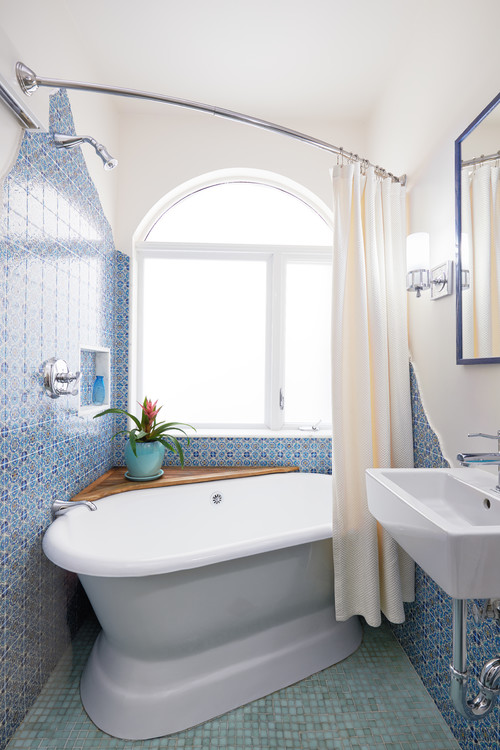 Tiny Enamel Tub
This stylish roll-top tub is called the Tubby Tub. The company Albion Bath has designed it to fit into the smallest of bathrooms.
It is only 4 feet long but is deep so you can still enjoy a luxurious bathing experience.
One thing I love about this product is you can have it in any color you want. This is because they can paint the outside in any of Farrow & Ball or Dulux's paint ranges, you wish.
This is an example of the tub to choose if you're aiming for a glamourous bathroom look.
Modern Family Bathroom Idea with Open Shelving
This is a lovely modern space for the entire family to use. I really love the open shelving here as this gives the impression of more space.
This is just my personal option here. I wouldn't have the heart-shaped design in the tiling behind the bath.
To me, it just doesn't go with the rest of the decor. I would just have plain tiles instead.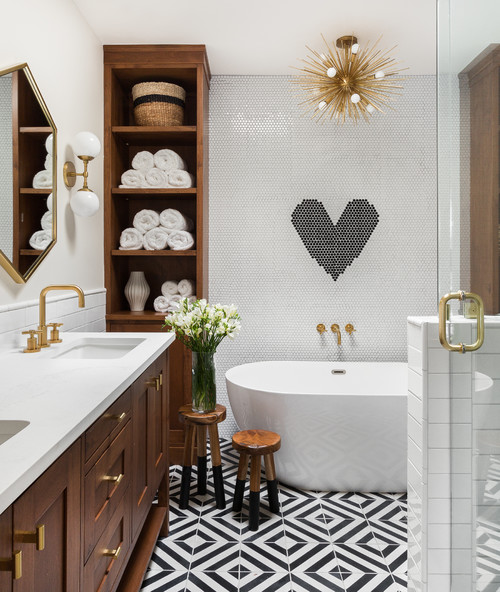 Small Tub and Shower Combo
Here we have an example of the best way to use space in the bathroom.
I can see that the shower will be a pleasure to use as it has a proper shower head fixture.
This room is very practical too, as the glass shower frame will be more efficient at keeping water off the floor than a shower curtain.
I think in a modern bathroom a glass panel looks much better than a shower curtain.
Japanese Soaking Tub
One way to make sure you get to have a good soak in even the smallest spaces is a Japanese bathtub.
They design these tubs to be sat it. There is a shelf for you to sit on while you enjoy a good soak in the hot water.
Minimalist Small Bathroom with Modern Bathtub
Ultra-modern bathroom that has an unusual bathtub. I love the way the color of the tiling reflects the outdoors very effective.
Imagine bathing in this tub and looking out over the trees, how wonderful!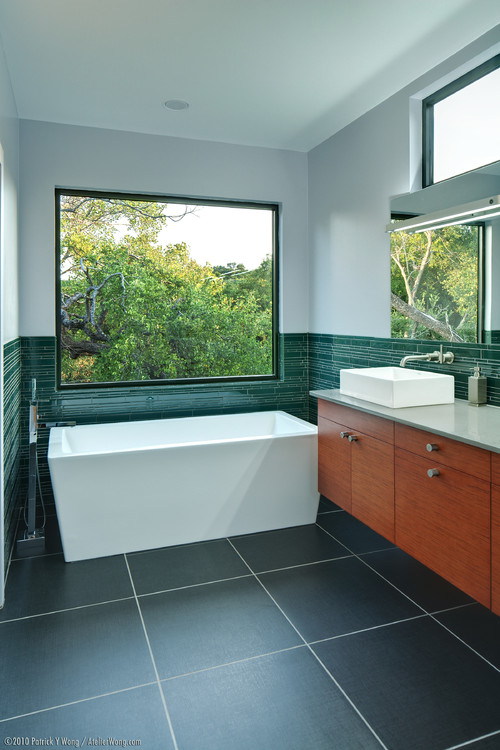 Small Bathtub for a Window Alcove
I love the way the bathtub just fits into this awkward space.
I love the minimalist design, this is the kind of bathroom that is so easy to keep clean and tidy.
The gray wall against the white floor and tub is really effective.
Small Bathroom with a Claw-foot Bathtub
I love this Georgian-style bathroom that has squeezed a lot into a small space.
It is a great style tip to make the bathtub do double duty by making into the shower as well. Here it has been done so well with a lovely set of striped shower curtains and a large showerhead.
To get the sense of Georgian style, you can see elements like the sink with the metal stand showing, vintage style faucets, and a free-standing claw-foot bath.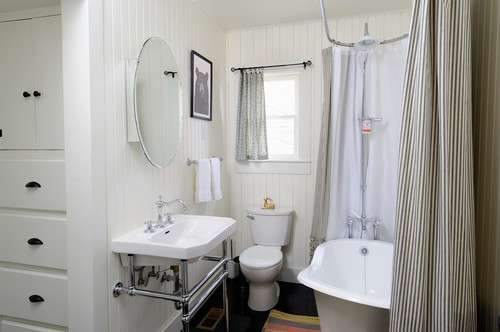 Small Colorful Bathroom with a Tub
Here we can see just how well the color scheme of turquoise and yellow works in a tiny bathroom.
It was a bold decision to make tile the back wall in such a bold color, but it really works so well.
This design has made the most of a very awkward space. The deeply sloping ceiling has left little space for a bathtub.
However, I bet when you are soaking in this tub you won't feel that the space is small.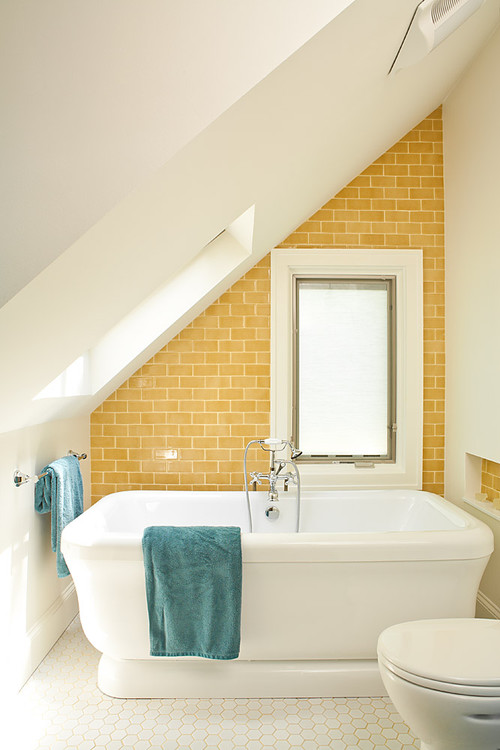 Conclusion
For people that just have to have a bathtub installed no matter the size of the bathroom, I hope these pictures have given you some ideas and inspiration.
When you are updating a small bathroom, it is so easy to just put in a shower cabinet. That's not for everyone, so squeezing in a bathtub is the only option. I hope this post has helped you.
Further Reading