I have gathered together a variety of different pictures of shower curtains in bathrooms.
The aim is to show you all the different types shower curtain styles available. So you can make an informed choice for your own home.
Why not keep these design suggestions in mind as you plan your perfect bathroom?
**Affiliate Disclosure: As an Amazon Associate I earn commission from qualifying purchases**
If you are on a budget, replacing a shabby shower curtain will make your bathroom instantly more appealing. Ideal if you want style are on a budget.
If your current shower curtain is shabby or has gone moldy. Adding a new shower curtain can instantly update a bathroom, even if you are on a tight budget.
Gold and Black Patterned Shower Curtain
In this picture, we can see that the drop of the shower curtain was lengthened by adding a set of shower curtain long hooks.
This means they can install the shower rail at ceiling height, this gives a more uncluttered finish and look.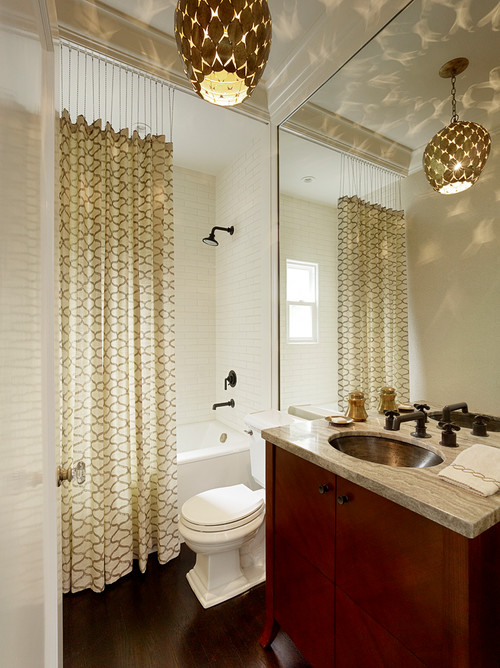 Hookless Shower Curtains
They thread the shower curtain through the shower rail, making shower rings unnecessary.
This is also an example of a shower curtain with a waterproof liner. When you have a shower, just make sure the liner stays inside the bath so the water is safely contained.
Pretty and Colorful Feathers
The artwork here features different types of feathers in a pleasing pattern. This type of shower curtain is going to look great most bathrooms.
Pretty Floral Design
They bring a plain white bathroom to life by the floral patterns on this set of shower curtains.
Doing this has brought warmth and interest into the space.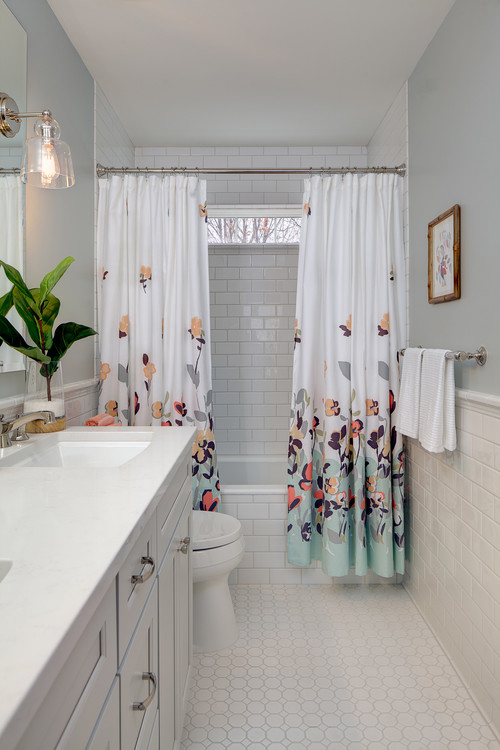 Cotton Shower Curtains
Striped patterns are popular in bathroom decor. Here is an example of a fine blue and white stripe that looks so pretty here.
This curtain features a ruffle that has a wider stripe pattern this adds interest to the bathroom decor.
Jungle Themed Shower Curtain
Here is a stunning display of plants, and animals found in Africa. It includes some of my favorites, like giraffes, zebras, and lions.
Californian Beach Themed Bathroom
The owners of this bathroom have gone with bright and bold designs and colors. The shower curtain has a retro-style picture of a girl diving into the water.
I love the combination of orange and turquoise.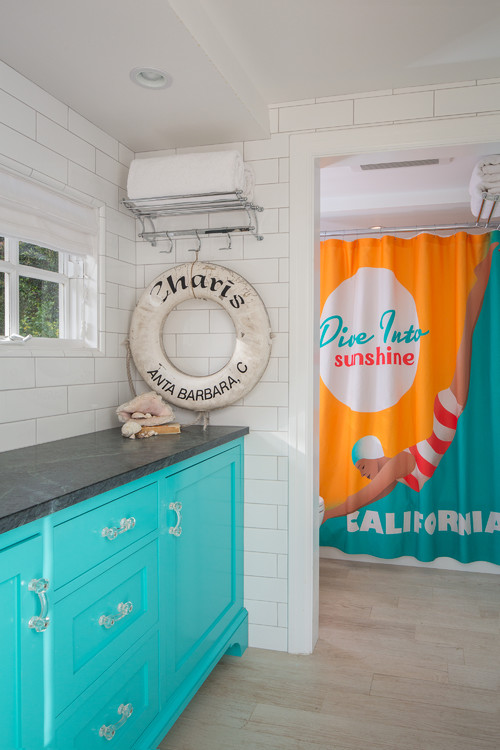 Horizontal Blue and White Stripes
Nautical themes are popular in bathrooms, here is an example of curtains that will fit in.
A set of curtains like this can instantly freshen up a tired bathroom.
Microfiber Shower Curtains
Sometimes only plain white will do, especially if your bathroom has other patterns and loud colors.
Microfiber is soft to the touch, yet water will be safely repelled, making this a practical choice in any bathroom.
Geometric Mid Century Modern Design
Go bold with large geometric prints. I love the color palette here of turquoise and light brown.
Whale Shower Curtains
This is one for marine life or whale lovers. It features an enormous sperm whale on the curtain very effectively.
An example of a great way to update any bathroom.
You could even call it the Moby Dick room.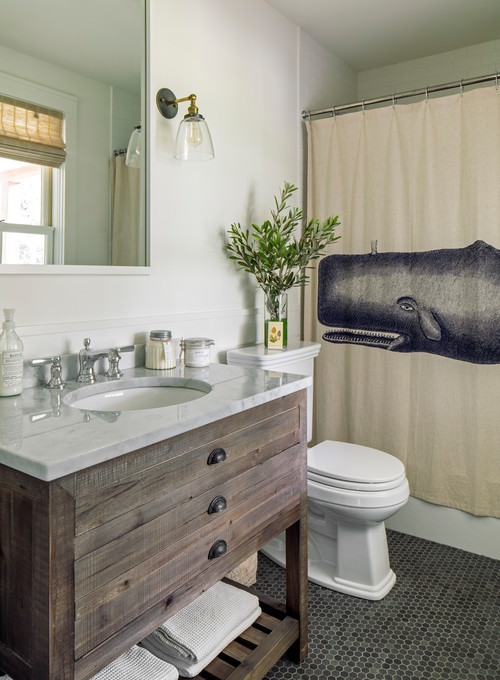 Brown Shower Curtains
Shower curtains are available in any color you can imagine.
The owners of this home have chosen an attractive light brown that coordinates well with the tiles.
Extra Long 84″ Shower Curtains
If your shower rail is installed at height, you may need a curtain with a long drop.
Here is a nice example that is white with a pleasing geometric design and tassels on the bottom.
Yellow and White Horizontal Stripe
Here is an example of a tub with a shower that really needs a shower curtain all the way around.
Imagine the mess if you didn't have a shower curtain here.
The broad yellow and white stripes make a bold design statement that I love.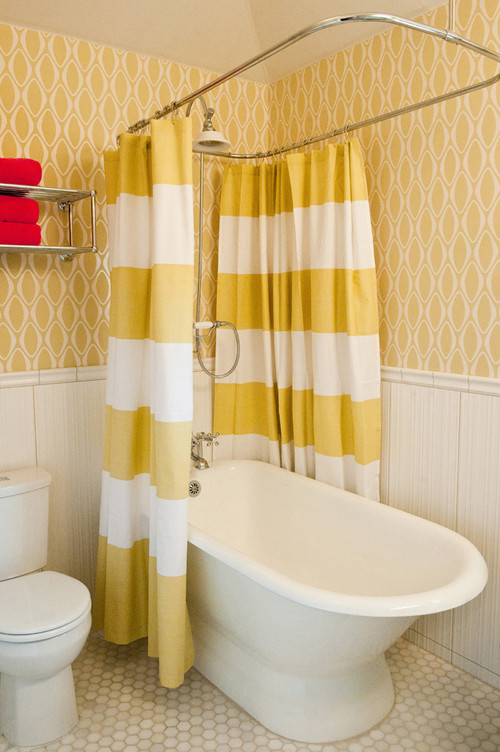 Glamourous Draping Curtains
Here we have a cream shower curtain with brown tassel trim and pullbacks. Perfect for a glamourous style bathroom.
Curtains like this will need a waterproof liner to prevent water damage.
Science Based Shower Curtain
Here's one for every science geek out there. I love this curtain that has the periodic table of elements printed onto it.
I seem to recall that Sheldon from The Big Bang Theory had a similar curtain in his apartment.
Lustrous look Bathroom Showers Curtains
This lustrous curtain coordinates well with the pale blue/gray tiles in this bathroom.
Frequently asked Questions About Shower Curtains
What color shower curtain makes a bathroom look bigger?
Paler colors will make any space appear more spacious. So choose white, pale creams, blues, and yellows for your shower curtains.
I would avoid big bold prints as these will make a bathroom look smaller.
A good design tip that will trick the eye is to coordinate a pale curtain with darker walls.
What can I use instead of a shower curtain?
If space permits, you can install a glass door or panel alternatively, if space is tight, a rolling panel that folds up neatly and out of the way could work.
Can shower curtains go in the washing machine?
You can wash most shower curtains in a washing machine. Just make sure you read the manufacturer's recommendations so you use the right detergent and washing temperature.
Do I need a Shower Curtain?
You will always need a shower curtain if water can splash onto the bathroom floor.
However, there are other alternatives to shower curtains, for example, glass screens or a rolling panel.
Resources
Conclusion
As you can see, a shower curtain can be a great design assent in your bathroom. With the right choice, you can freshen up the decor in any bathroom easily and cheaply.
You May Also Enjoy