Welcome to my collection of pictures of medicine cabinets in bathrooms I think you will love.
Just having a boring old medicine cabinet in your bathroom just won't work if you are updating to a lovely modern bathroom.
Unfortunately, these cabinets are a must have in the bathroom. We all need a place to put cosmetics, toiletries and shaving gear and
**Affiliate Disclosure: As an Amazon Associate I earn commission from qualifying purchases**
There are now plenty of different cabinets that are esthetically pleasing. Look out for recessed, concealed or thin profile cupboards that are finished with a lovely mirror on the front.
I hope the selection I have found will inspire to think about installing a stylish medicine cabinet.
Lift Up Door Mirrored Cabinet
What I like about this cabinet is the way it is so slimline. Also, the way the door lifts upwards prevents you from banging your head on the doors. Inside there is plenty of room for all your toiletries and medicines.
When the mirror door is closed all we see from the sides is a narrow cupboard. The mirror on the front of the door giving the illusion that the cabinet is not there!
This is perfect for a modern style bathroom.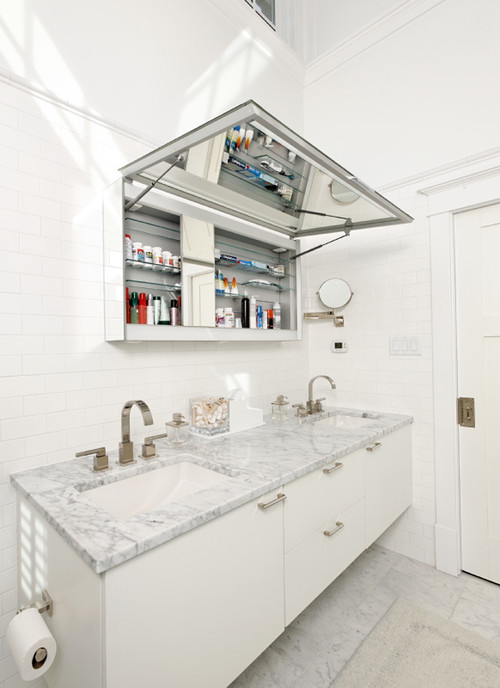 3 Door Mirrored Cabinet with Wood Surround
It is nice to see a matching combination of both a medicine cupboard and a set of storage drawers.
Having cabinets installed like this going to give plenty of space to store all the items you need in the bathroom. Overall, these types of wall cabinets would be a very practical choice.
I particularly like the pale color of the wood effect.
Semi Recessed Medicine Cabinets
The reason this product presents such a thin profile is that this cabinet needs to be recessed into the wall. Making this a great choice for anyone overhauling their bathrooms.
Once the cabinet has been successfully installed it presents a narrow profile yet opens up to way more space inside than you would imagine.
 Frameless Recessed medicine Cabinets
Perfect Medicine Cabinet for a Small Bathroom
This is just the right size for a small bathroom or an ensuite to a guest room.
The nice neutral gray color will fit into most decorating schemes and bathroom designs.
Tall Bathroom Cabinet with Sliding Door
This beautiful modern style bathroom has a set of shelves that are hidden by a sliding mirrored door. This was apparently custom made by the furniture making company Aaron Silverstein.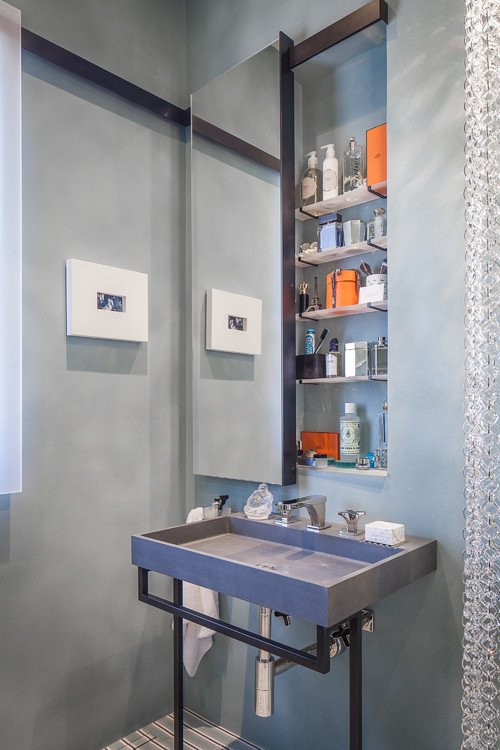 Beautiful Glass Shelved Pair of Medicine Cupboards
Here we have a beautiful set of medicine cupboards.
These are perfect for a married couple, as husband and wife can store what they need separately. With toiletries, etc. men and women have such different needs.
A feature I like about these cabinets is the way there is a mirror at the back.
The complete bathroom here is gorgeous, I love the deeply veined marble on the wall above the vanity unit.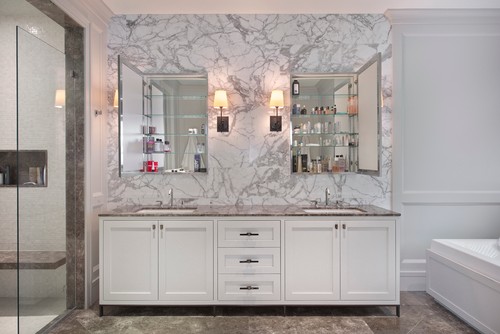 Simple Medicine Cabinet that Holds Plenty
Here is the perfect practical cabinet every bathroom needs.
Note how the shelves inside are nice and deep. Making this very practical for all your toiletries and medicine.
I saw a similar cabinet at amazon Here
Bathroom Cabinet with Magnifying Mirror
When the doors are opened you find revealed is a handy magnifying mirror. Perfect for men to use when shaving or women to tidy their eyebrows.
When the doors are closed, it is attractive and slimline.
 Medicine Cabinet with Adjustable Magnifying Mirror and Slow-Close Door
Bathroom Mirror Cabinet with Side Pull-outs
This is a great space saving idea for any bathroom. The way the shelving units pull out is a genius idea.
There is plenty of room for all your bathroom stuff.
It is useful that the mirror stays in place when the shelves are accessed.
I like the wood finish of this wooden vanity cabinet.
White Farmhouse Bathroom With Recessed Cabinets
Here we have a stunning example of the way we can incorporate recessed cabinets into a bathroom.
As you can see you hardly know the cabinets are there. The clues are tiny doorknobs and the exposed hinges.
I'm sure you will agree with me that this is effective in this gorgeous white farmhouse style bathroom.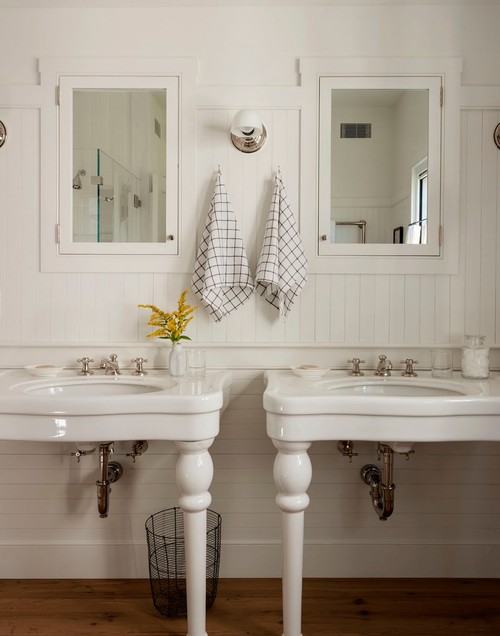 White Medicine Cabinet with a Small Mirror
This small white vanity mirrored cabinet is a practical choice for a small bathroom.
Medicine Cabinet for a Small Bathroom
I can see this as the perfect medicine cabinet for any sized bathroom.
It features a handy open shelf at the bottom of the unit. Inside are shelves that are spacious enough for everyone's needs.
 Bathroom Mirrored Cabinet with 2 Doors
Large Recessed Wavy Shaped Mirrored Cabinet
This will make a brilliant choice for a large modern bathroom.
I like the way they have cut the mirrors to product a wavy line to the cabinet doors.
Adding this sized mirror to your bathroom will bring in plenty of light and make a space seem larger.
Large Wooden Medicine Cabinet
The design of this bathroom shows us you don't have to have the medicine cabinet directly over the sink. Installed over to one side of the vanity unit is just perfect too.
Here the cabinets have been custom made from walnut.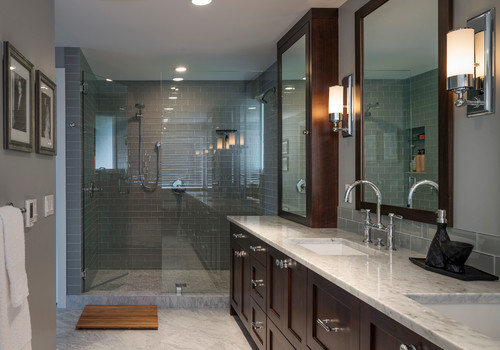 Picture Gallery
List of Different Types of Bathroom Medicine Cabinets
Bathroom medicine cabinet come in a wide range of different styles and designs. They all have one thing in common, a mirror on the front and shelving inside.
recessed: they custom fit the cabinet into the wall so it presents a thin or very narrow profile
standard with two opening doors and shelves inside
the front of the cabinet slides open on rails revealing the shelving inside
the sides of the cabinets open to access the shelves, leaving the mirror in place.
cabinets without mirrors that can be installed away from the sink
bathroom cabinets with lights
cabinets with shaving mirrors
Conclusion
I hope you have been able to make a choice of the perfect medicine cabinet for your bathroom.
Adding a bathroom cupboard with mirrors will not only be practical for storage, but will bring light into the room.