if you are planning to remodel your home you will just love these pictures of master bathrooms with walk in showers.
In this post I've featured many differnt decorating styles from modern to traditional.
Many of the designs are of fresh neutral colors particularly whites and grays. I have intentionally tried to include pictures that have some color in them.
**Affiliate Disclosure: As an Amazon Associate I earn commission from qualifying purchases**
I hope you enjoy the selection I have picked and that the pictures will provide plenty of ideas and inspiration for your own home.
Large Shower Enclosure with White and Gray Marble Tiling
Here we have a beautiful large walk in shower that is going to be a joy to use every morning.
One feature I love about this bathroom is the interesting way they have laid the floor tiles to produce an interesting geometric design.
The color scheme of white and gray with wooden accessories is both calming and beautiful.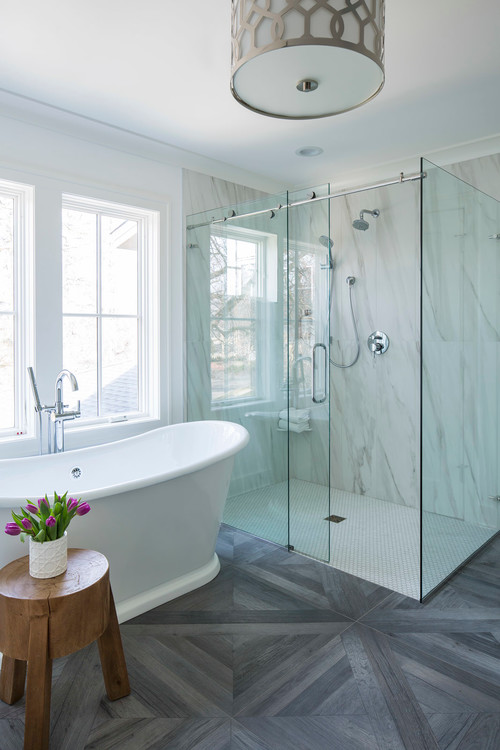 Trendy Walk-in Shower With Black Mosaic Tiling
Here we have a homeowner that is not afraid to make a bold statement with their choice of black mosaic tiling.
Choosing mosaic tiles brings the white grout to the fore, making a stunning black and white pattern.
One thing I like about the way they have designed this shower is the two different shower heads, very practical.
Large Shower Enclosure with White Tiles
Wow this shower enclosure certainly makes a statement.
I love the pure white tiles that co-ordinate so well against the dark wood of the door.
With its simple clean modern lines, I can see that it will be easy to keep clean and sparkling.
Contemporary Style Bathroom in Gray and Brown
The shower enclosure has fitted in easily here as it takes up to whole length of the bathroom.
Of interest to me here is the way they have highlighted the ceiling with recessed lighting and a framed skylight. Very effective.
Rustic Style Walk-in Shower With Stone Walls
I love the way the designers here have continued the stone on the outside wall from to the indoors.
Such a stunning design feature.
The shower is still perfectly practical to use though.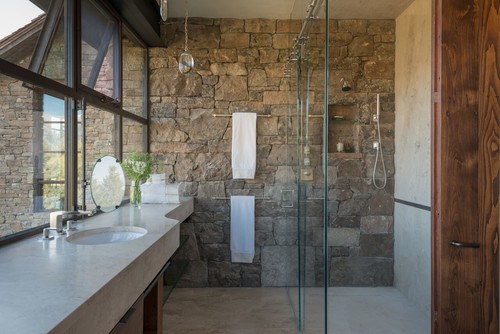 Modern and Sleek Shower Room
There are some great design ideas to be taken from this shower room.
It pairs neutral colors with a bold dark framed mirror.
I love the vanity unit that is a made from a modern light wood.
Roomy Black and White Shower Enclosure
This is the kind of large roomy shower that every home needs.
I love that it incorporates a seat in the shower very practical.
Also, I think black accessories like the showerhead and towel warmer look great against the white tiles.
Modern White Master Bedroom
Here is an example of the right way to decorate with neutral colors without the room looking bland and uninteresting.
Small design details like the mosaic tiling around the mirror lift the whole room.
I just love that really pale gray color the vanity unit is painted in.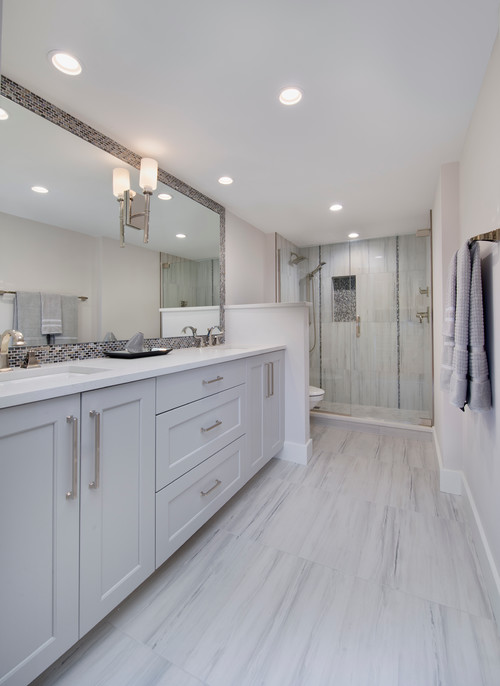 Modern Pink and Gray Bathroom
Sometimes it's ok to go a little crazy, just like the designers of this pink, gray, and white bathroom.
I think the whole bathroom looks great, modern and on trend.
I'm in love with the crazy towel warmer.
Open Sided Shower Enclosure with White Tiles
Here you don't even have to open a door to get to the shower. This must be the ultimate in walk-in shower rooms.
An all-white tiled bathroom could look a bit bland. But here it is decorated with wooden accessories like the stools and bathtub caddy tray.
Large Walk-in Shower with Marble Feature Wall
This bathroom really makes a statement whole piece of beautiful black and white veined marble.
The marble gives a sumptuous expensive feel to the whole room, I just love it.
I also like that they were able to make the shower curbless.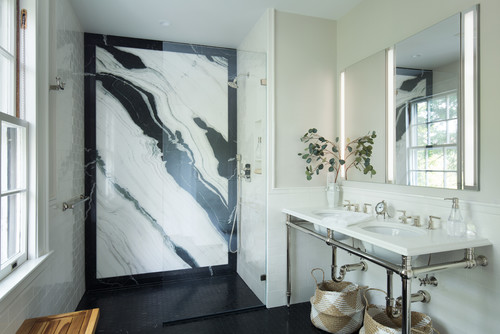 Pure White Master Bathroom Idea
Wow this is how you do an all white bathroom, really stunning.
I can see from its simple design that will this bathroom is going to be really easy to keep clean and tidy.
In this bathroom is it so nice that natural light is allowed in.
Rustic Slate Tile Waterfall Shower
When you use this shower you could easily imagine you are in a tropical forest showering under a waterfall.
The back of the shower is made from a rough rock while the wall side is faced with slate tiles.
White Tile Double Shower Enclosure
Although completely modern the design of the shower heads and shower enclosure harks back to Edwardian times.
Very useful that this shower can accommodate two people at the same time.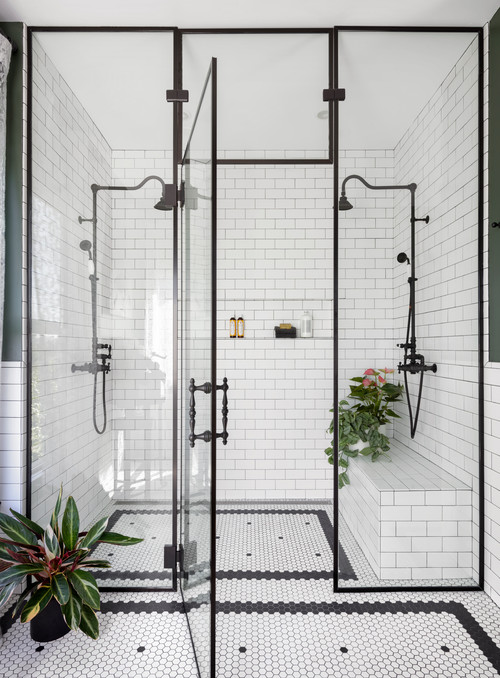 Photo by Michelle Dirkse Interior Design – Search bathroom design ideas
White and Gray Marble Bathroom
If you love the look of marble then this would be the bathroom for you.
It features a very generously sized shower enclosure, that is perfect for a master bedroom.
Turquoise Tile Shower Enclosure
The turquoise tiles that make up the back of this shower give a modern look to this lovely bathroom.
I like shower enclosures desinged like this, so a door is not necessary.
You can simply just walk in and get showered in a moment.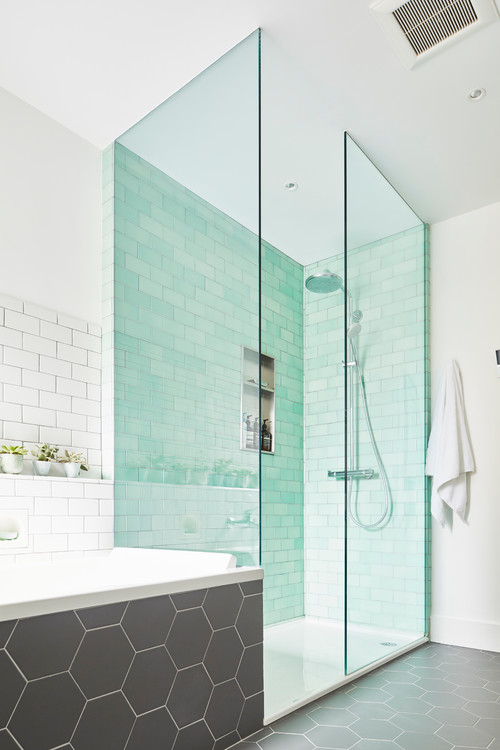 White Bathroom with Large walk in Shower
Here we have a stunning pure white master bathroom that is simply stunning.
Adding a darker colored vanity unit and a plant stops the bathroom from being a sea of all white. Very effective.
Conclusion
I hope these pictures have given you plenty of ideas and inspiration for your own home.
Even if you don't like some of the designs I have picked, this useful too as you learn to know what you don't like.