I have gathered together a collection of pictures of marble bathrooms that I hope will be useful for anyone thinking of decorating with marble in their bathroom.
When it comes to marble, there really are two sorts to look out for.
real marble that is cut from a lump of rock that has been mined from the ground.
cultured marble or engineered stone which is made from marble dust mixed with a resin that can be molded into any shape.
There are advantages and disadvantages to both.
**Affiliate Disclosure: As an Amazon Associate I earn commission from qualifying purchases**
Personally, I would look at what is available and not worry too much about whether something is real marble or not.
Instead, rely on your sense of taste and judgment. If you like it and it is in your budget then just go for it.
Georgian Style Bathroom with White Veined Marble
Here is a very stylish way to incorporate marble into a bathroom.
It has been done in the Georgian style, with a simple stand with legs to hold up the countertop.
I love that all the accessories are in stainless steel, even the traps are made from stainless steel.
I love that attention to detail.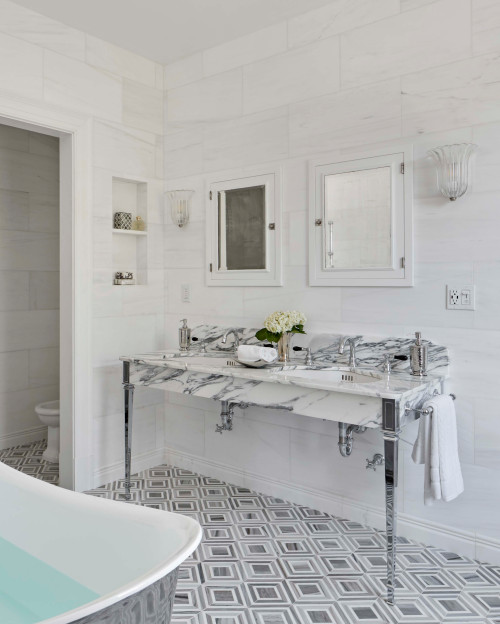 Red Brown Marble Sink Unit
The color of this marble is stunning. It's hard to believe that it is completely natural.
The brown here is such a deep color it is almost red.
I love the veins that are really close together giving a kind of cobweb effect.
Double Sink Vanity with White Carrara Marble
Here is a stylish vanity unit that comes with plenty of storage space.
I love the dark gray color of this unit, but it is available in white or dark blue.
 Double Bathroom Vanity in Dark Gray, White Carrara Marble Countertop
Luxury Light Brown Marble Bathroom
Here we have the height of opulence no expense spared bathroom.
It has been made using 11 slabs of a beautiful light brown deeply veined marble.
Apparently the marble has been specially cut to show off the beautiful veining.
To add even more luxury all the accessories are gold plated.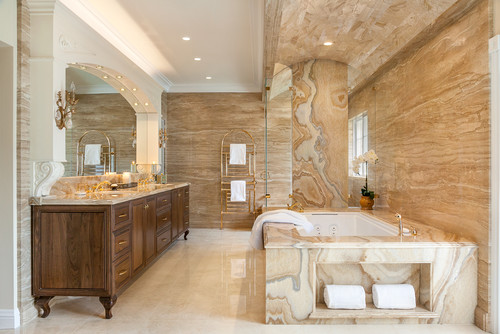 Brown Marble Countertop with Yellow Undertones
Marble really comes in a wide range of colors.
I just love the color featured here of marble tiles that you could almost call yellow.
Small Bathroom Vanity Unit with a Gray Marble Top
Here we have a free-standing unit that features gray Carrara marble with a wooden vanity unit.
There is loads of storage space here, as there are 8 drawers and a cupboard.
Also, there is a useful feature of a small tip-out tray for storing small items.
Modern Vanity Unit with Black Marble Countertop
This is the perfect vanity unit for a small but modern bathroom.
The black marble coordinates well with both the wooden vanity and the limestone flooring.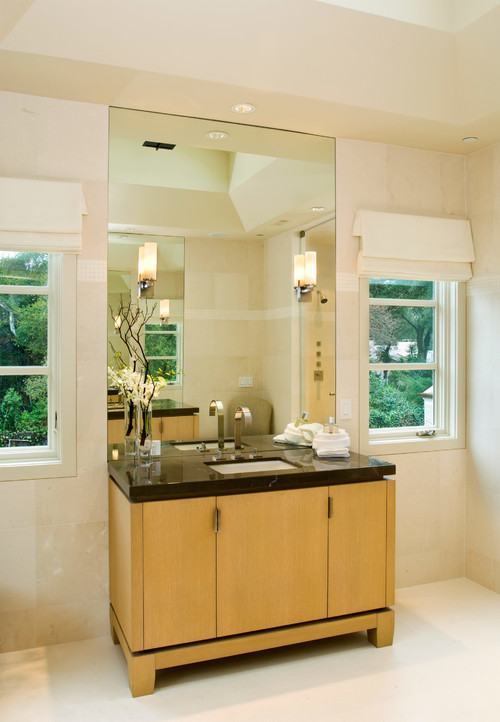 White Marble with Gray Veins
Here the veining in the marble has been highlighted to great effect.
This gray and white color scheme is a popular choice for bathrooms. I can see why it looks gorgeous.
Small Vanity Unit Faux Marble Top
This sweet little vanity unit is perfect for a tiny bathroom.
The counter-top is made from an engineered stone that has the look of marble.
I could also see this as a perfect unit to have in a mudroom.
Elliptical Marble Countertop for a Luxury Bathroom
Here is a beautiful piece of rich brown marble that has been shaped in a pleasing elliptical shape.
Such a nice design feature in this beautiful bathroom.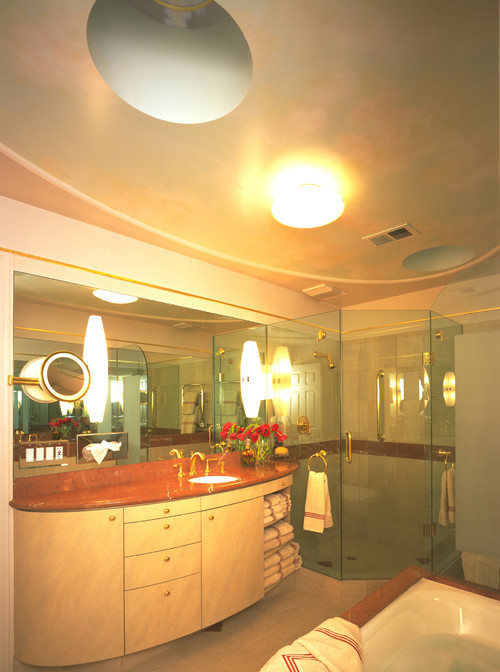 Grey Mable Sink Unit
This is the kind of gray marble countertop that will last for a very long time.
It will stay looking this great with a little bit of care and attention.
Luxury Bathroom with Gray Marble Countertops
Here we can see that no expense was spared when constructing this stunning bathroom.
I like the decoration color scheme here of various shades and hues of gray.
Marble is used on some of the walls and the countertops.
I just love that chandelier.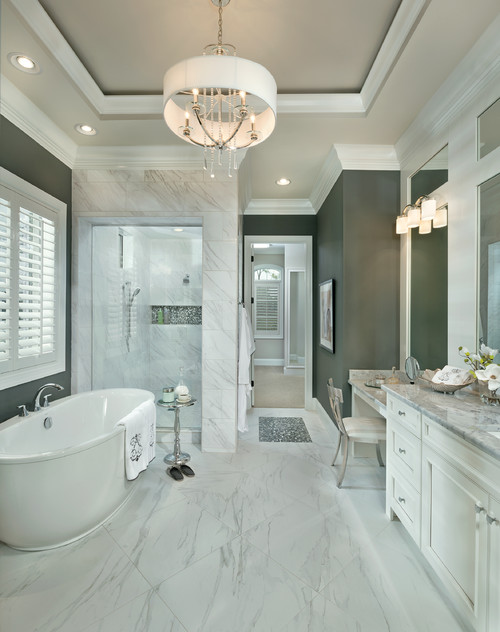 Black Marble Countertop
You can always make a statement if you choose black marble for your countertops.
Here the black marble looks so nice, clean, and shiny.
I like that it is paired with stainless steel accessories like the tap show here.
Farmhouse Style Bathroom with Marble
This shows us that marble can work in a farmhouse style bathroom.
I love the gray veining of the marble here it blends in well with the overall theme of white gray and blue.
It is quite unusual to see a Belfast-style sink in a bathroom, but hey! why not, it looks just great.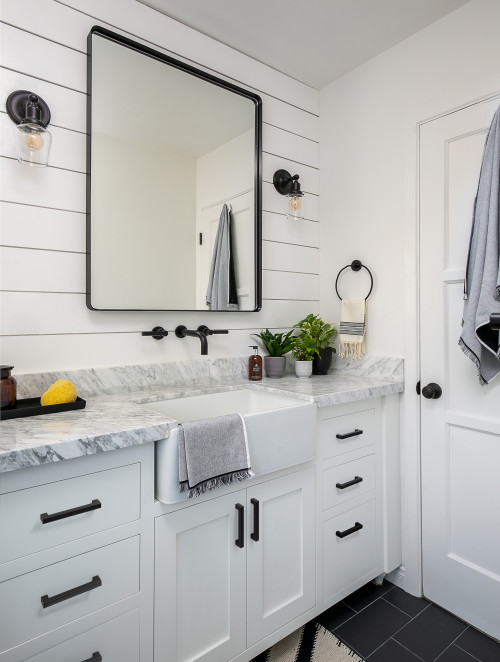 Dark Brown Marble Countertop
I love this color marble it would look great in any bathroom with white walls and floors.
The way the marble is used as a backslash is a nice detail too.
Although this picture was taken in a hotel it will look great in a home.
Further Reading
Conclusion
I hope you have enjoyed my selection of marble or cultured marble bathroom countertops.
Marble is a great choice in the bathroom, it not only looks stylish and opulent it is hard-wearing and easy to care for.
Further Reading