Discover home decor inspiration as you browse these pictures of living rooms with hardwood floors.
There are many types of hardwood flooring products that will upgrade the look of your living room.
Hardwood is a brilliant choice in the living room, it is not only beautiful to look at; it is practical too.
**Affiliate Disclosure: As an Amazon Associate I earn commission from qualifying purchases**
If you choose the quality right materials, it can last a lifetime. This is because genuine wood can be re-finished, re-stained and re-polished when it becomes worn or scratched.
Types of Hardwood Flooring for The Living Room
Choosing Hardwood flooring for the living room can be a daunting task. There are many factors to consider when choosing hardwood flooring.
It's important to undertake plenty of research into the type of flooring you want in your living room. The choice of wood floor products and finishes is endless, and mistakes made when buying new are expensive to rectify.
Some examples of flooring available are:
different varieties of wood, for example, oak, walnut and maple.
colored stains that coordinate with your living room decor or current taste.
different finishes eg distressed, painted, or varnished (shiny or matt).
you can lay floorboards in all kinds of interesting patterns for example herringbone, block and diagonal.
Open Plan Room With Dark Floors and Large Rug
Here we see a dark wood floor living with contrasting white walls, white furniture and a striking large blue patterned rug.
The dark wood looks stunning here against the white of the walls and ceiling. They also bring wood into the design with the large central coffee table and occasional table.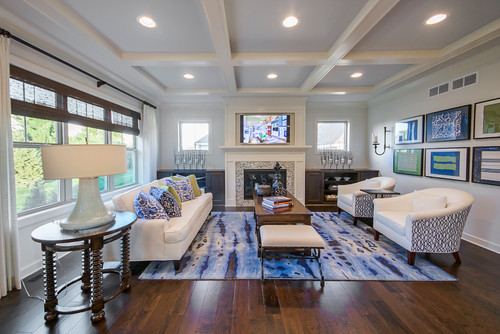 Living Room with High Ceilings and Windows
Here a dark wood floor is matched with white walls and a grey ceiling. The large area rug has an interesting gray and white geometric design that brings the entire room together.
I love the large chandelier that has many white glass light holders mounted on it.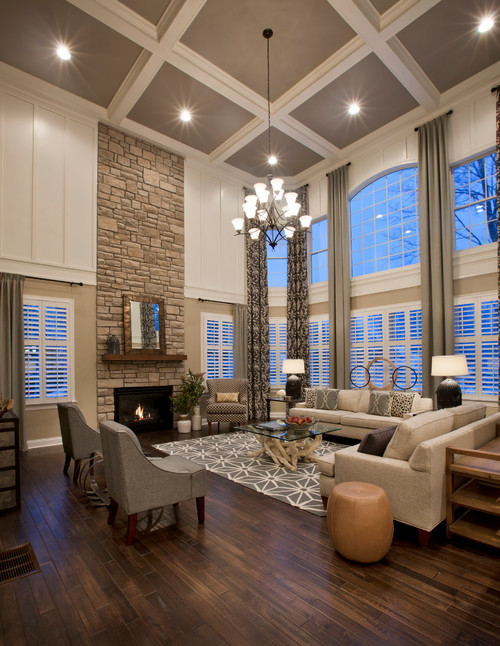 Light European Oak in a Living Room
The living room in this home reflects the homeowners' affinity for country style. There is an example of an open concept living room which allows plenty of light to enter yet makes it cozy during cold winter months.
Light brown oak hardwood floors make a warm statement that is complemented with white walls, wooden beams and a stone hearth and fireplace.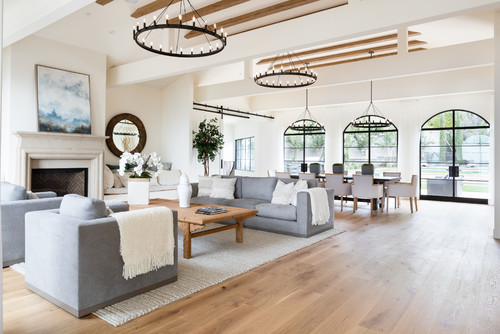 Modern Wood Effect Flooring
The timber designs from this company are so realistic and detailed that they could easily fool anyone. With a variety of fresh looks to choose from, you can get the perfect flooring design for your home!
Oak Floor with a Walnut Stain
When entering this contemporary living room, you'll notice the Victorian front stairway that leads into a beautiful space with white walls and an oak floor stained in walnut.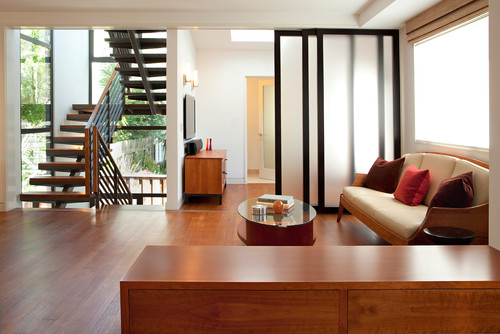 Grey Living Room with Mid Brown Flooring
A nice example of mid-brown flooring paired with a grey area rug and couch. Pairing these colors together gives a modern fresh look to this room.
Rustic Country Living Room
This is a living room that has an elegant feel. It has two walls with large windows and one wall with an enormous statement piiece stone fireplace.
They brought the country decor theme in with dark stained floorboards and brown leather chairs.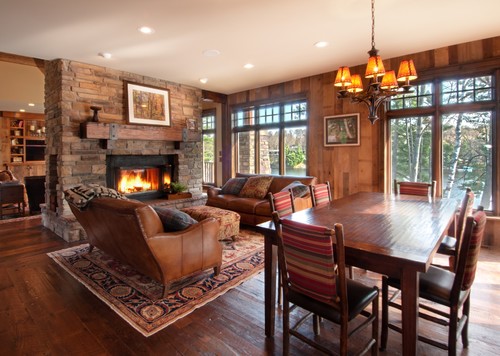 Soft Brown Wooden Flooring
The patina of this wood flooring is a welcomed addition to any living room. It has soft brown tones that can add more traditional design aesthetic while also adding in an extra layer of sophistication.
This is a popular reactive hardwood floor product that has recently been recognized by This Old House in the top 20 best new home products!
White Oak Flooring
Here the wide plank white oak flooring added a touch of luxury to this beautiful home. The distinct patterns made the floors more interesting and blended nature indoors with design seamlessly.
The choice of this white oak flooring was an excellent one because of its beauty, natural look, and quality.
Conclusion
I hope you have enjoyed browsing through this selection of gorgeous living rooms with hardwood flooring.
Drawing on ideas from these images, I hope you find the perfect flooring product for your next home, remodel or update.
You May Also Enjoy
Here are more articles on home decor for you may like.