Here is an inviting collection of pictures of living rooms with fireplaces. Warm and cozy fires are a must for some people,
Fireplaces make a wonderful centre point to any living room space. It allows you to arrange your furniture around the fireplace, giving a pleasing arrangement to your living room decor.
Please enjoy browsing an incredible selection of fireplaces, including great design ideas to help you style and decorate your home's main living space.
**Affiliate Disclosure: As an Amazon Associate I earn commission from qualifying purchases**
Large Stone Fireplace
The hardwood floors seen here are reclaimed red oak from an old barn. These are then treated with oil and buffed up to a lovely warm sheen.
The vaulted ceiling has a pleasing set of exposed beams set off with wooden plank panelling.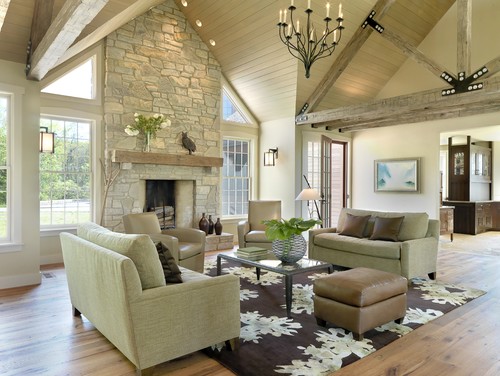 Traditional and Cozy Room
A perfect room to spend time snuggled in a comfortable chair with a great book and a roaring fire.
Here the walls are painted a lovely blue/gray with a white stone fireplace and pale wooden floor.
Electric Fireplace with Remote Control
Because this product is electric, it can be installed against a wall easily in any position you like.
I like the flame effect that is very realistic. A brilliant solution for people that love fire but can't have a real one.
Modern Room With L-Shaped Sofa
Fireplaces can still play a part in modern living rooms. Here a large open plan staircase dominates a large contemporary living space.
A large L-shaped sofa sits near to the stone fireplace, in a very pleasing arrangement.
Fireplace in a Contemporary Living Room
This living room is full of light brought in by the large windows on 3 sides of the room.
The modern gas fireplace here acts as a focal point for the whole room, and is an attractive design statement.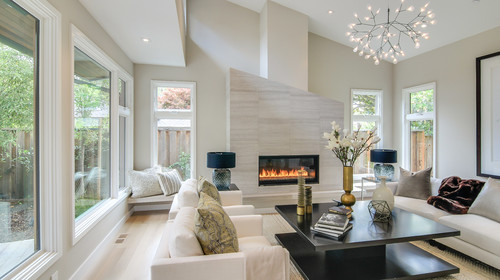 Wood-burning Stove Style Fire Place
A large wood-burning stove dominates this living space and will provide plenty of heat during cold winters.
The rest of the room is decorated with pale gray walls and hardwood floor.
Electronic Fireplace that Can be Wall Mounted
Here is an example of an electric fireplace that can be installed simple on the wall. Because of this, can place it on any wall in your home.
As it only 5.5 inches deep it makes this product for any small living room space.
It has a realistic flame effect and crystal rocks.
So you really can have a fire without all the mess and smoke.
Corner Fireplace in a Modern Home
I love that fireplaces have been updated to suit modern interior design.
Here a fire is installed into the corner of a living room. The effect is very stylish yet unusual. A great talking point, I would imagine.
Brightly Colored Living Room With Modern Fire
A small living room has been brough to life with a bold color scheme of blue and orange. It is far from subtle, yet it gives the illusion of more space as the eye is drawn to the end of the room.
The fire is unusual as it is installed much higher up than usual, a great idea as it will make it easier to light and clean out the fire.
Fireplace Stove Without Fireplace Surround
This small electric stove gives the look of a fire, yet it can be installed anywhere in any room.
This would be perfect for a room that is missing a focal point to arrange the furniture around.
Pretty Country Style Living Room With Stone Fireplace
An inviting room was perfectly designed here to provide comfort and enjoyment as people snuggle around the open fire.
White walls, blue armchairs and hardwood flooring give a fresh take on a modern country living room.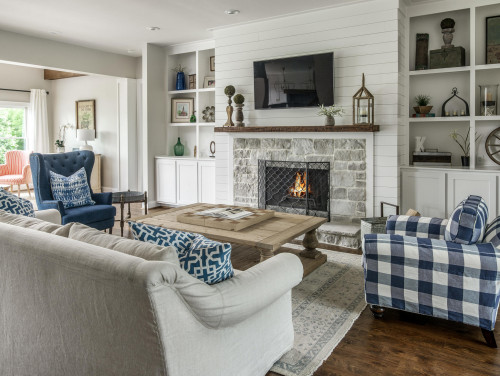 Living Room in the Minimalist Style
Different textures are used on the fire place walls and floors here in this ultra modern living room. The effect is both modern yet has traditional undertones.
The sofa is interesting, very low to the ground, yet it looks very comfortable.
Country Style Living Room with Exposed Beams
A mixture of modern and traditional styles that work well together. The fireplace and hearth are stone, while the vaulted ceiling and floors are wood.
The room is made inviting and homely by adding in large squishy leather furniture.
Modern Farmhouse Style
This is a great example of how a modern country style home can be designed around an open fire.
I love the high ceilings with exposed wooden beams, the hardwood flooring and L-shaped sofa.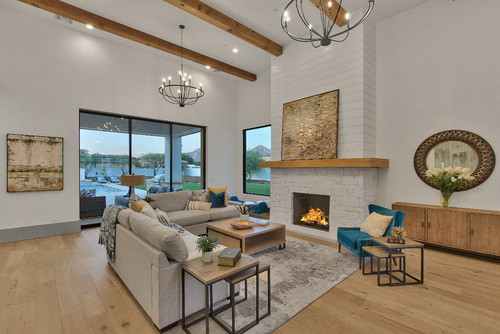 Cozy Living Room Fireplace and TV
Home owners often struggle to find a way to style a living room around both a TV and a fire.
Here is one solution to put the TV on the mantle above the fire.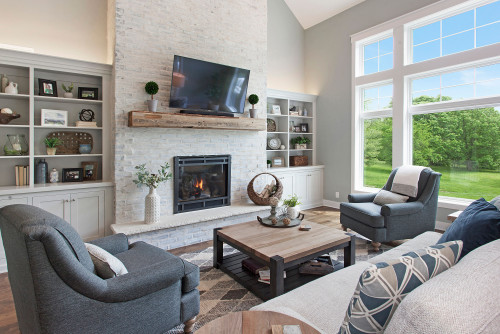 Fireplace for an Awkward Corner
Fireplaces can be fitted into the most awkwardly shaped rooms.
Here a modern fireplace fits nicely into the protruding corner of this living room.
Frequently Asked Questions About Fireplaces
How do you style a living room with a fireplace?

The most common configuration is to have a sofa that faces the fire with two comfortable chairs either side angled slightly towards the fire.
Alternatively in a small room you could consider just two large comfortable chairs that are angled towards the fire.
For large rooms, a set of 3 sofas that make a U-shape around the fire can work. Or consider having 2 long sofas that face each other parallel to the fire place.
When arranging furniture near a fire consider making room for other pieces of furniture, you might need like coffee tables and or end tables. These make a room practical to use .
How do I arrange my living room with a fireplace and TV?

One solution is to place the TV on the wall above the fireplace. Then you are free to arrange your furniture around the fire as usual. There is a downside to this, you need to find a way to disguise the ugly cables that TV's come with. Ideally you should hide these under the plaster, brick or stone during a remodel. However, you can buy cable concealers that will help .
For a freestanding TV angle the chairs and sofa towards the TV, most people prefer watching the TV over staring at the fire.
What do you put beside a fireplace?

If you have a real log fire, then it is nice to have a large attractive basket to hold logs. Also, a hearth set with useful tools like a dustpan and brush. These are made so they look nice enough to display on your fireplace. Often in wrought iron, the tools have hooks so that fit neatly onto a stand.
Fireplace screen are useful if you have children or pets around, they can be bought in several attractive designs.
Do you need a fireplace in a living room?

The quick answer is no. Provided you have another effective form of heating in the rooms.
For example, if you have a modern central heating system, you might well forgo a fireplace.
However, some people just love to have a fireplace that will act as a focal point in the living room. They just feel a room is not right without one.
Nowadays your TV can become the center point in a room.
How far should a sofa be from a fireplace?
For safety, you need to make sure sofas are not too close to the fireplace.
It is generally considered safe around 5 feet away.
Anyway, you wouldn't want to sit any closer to a fire as you would get too warm.
You May Also Enjoy
Conclusion
Having a fireplace is one of those design elements that brings together a living room. Making it a pleasant space for people using the living room.
I hope the images I have chosen will help you chose the right fireplace style for you. And help you arrange your room around the fireplace for comfort and pleasure.