Enjoy browsing my selection of pictures of kitchens with pendant lighting.
Here's an incredible selection of pendant lighting ideas that will give you inspiration when you next remodel your kitchen.
It is quite amazing the range of different styles of pendant lighting available, from ultra modern to traditional.
You can also choose from pendants with just one light on them to multiple banks of lighting.
**this post contains affiliate links for products. If you click a link and buy something I may receive some compensation. At no cost to you**
Different Types of Kitchen Pendant Lighting
Here is a selection of original designs of kitchen pendant lighting that are available.
Pendant lighting is most often used to illuminate kitchen islands and countertops. Less often these are fitted as a main central ceiling light.
I think you will be suitably impressed at the different options, available.
Glass and Metal with Candle Lights
Two large pendant lights look great here, hanging over a large central island in this kitchen.
A modern take on a farmhouse kitchen.
Glass Bottle Lamp Shades
Bank of 3 glass bottle style lighting in a black and gray modern kitchen.
We commonly see this lighting configuration in kitchens as it provides subtle lighting over the kitchen island.
White Kitchen with Large Pendant Lights
In this kitchen, the stunning marble topped island is illuminated by two large pendant lights in metal and frosted glass.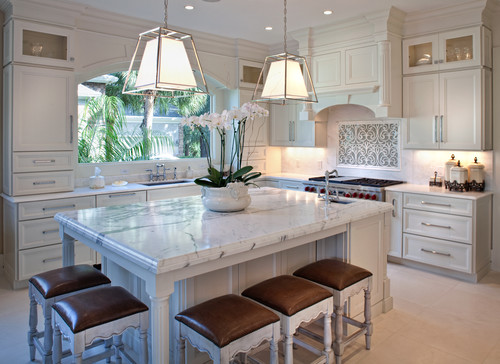 Large Traditional Kitchen
Used here three traditional style hanging pendants, giving a wonderful effect.
The owners of this practical kitchen have gone for metal and glass with candle style light bulbs.
Exposed Decorative Edison Light Bulbs
When designing the kitchen decor style in this kitchen. The owners choose an eclectic scheme with a set of 5 hanging Edison light bulbs. I love the way they have arranged them at different heights.
Although it seems strange to have bare light bulbs, these types of Edison bulbs are designed to produce a pleasant soft light. So with these bulbs you won't be blinded by stark bright white lights, as I'm sure some people imagine.
Modern Industrial Metal Light Shades
Industrial style kitchen decor is currently on trend. It's a design that can be easily achieved in the kitchen. Just think of bare floorboards, metal accessories and thick wooden countertops.
Here the industrial theme is styled with the use of scaffolding materials, metal framed factory style seating and 4 large black and white enamel pendant lights.
Also, I noticed that in the ceiling they have left the ventilation ducts exposed. This is a feature often seen in industrial styled home decor.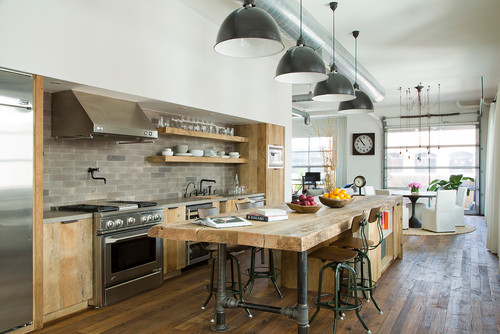 Glass Kitchen Hanging Lighting
As we can see from this image, the use of glass lampshades for lighting is very effective. The set of three hanging lights here light up the kitchen island beautifully.
Rattan Shade Pendant Lighting
These cool shades bring interest and texture to any kitchen. These stand out as the rest of the kitchen has a very pale color palette.
When in use, these lamp shades will cast interesting shadows across the wall and ceiling of the kitchen.
Farmhouse Style Lighting
Here is an example of ceiling lighting that lights up the entire kitchen. Although they have spotlights in the ceiling of this kitchen.
The owners clearly wanted to bring in ceiling lighting with some interest and design elements.
I like the way the same light is used in the dining room as well.
Blue Hanging Glass Lighting
In this modern kitchen, the designers have opted for a bright blue decor theme.
They reflect this by their choice of 3 pendant lights with blue glass light shades.
It's so refreshing to see a kitchen decorated in bold colors like this. These days we so often see gray and white kitchen decor ideas that can become a bit boring.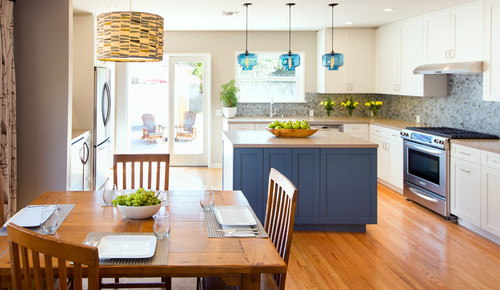 Kitchen Ceiling Lamp on a Pulley
The light here has a clever pulley system, so they can easily adjust the height.
The design of this hanging light would fit into a farmhouse, industrial or eclectic style kitchens.
Glamorous Kitchen Lighting
The designers have used a glam look in this stunning kitchen.
This is emphasized by the 3 large globe hanging lights, made from metal and glass.
Modern Black Pendant Lighting
If you have a large kitchen island, why not make the lighting that focal point?
This is achieved here by installing 4 really large black pendant lights.
The whole decor of this kitchen is wonderful. I love the exposed beams, wooden kitchen cabinets, and island countertop.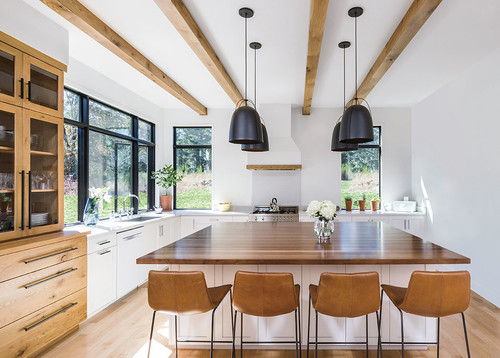 Modern Vintage Style Kitchen Lighting
This light comprises a set of Edison bulbs with seeded glass shades and a bronze finish to the metalwork.
I think this look is great for any modern vintage style kitchen.
Metal Cage Hanging Lights
The unusual design of these hanging lights has a retro feel. However, they will fit in perfectly in a modern kitchen.
Here they look great in a kitchen with exposed brick back splashes.
Metal Lights on a Pulley System
These lights are adjustable so it does not commit you to a predetermined height on installation.
This design is perfect for a farmhouse style kitchen with industrial style elements.
Country Kitchen Island Lighting
3 chandelier lights grace this beautiful white and gray kitchen.
Dark Wood Kitchen with Red Pendant Lighting
A kitchen made from dark wood will be brightened up by using red glass pendant lighting.
Here a set of 3 lights make a bold statement in this large kitchen.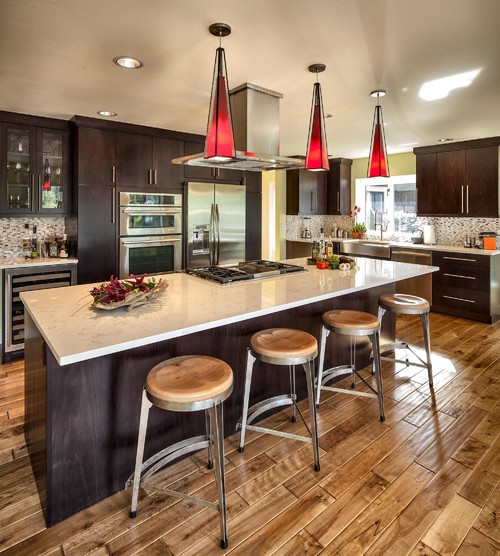 Farmhouse Chandelier Pendant Lighting
Another alternative is one of these large farmhouse style lights. This has a set of 4 lights all in the one hanging light.
A farmhouse look is emphasized by using an oil rubbed bronze finish.
Set of 4 Small White Lights
Another way to decorate a kitchen is using several smaller lights. Here a set of 4 small lights makes an outstanding job of brightening up a large kitchen and island.
Conclusion
I hope you have been inspired by this selection of different types of pendant lighting available for your kitchen.
Great ideas to include in your next kitchen, remodel. From modern to traditional and everything in-between.
You May Also Enjoy