Here's an interesting variety of pictures of kitchens with copper farmhouse sinks. Keep these design ideas in mind as you plan your dream farmhouse kitchen.
Please enjoy browsing my selection of different types of copper sinks. The most popular are the beaten metal style, but these sinks are available in smooth and decorative styles.
There are different ways of installing these sinks. You can choose to undermount the sink and cover the apron.
**Affiliate Disclosure: As an Amazon Associate I earn commission from qualifying purchases**
Or a very popular choice is to install the sink with the apron showing. This means you can see more of the copper. Preferred if you are looking for a rustic farmhouse look.
Traditional Style Kitchen with White Cabinets and Copper Accents
This amazing kitchen has a couple of copper highlights in the sink and hood.
I love the mixture of white cabinets set against the dark wood of the kitchen floor and island countertop.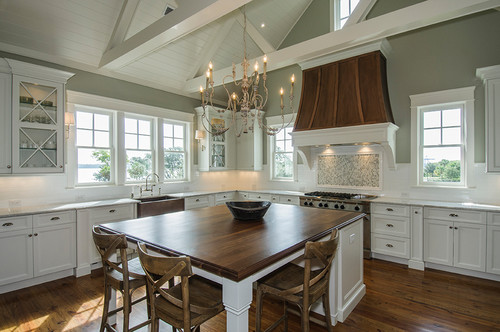 Copper Sink with Decorative motifs on Front
The front panel of the sink apron has a raised decorative motif. A very effective botanical style panel.
In this kitchen, I like the wooden countertop that works so well against the copper.
Copper Sink in a Rustic Kitchen Island
Featured is a real old-style country kitchen with plenty of exposed wood. Choosing a large copper sink with the apron exposed is a brilliant design decision.
Copper looks great when it is used with other natural organic materials. So the wood, granite, and copper make a lovely kitchen design.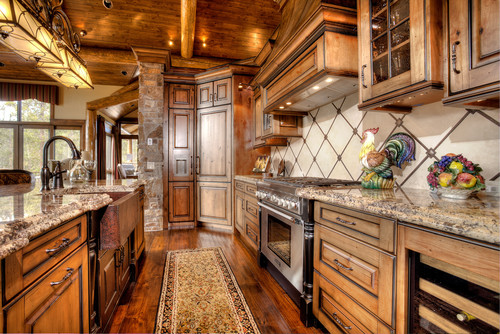 Large Dark Copper Kitchen Sink
A beautiful dark copper sink pairs well with wooden cabinets.
Personally, I love to see a large sink in a kitchen, it's just so practical, even if you have a dishwasher.
Hammered Copper Farmhouse Sink in Quirky Rustic Kitchen
This is a fun kitchen. The designer chooses different cabinet colors with white and sage green, a quirky "spoon" chandelier, and shelves in front of the window.
The large copper sink here is the hero, though. It makes a strong focal point for the entire room.
A lot of design rules have been broken here, but I just love the result. An eclectic style kitchen.
The pug is sweet as well!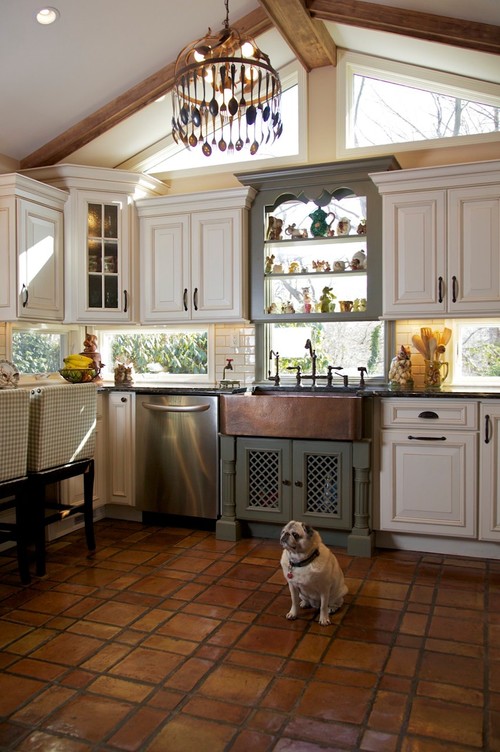 Hammered Copper Farmhouse Sink
In this picture, we can see how nice copper looks when paired with light gray kitchen cabinets.
It's a clever design feature to add copper drawer handles and doorknobs to the cabinets.
Copper Kitchen Sink with Beige Wooden Cabinets
Smart-looking kitchen with beige cabinets, dark countertops, dark wooden flooring, and a large dark copper sink.
The entire kitchen is enhanced by the beautiful patterns on the stained glass windows.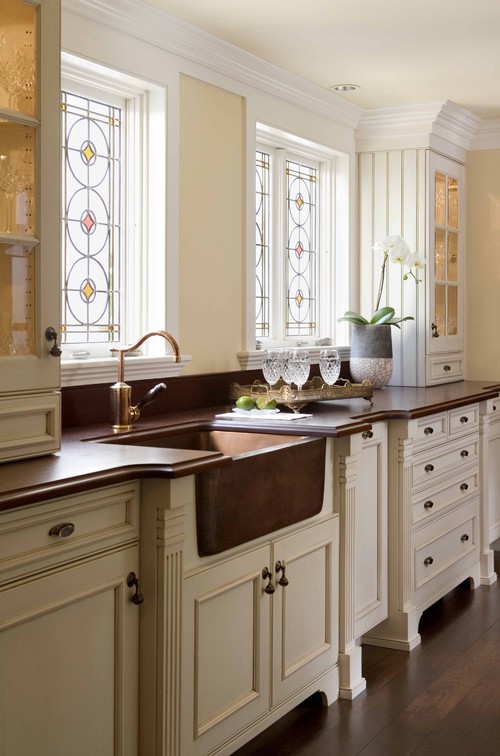 Kitchen with Shaker Style Cabinets
Here the farmhouse kitchen meets the beach. It is decorated to look bright and airy. Making the most of the large windows in this kitchen.
The copper sink in the kitchen has a lovely patination.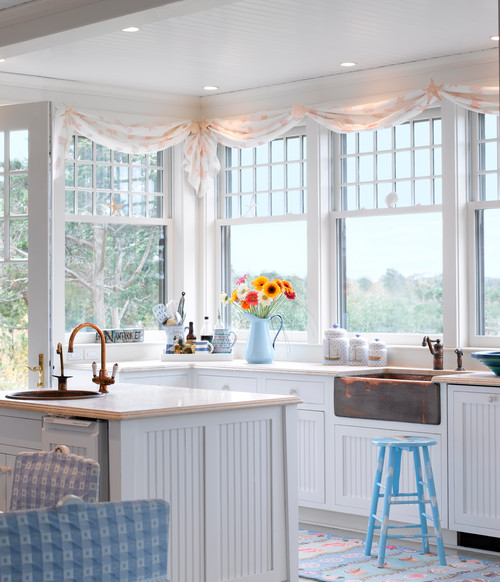 Copper Sink in a Blue Country Kitchen
I think the kitchen is stunning.
The stand-out features for me are the blue cabinets that look great with dark countertops and unpainted wooden cabinets.
In this kitchen, they have a double bowled copper sink that looks so in keeping with the rest of the kitchen decor.
I can see the designer has added other copper items to the kitchen. With pots and pans hanging up and molds adorning the windows.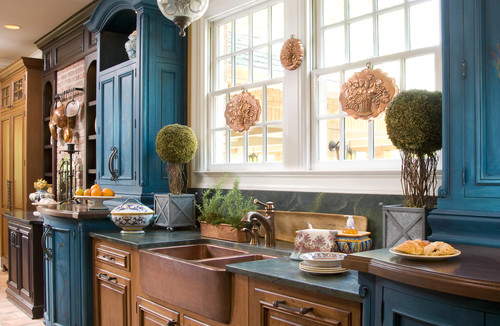 Hammered Copper Single Bowl Sink
I love the size of this sink. It makes it nice and practical, as there is plenty of space for washing up.
In this setup, the sink has been installed so it is flush with the countertops.
Undermount Copper Kitchen Sink with Drainer 
Another way to fit a sink is to undermount it, so the countertop goes over the edges of the sink.
It is a great idea also to choose a sink with an apron exposing the front. This means you can make the most of the beauty of the copper. 
Stainless Steel Copper Colored Sink
This sink isn't actually made from copper instead the stainless steel is finished so it looks just like copper.
The manufacturer says this sink is easier to care for than a proper copper sink.

Dark Antique Copper Sink
This sink needs to be set into the countertop and has no apron. So you can have your kitchen cabinets run right along the front of the sink.
Perfect if this is the look you prefer.
Undermount Large Copper Kitchen Sink
I like the way copper has been used here, set into white cabinets, very effective. 
This gives a nice clean finish to the countertop.
Frequently Asked Questions About Copper Sinks
Are copper sinks easy to maintain?
Yes if you follow a few basic routine cleaning steps.
Daily the sink will need to be rinsed and wiped over, using mild soap and a soft cloth, and dried.
Apply a protective sealant and polish monthly.
You need to realize that copper will have a patina that naturally ages the copper. This generally means the copper darkens over time. Some people love this patination.
Others hate it. If you are a hater, then copper is not for you, choose stainless steel or porcelain instead.
More information Here

Do Copper Sinks turn green?
This could happen if you allow the sink to be constantly exposed to water. It's important to rinse and dry a copper sink every day.
More information HERE
Can you use bleach in a copper sink?
No, bleach will discolor the copper. Other things to avoid are acids (drain cleaners, fruit juices, and acidic food like tomatoes).
Further Thoughts
Now that you have some ideas about how a copper farmhouse sink would look in a kitchen.
Copper sinks are unusual and rarely seen in kitchens, I think they look great and add depth and color to your rustic farmhouse kitchen decor scheme.
They certainly should be used more often.
More Kitchen Decor Design Ideas You Might Like