Here's a selection of pictures of granite countertops in bathrooms. Granite is a brilliant choice for the bathroom, as it is easy to clean, long lasting and esthetically pleasing.
I consider granite the highest quality countertop material you can install. It is just perfect for a bathroom.
There is an incredible selection of different colored granite to choose from. Starting from almost pure white to black. Some colors come in lovely mottled colors that show the structure of the granite.
**Affiliate Disclosure: As an Amazon Associate I earn commission from qualifying purchases**
Keep these countertop designs in mind as you plan your dream bathroom.
Enjoy browsing these bathroom designs that range from modern to traditional.
Black Granite Vanity Countertop
Traditional style bathroom with black granite countertops with a dark wood vanity.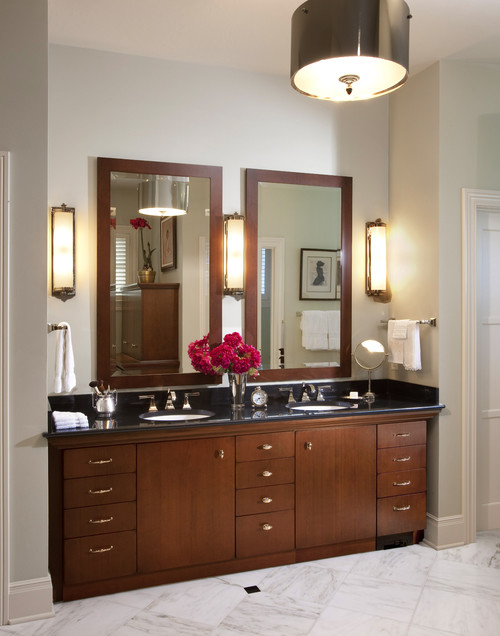 Pink and Gray Granite Countertop
Here we can see an example of the amazing colors and patterns granite comes in. I love this pink and gray granite.
Luxurious Bathroom with Dark Granite
Here is an example of mottled black granite that has been paired with great effect with a white vanity unit and accessories.
Rustic Style Green Marble Countertop
This unusual country style bathroom has a beautiful green striated granite countertop.
I think it looks wonderful paired with the wooden vanity and stylish brown-colored sinks.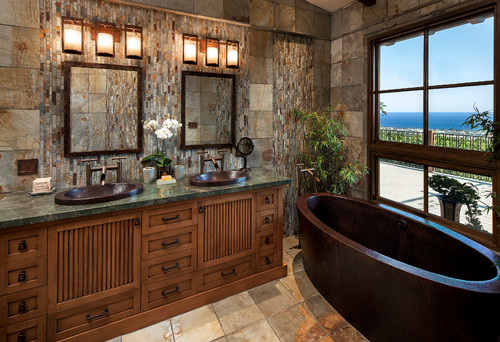 Glamourous Style Bathrooms
This is a really glamourous style master bathroom. I love the 3 mirrors that make such a strong design statement.
The granite here is a beautiful shade of pink with black flecks, very feminine and pretty.
Double Sink Countertop in Marble
Green accessories look great here, with the gray and black marble countertop.
Pale Gray Granite Countertops
I love this bathroom, in a nice minimalist style. The gray granite makes the entire bathroom decor scheme look spacious and classy.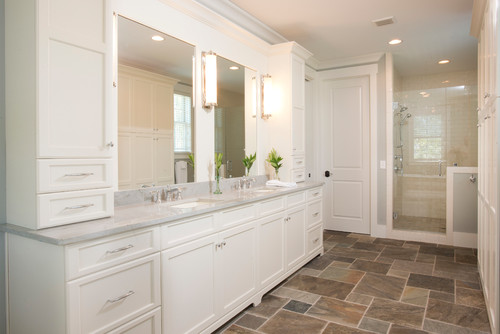 Bathroom with Granite Countertops and Bathtub Surround
Here pink with black striation granite is used with impressive results on both the bath surround and countertop.
Gray Double Sink Vanity
The vanity unit featured here is ready to be installed as it is. I love the dark color of this unit.
Brown Country Style Bathroom
Here is an example of a great way to use a brown granite in a farmhouse country style bathroom.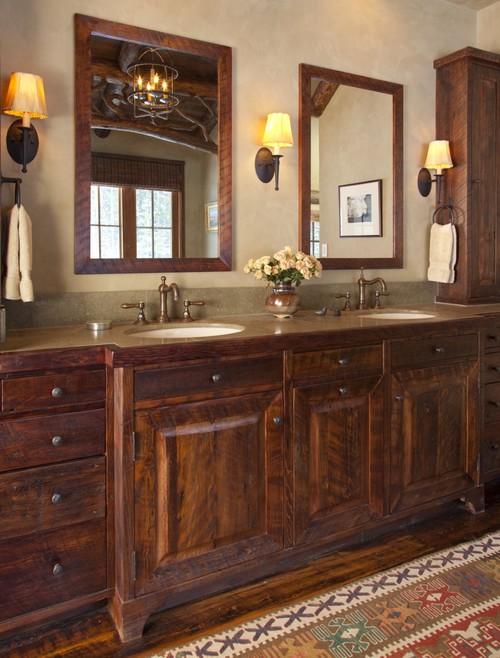 Modern Bathroom with White Granite
A white marble countertop with light brown , gives a modern feel to this bathroom.
Black Vanity Unit
This is an example of a marble topped vanity unit that comes ready to be installed into your bathroom.
This is very useful as manufacturers install granite using bespoke measurements of your bathroom.
Large Master Bathroom with Pale Granite Vanity Top
The gray marble countertops look fantastic in this amazing master bathroom.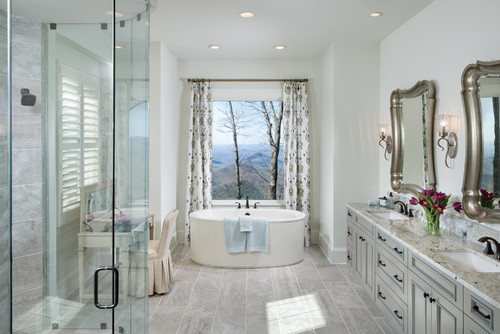 Bathroom With Black Granite
Modern Farmhouse Bathroom
picture source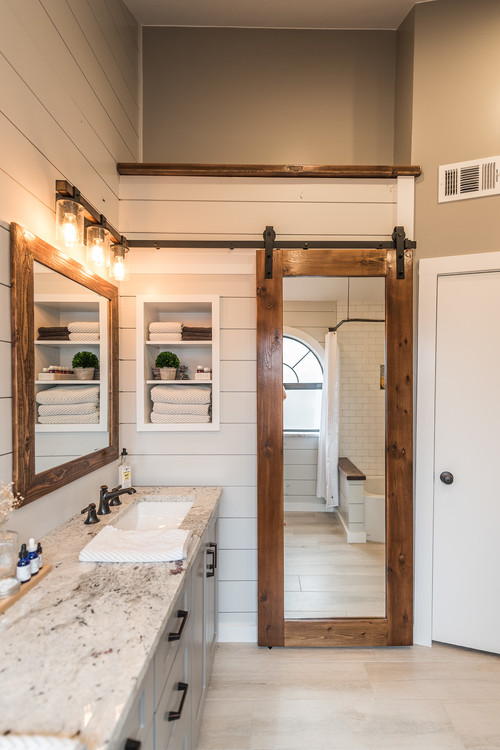 Frequently Asked Questions About Granite Countertops
What is Granite?
This is a hard wearing igneous rock. That was formed by volcanos many years ago.
We have used this rock over the centuries for buildings, as it is tough and hard wearing. You also often see it being used as paving slabs.
Is granite good for bathroom countertops?
Yes, granite is suitable for bathrooms, and is commonly used in high-end bathroom remodels.
Provided the granite was properly sealed during manufacture, it will happily resist water.
Looked after properly it will give you years of excellent service, and can look just as good as new after many years.
What is the best granite for bathroom countertops?
All granite is suitable for a bathroom countertop. Provided it has been cut and sealed well by the manufacturer.
The only problem you have is deciding what color granite to buy!
What are the different granite colors?
Granite comes in a vast number of different colors. From off white to almost black. Inbetween these extremes we see browns, grays, pinks, beige and green and with various colors in between like beige, blue and green.
Also, much of the beauty of granite lays in the interesting striations, flecks and veins that are created as the granite is formed.
For example, pink granite would have black and white flecks.
I found a great article HERE about the different granite colors, that will help you to further research the subject.
Finally, it should be noted that granite can be stained different colors.
How to care for granite countertops in your bathroom?
The most important thing about cleaning marble is to avoid using bleach or cleaning products with ammonia in them. Also use nothing abrasive, as this will take away the shine and factory finish.
A simple way of keeping granite countertops clean is to use dish soap. Then dry and polish with a microfiber cloth. Hot water and dish soap should be adequate for daily sanitizing.
If they have recently installed your countertop, follow the advice from the manufacturer.
There are many products like sprays and wipes that designed for daily cleaning.
You may occasionally need to reseal the granite.
Final Thoughts
As you can see, granite comes with an in incredible choice of colors and patterns.
It is pretty much guaranteed that here will be the perfect types and color of marble for your bathroom.