Welcome to my collection of pictures of ceiling fans in living rooms.
Ceiling fans are a great way to cool yourself off in the summer and keep you comfortable in cooler months too.
They can also make your living room more of a vibrant space by adding an aesthetic design feature that complements any colors or patterns present in the room.
**Affiliate Disclosure: As an Amazon Associate I earn commission from qualifying purchases**
A ceiling fan is a cost-efficient upgrade for any home, which will help cool the inhabitants during hot days, which can increase comfort substantially.
Contemporary Living Room With Extra Large Ceiling Fan
This contemporary living room features a beautiful trendy concrete floor and an extra large ceiling fan. Accented with comfy sofas and chairs centred around the fireplace for cosy evenings with loved ones.
This room is an example of an elegant and comfortable room that would suit most people's taste.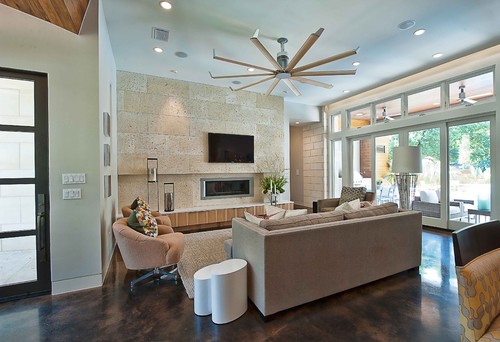 Modern 3 Blade Fan Design
This contemporary 3 blade fan design ceiling fan seamlessly blends high-efficiency blade rotation with an energy efficient, light and noise-free design.
This design is perfect for those who want to modernize their living space.
Modern Crystal Fandelier
Love the beauty of crystal? Wish you can have it in your living room? Here is a perfect chandelier ceiling fan with crystal lights for those seeking something cool without too much bling.
When the fan mechanism is switched off, the fan blades retract.
Windmill Style Ceiling Fan
This living room features a cottage style farmhouse theme with dark wood flooring and recessed lighting. In the vaulted ceiling is a large windmill style ceiling fan that makes a wow statement.
Ceiling fans like this are a great alternative to traditional air conditioning because they are cost effective, environmentally friendly.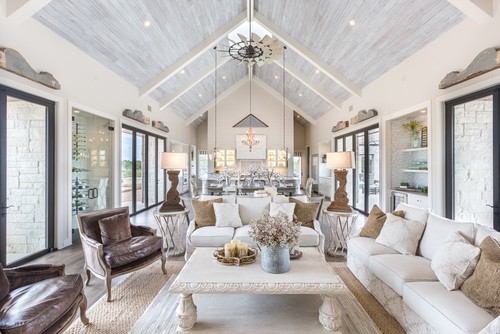 Living Room Bathed in Light
This living room has an air of elegance with an unusual feature of a rattan ceiling. The decor harks back to the colonial era.
Light streams into this room through the large glass doors on two sides of the room.
Modern Ceiling Fan With Light
This modern ceiling fan fixture with retractable blades is ideal for living rooms wanting to follow the latest home designs.
I love how chic and modern this model is with bands of smart black detailing around the body of the fan. The remote control is useful, as it is so convenient and easy to use.
Beach living room design with palm blade ceiling fan
This coastal style living room lets in plenty of warm sunshine that will be appreciated once winter sets in.
Great design ideas for your new or existing coastal beach house. The light color palette of shades of grey compliments the red decor accessories like curtains and throw pillows.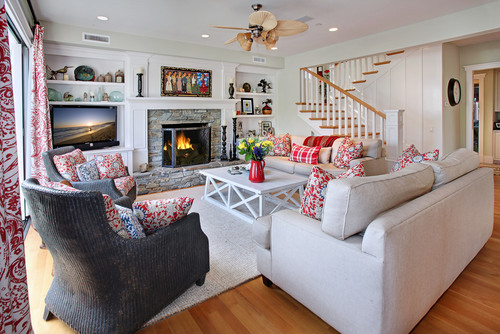 5 Blade Fan with Wooden Blades
This sleek engineered wood of this contemporary fan is an excellent contender as a main ceiling fan for your living room.
Perfect for those with family living rooms and high ceilings. The 5 blades offer efficient cooling power with quiet operation.
Modern Living Room Ceiling Fan with Remote
This modern 6 blade ceiling fan is a beautiful addition to any living room.
The contemporary design of this ceiling fan will add a touch of class to any trendy living room area.
Rattan Blade Fan With Light
A traditional styled living room with a brown rattan blade ceiling fan. The blades are a natural wood color with a central dome shaped light.
This is the perfect type of fan for people that love tropical or colonial style decor.
Modern Bronze Ceiling Fan
So you're looking for a sleek, modern ceiling fan that won't clash with your beautifully designed interior. This one will do the trick!
It's got everything you need to complement your trendy decor. Including fully dimmable lights.
Designer Pulley Style Ceiling Fan
The color palette in this stunning room is a beautiful aqua that coordinates well with the hardwood flooring and woven wood blinds.
The ceiling fan is a very unusual design with two separate fans being driven by a clever pulley system.
A great idea for anyone looking for designer fans for living rooms.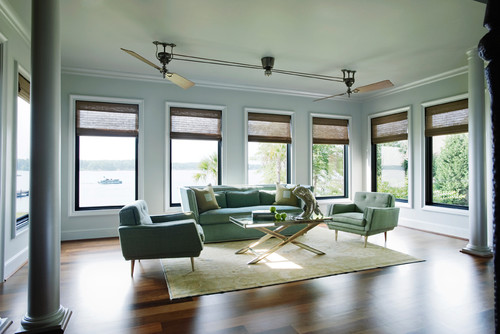 Cozy Blue and White Living Room
This living room has a blue and white color scheme, which is beautifully decorated.
It's got a classic feel, with touches of contemporary details. The fireplace will give off such a warm glow, and the wooden flooring adds another warm and cosy element.
Black 5 Blade Fan with Light
This is a low-profile ceiling fan with a contemporary matte black finish that blends effortlessly into your living room decor.
This type of fan will look fantastic no matter what color scheme you choose. The Opal Frosted Dome light fixture provides plenty of sub lighting.
This model also has reversible blades to allow a choice of warm and cool air circulation location.
Fan Design in a High Ceiling Room
Here a light and airy room has the addition of a cooling fan to bring in cooling breezes during the summer months.
For those who have high ceilings, getting the right ceiling fan can be a challenge. Whether you are looking for something sleek and understated or bold and dramatic, there's a perfect solution out there to match your needs.
Conclusion
As we can see, ceiling fans come in many sizes and styles. I hope this style guide will provide you with the information you will need to make your next purchase. Helping you narrow down your search to find the perfect living room ceiling fan for your home.
The pictures were chosen by both size and design so that you can see how the various styles will look against a variety of room aesthetics.
You May Also Like