Welcome to my collection of pictures of bedrooms with chandeliers. Including master bedroom chandelier ideas, master bedroom chandelier ideas, and chandeliers for teenage girl bedrooms.
As you will see there are plenty of different lighting styles that will make a statement in any size bathroom from tiny to large.
There are lighting solutions to all kinds of bedrooms. From rustic farmhouse to simple minimalist. There will be the perfect light fixture for you.
**Affiliate Disclosure: As an Amazon Associate I earn commission from qualifying purchases**
Here are my top 15 picks of beautiful bedrooms.
Mid Century Modern Chandeliers
Here we have a modern lighting fixture that plays with the concept of a chandelier.
It is made up of many small lights that are arranged in a pleasing manner.
This is the perfect lighting choice for this modern style bedroom.
In this bedroom I particularly like the two bright pink pouf ottoman that are at the end of the bed.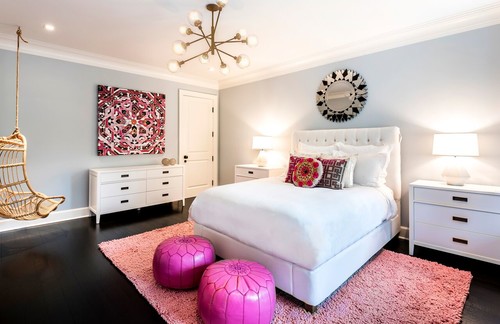 Master Bedroom with Candle Chandelier
Here is an example of a large chandelier designed for magnificent rooms.
It looks perfect here in this rather grand master bedroom.
In this stunning room, I love the recessed ceiling and light from the large windows. They give a great sense of light and space.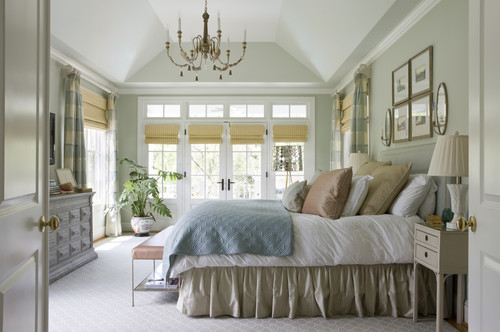 Modern Crystal Chandelier
This is a modern updated version of a chandelier that will look great in any contemporary bedroom.
Two rings of lights make up the hanging chandelier, and you can configure them in several ways.
Pottery Barn Inspired DIY Bedroom Chandelier
Can you believe someone made this from their own pattern! The creator of this masterpiece saw a similar one at Pottery Barn, but it had a high price tag.
So she made her own from wooden beads, quilting hoops and a lot of patience!
The result is amazing really cool I'm sure you will agree.
Master Bedroom Farmhouse Chandelier
Here is an example of a ceiling light fitting that will grace any farmhouse style bedroom.
I love this rustic chandelier that looks so good against the ceiling beams.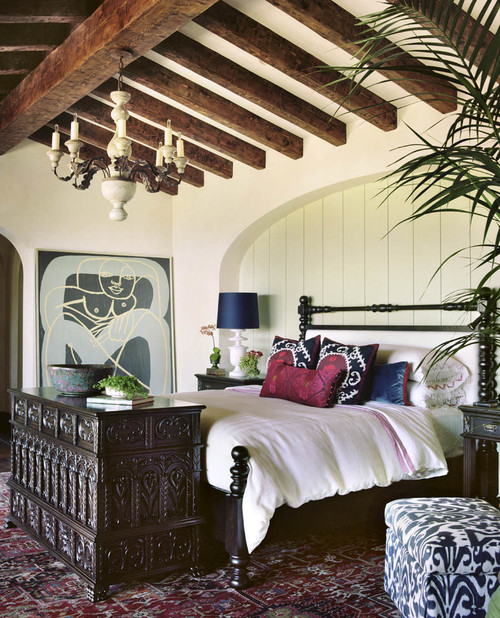 Pink Modern Style Lighting
This is a fun pink lighting fixture that would be a brilliant choice for a teenage girl's room.
Perfect for that difficult transition from childish bedroom decor to a more grown up space.
Simple Elegant Bedroom Chandelier
Here we have the height of elegance, with this beautiful gold chandelier that looks great in this master bedroom.
Although it has a minimalist design, it is large enough to make a real focal point in this room.
I love the way they have coordinated the bedding with many layers of throws and quilts.
Black Bedroom Chandelier
Here is a stunning minimalist chandelier with candle lights.
Its design fits into this bedroom perfectly as the black of the light mirrors the black frame of the 4 poster bed.
It complements the bedroom decor well. I love the white bedcover paired with beige pillow covers and lamp shades.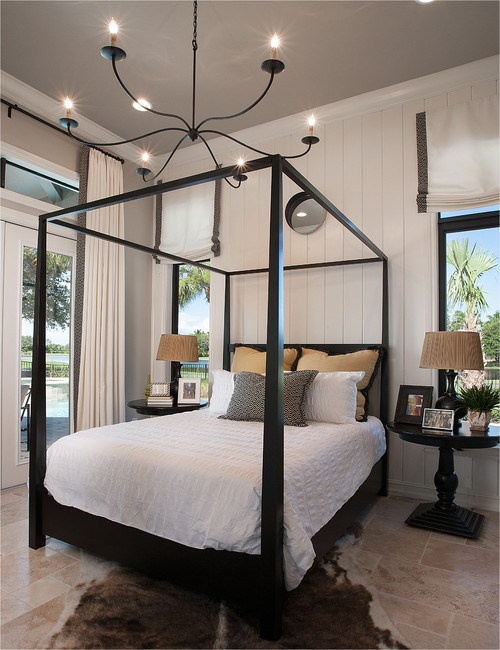 Light Fitting for a Farmhouse Style Bedroom
If your bedroom has a rustic farmhouse or shabby chic style decor, then this would be the perfect light fixture of you.
I love that this manufactured from actual wood. No veneer to be seen here.
As you can see from the picture it really makes a statement. It looks great in this bedroom with a gray and turquoise color scheme.
Black and White Bedroom Chandelier
The plain and simple black and white lighting works really well in this high vaulted ceiling bedroom.
I like the way it hangs down so deeply from the tallest rafter.
Overall, this is a stunning bedroom of muted neutral colors. Sure to be perfect for a good night's sleep.
Chandeliers for High Vaulted Ceilings
It's difficult to find suitable lighting for a room with a vaulted ceiling. A chandelier can be one great option.
In this gorgeous bedroom, they have chosen a traditional style chandelier that matches perfectly with the decor.
I think it is wonderful to have a bedroom with so much light from windows on two sides of the room.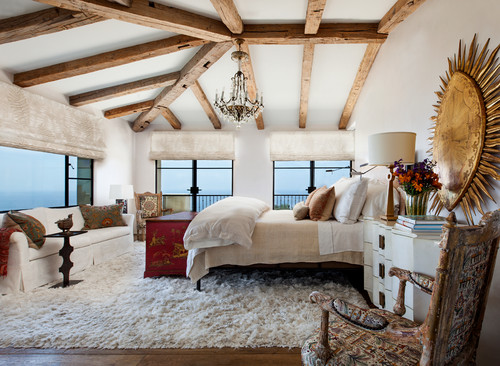 Stunning Rain Drop Crystal Bedroom Chandelier
This is a real statement piece, perfect for a large master bedroom.
It features a design with plenty of sparkle that will brighten up any room.
The bling comes from plenty of raindrop crystals.
Glam Bedroom with Crystal Chandelier
Here is the perfect way to dress a glam bedroom. This is a perfect design idea for a master bedroom.
Note the mirrored nightstands, pale pink light shades and an upholstered headboard. These all give the impression and feeling of glamor.
Bedroom Crystal Fandelier
I've learnt something new! A Fandelier is a hybrid of a ceiling fan and a chandelier.
These are a great idea if you want to have the looks of a crystal light but need the fan to keep the bedroom cool during the summer.
The fan blades retract when not in use, so this just looks like a normal light when not in use.
Small Crystal Chandelier for Bedroom
There is plenty to like about this bedroom, from the beautiful color of the walls (a light turquoise) to the matching bedding sets and pictures.
The small crystal ceiling light blends in well with the turquoise, silver and white color scheme.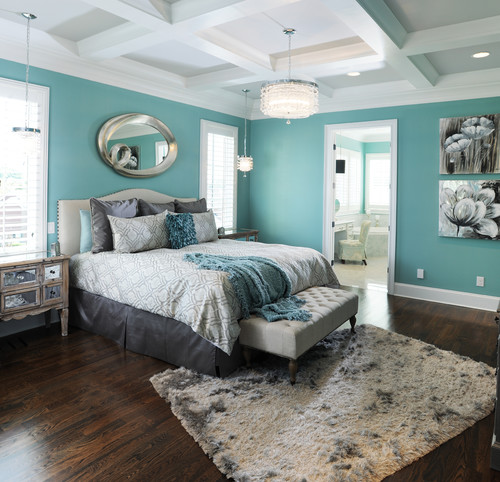 Conclusion
If you want to make a statement with your bedroom decor, then consider adding a stunning chandelier to your bedroom.
I hope you have found the examples I have picked out useful when considering the best lighting for your bedroom.
There are styles and for every decor theme, from farmhouse rustic to glamorous modern.
Want More "Bedroom Decor Ideas" Check These Out