Thinking of upgrading your bathroom with a new freestanding tub? Check out our pictures of bathrooms with freestanding tubs for inspiration.
Once tubs were discarded in favor of showers. But now tubs are back in as people have learnt to appreciate how wonderful a good soak in the tub can be.
For contemporary bathrooms look out for beautifully styled freestanding tubs that have a modern look. For traditional style bathrooms there are many designs available, for example freestanding tubs with claw feet
**Affiliate Disclosure: As an Amazon Associate I earn commission from qualifying purchases**
Here's an incredible selection of bathroom designs I know you will love.
Small Bathroom with a Freestanding Tub Example
Wow, this small bathroom is amazing. They include the tub in the shower enclosure, which brilliant use of space in a small bathroom.
The spectacular blue and white geometric tiles are a brave choice here, but I think it works.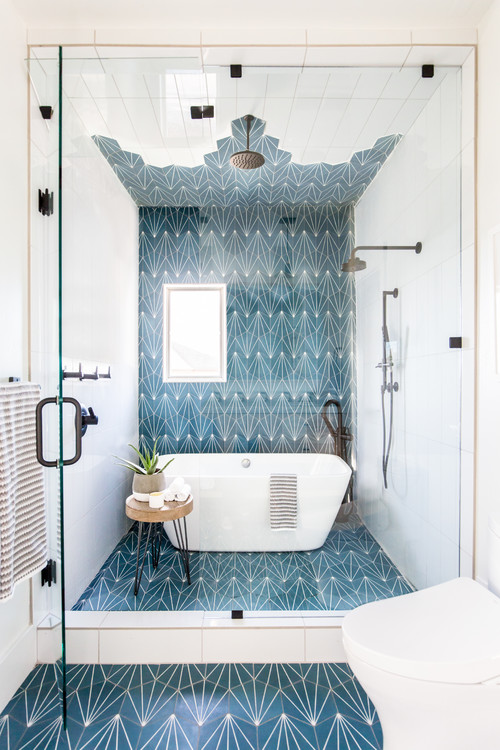 Modern Gray Bathroom Design
I love the way they use cool grays in this decor scheme to give a sense of space.
If this was my bathroom, I would add brightly colored bathroom accessories, either yellow or bright pink.
Stylish Black Stand Alone Bathtub
This black tub is ideal for anyone contemplating a standalone tub in a contemporary bathroom.
You could use this bathtub as an interesting focal point for an all white bathroom.
Farmhouse Master Bathroom with Copper
The designers achieved a country farmhouse look with a wooden vanity and cabinets, stone on the wall and floor, and of course the stand out piece a copper bathtub.
This will not appeal to the minimalists out there, but I just love it.
Large Copper Bathtub
I like the way we can pair a copper bathtub like this with old-fashioned style accessories.
An outstanding example is the faucet and shower set that looks Georgian in design.
Bathrooms with Freestanding Tub and Shower
What do you prefer? A shower of or a tub?
This glamorous bathroom has the best of both worlds. A lovely large soaker tub, and a super-sized walk-in shower.
I'm rather intrigued by the number of different shower heads and knobs in the shower enclosure. Looks complicated!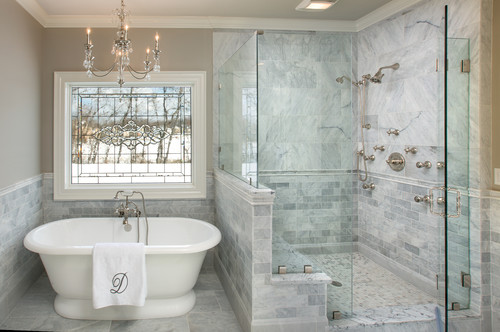 White Bathroom with Large Window
This bathroom has an enormous window. I like the way the tub is arranged so you can bathe while admiring the view.
The textured white tiling show here is a nice design idea.
Modern White Standalone Tub
Here is an example of a standalone white bathtub that will look wonderful in any modern bathroom.
White Clawfoot Bathtub in a Traditional Style
If you like the look of old-fashioned enamel bathtubs with claw feet, here is the bath for you.
Although it looks like the real thing, it is in fact mainly made of acrylic, so is a great deal lighter and easier to install than a metal enamel tub.
Principle Bathroom with Freestanding Tub and Walk-in Shower
Here is a bright and sunny bathroom. The light floods in through the skylight.
I love the color of the green subway tiles used here in the shower enclose.