Enjoy browsing my selection of gorgeous pictures of bathrooms with clawfoot tubs.
Adding a freestanding clawfoot tub to your bathroom is one of the best strategies for adding a vintage yet glamorous look to your bathroom. Imagine yourself spending time here having a luxurious soak.
Consider these images as you plan your next bathroom, remodel that includes a claw-foot tub.
**Affiliate Disclosure: As an Amazon Associate I earn commission from qualifying purchases**
Clawfoot tub designs typically feature cast iron decorative legs, but is surprising how many unusual styles there are available.
I hope I have reflected that choice in the following selection.
Clawfoot Tub in a Victorian Style Bathroom
Gorgeous antique style bathroom with a large black and white tub. The walls are painted in a faded greenish blue that has been given a distressed shabby chic look.
The vanity units have raised panel drawer front and green marble countertops.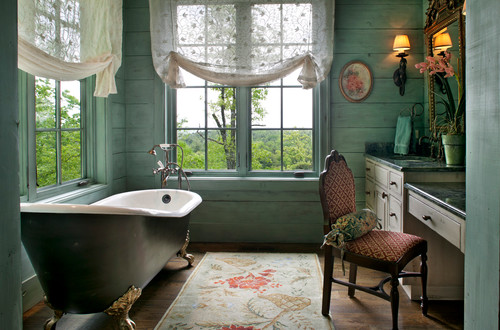 Clawfoot Tub in a Log Cabin Bathroom
A rustic style log cabin bathroom made from natural and rustic materials. Including wooden walls and hardwood floors.
The designers have created the perfect space for relaxing and unwinding after a day in the woods.
Red Freestanding Tub with Gold Claw Legs
Glam style bathroom with a deep red bathtub with gold legs. Perfect for many hours of luxurious bathing.
 Red Clawfoot Tub for a Glamorous Bathroom
Copper 8 Sided Bathtub
Why not consider designing your next bathroom around this striking copper clawfoot tub?
They make the outside of this tub from a very attractive hammered copper. The design is very generous, giving plenty of space for a good soak.
White Clawfoot Tub With Silver Accents
A pure white tub sits in a white wood panelled bathroom with gray painted walls.
I love the silver highlighted legs that is mirrored in the shower and tub filler and other accessories.
I love the simple, uncluttered look the designers have achieved here.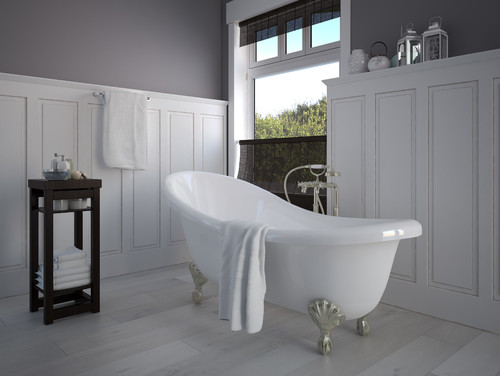 Large Luxurious Master Bathroom
Freestanding bathtub is a feature here is this marble master bathroom. It contrasts light brown marble walls with a white painted arch.
The bathing area features a chandelier that brings another glamourous design element.
Elegant Black and White Bathroom
Black and white bathroom with subway tiling and a bathtub and shower combo.
Example of a bathtub and shower combo design that looks fabulous yet very practical.
Here you can see clearly what shower rail is needed when having a freeestanding tub with a shower.
Victorian Master Bathroom with Elegant Style
Victorian style white claw-foot bathtub in an elegant bathroom with beige wood panel walls.
The vanity unit is made from a furniture type cabinet. With dark wood and a black marble countertop.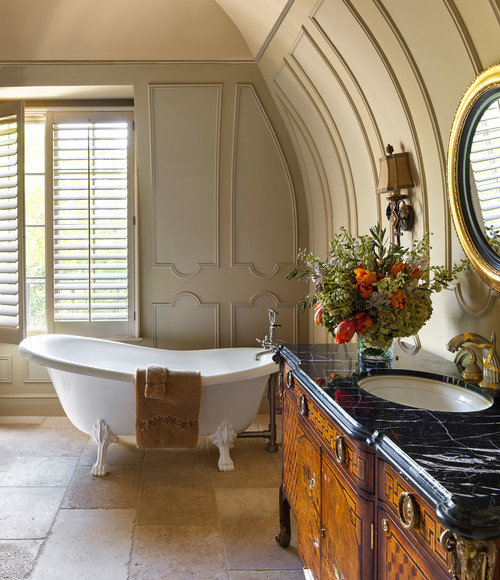 Clawfoot Tub in a Rustic Farmhouse Style Bathroom
Simple rustic looks here in a minimalist rustic style bathroom. They pared back everything you normally see in a bathroom, yet it still keeps a stylish country look.
The size of the tub is smaller than usual, showing us that clawfoot tubs can fit in the smallest bathrooms.
Coastal Cottage with Style
White panelled walls and pale wooden floors look great here with the completely white bathtubs.
They bring coastal elements in with a selection of pebbles from the beach and a picture of a boat.
Fresh Green and White Bathroom Decor Idea
Fresh lime green wooden panels bring a bright design element that coordinates well with the white bathroom decor.
It makes the most of a small bathroom.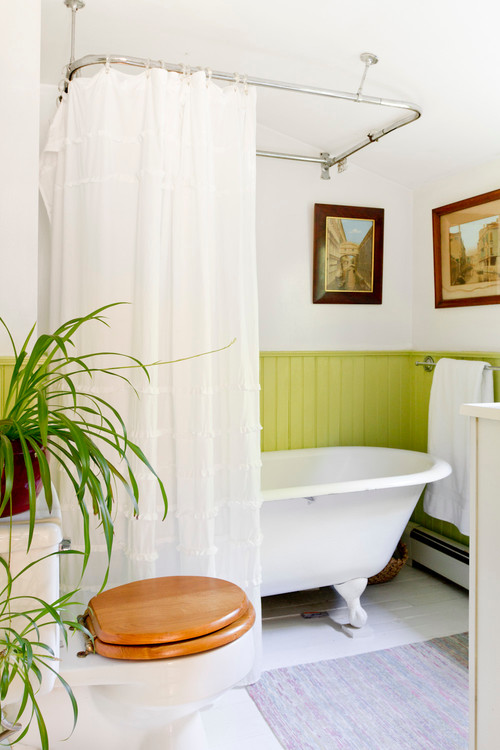 Black and White Bathroom with Gold Accessories
Bathroom with recessed wall storage nooks, white walls and a black and white clawfoot bathtubs.
I love the distressed painted storage cabinet shown here. Not to everyone's taste but I could live with it!
French Shabby Chic Style Bathroom with Clawfoot Tub
Pretty bathroom with a white tub, gray wooden panelling and white walls.
On the floor are white penny shaped tiles with dark contrasting grout.
Clawfoot Tub in a Victorian Style Bathroom
The key feature of this bathroom are the large stained glass panels. These depict flower, birds and butterflies in a pleasing pattern.
Inside the bathroom, the walls are beige, and the tiled floors are brown. These contrast well with the large freestanding tub.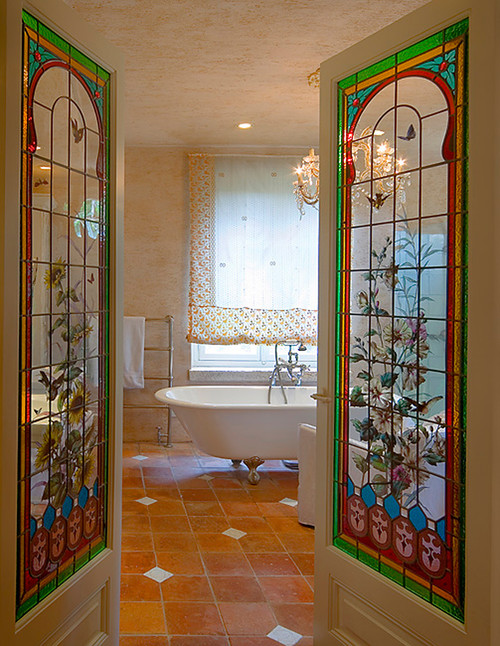 Pretty Blue and White Bathroom
This bathroom shows us how great a blue and white decorating scheme is in a bathroom.
They bring blue elements in with a blue tub, and blue and white style tile flooring.
Frequently Asked Questions About Clawfoot Tubs
Are acrylic tubs better than cast iron?
Cast iron is great to look at and might even be an antique, it will last a very long time as it can be re-enamelled when it becomes scratched, chipped or shabby.
It does however have many drawbacks. It is very heavy so will be difficult to install especially into bathrooms in upper floors. Bathroom floors on upper levels may need to be shored up to accept the extra weight. Making any remodel more expensive.
Cast iron tubs are much more expensive that similar sized acrylic baths.
With acrylic you can get the look of a cast iron tub, but at much cheaper prices. Acrylic tubs don't last forever and you will need to replace it ever 15 or so years. The biggest advantage of acrylic is its lightness, so they are easy to install even in upper floor bathrooms.
Are clawfoot tubs comfortable?
Yes, this is the major selling point for these kinds of tubs. They are deep, so will provide plenty of water for a luxurious soak. If you are outside the average height, be careful, you might find a tub very uncomfortable if you are too tall or too small. Before installation it is worth measuring the tub to make sure you will fit comfortably.
Can I have a Shower in a Clawfoot Bath?
Yes, this can be done, but you will really need to have a shower curtain and rail that attaches to your ceiling. These can be any shape to match the shape of your tub. When showering you need to make sure the shower curtain (or liner) is inside the tub otherwise water will flood your bathroom floor.
Are Freestanding Clawfoot Tubs Safe?
Generally freestanding tubs are not recommend for younger children and people with mobility issues, and frail older people.
The main reason is the depth of the tub that is deeper that usual and the lack of handrails or other supports that can help you get out of the bath. It is surprising how much strength you need to heave yourself up and out of a bath.
People regularly get stuck in a bath and have to be helped out.
The extra depth freestanding tubs have that can also make it difficult for some people to climb into a tub.
Young children should not be left unattended in a freestnading tubs as there is a chance of drowning.

Further Reading
Conclusion
When it comes to styling a glamourous bathroom decor , nothing is more recognizable as a luxury accessory than a clawfoot tub.
Freestanding clawfoot bathtubs are a stunning centerpiece in any bathroom.
I hope you will use these ideas to make your bathroom even more luxurious.
Once installed, you will no doubt spend many hours luxuriating in a hot soapy tub.
You May Also Enjoy