Welcome, I hope you find these pictures of bathroom vanities and mirrors as interesting as I do.
When you are considering updating your bathroom it is always nice to look at bathroom decor options, that other people have made.
Here I have covered all kinds of different decorating styles from modern to shabby chic. Hopefully, there is something here that will interest you.
**Affiliate Disclosure: As an Amazon Associate I earn commission from qualifying purchases**
White Double Vanity with Oval Mirrors
This is a stunning master bathroom with plenty of room for two.
I love the way the vanity unit is beautifully framed by an attractive arch with an effective mounding design.
I love the neutral yet warm tones of the color scheme.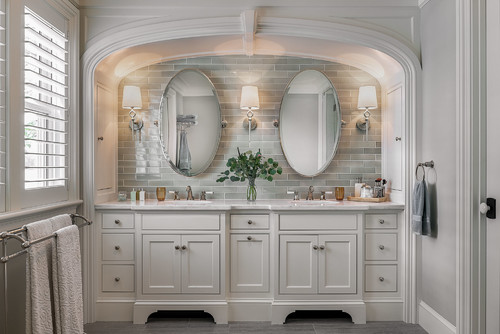 Blue and Silver Bathroom
I love this blue bathroom with silver accessories, such a nice cool, and calm color scheme.
A round mirror is always a good choice for a small bathroom as it creates a focal point that draws the eye.
Although this is a small bathroom it still has plenty of storage thanks to the cupboards under the vanity unit.
Modern Minimalist Bathroom with Gold Highlights
Here is a very modern minimalist design that is just perfect for today's busy people.
Due to the simplicity of the design this space will be quick and easy to keep clean and tidy.
I love to two pendant lights that give this space warmth.
LED Lit Mirror for Bathroom Vanity
If you are furnishing a modern bathroom it is a good choice to pick a mirror that is backlit by LED lights.
Great for putting on makeup or for men to shave with.
It has a great feature of a clock. This will no doubt help you get dressed for work or the school run against the clock in the mornings.
 Wall Mounted LED Lit Mirror for Bathroom Vaniety
Bathroom With White Tiles and Blue Vanity
This bathroom is just gorgeous, I live the mixture of the blue vanity paired with white subway tiles.
It just looks so fresh and clean. The countertops can be kept clear of clutter as there is plenty of space for storage in the vanity drawers and cupboards.
I think the gray tiled flooring is really lovely yet practical. I like the wood effect flooring with interest and texture.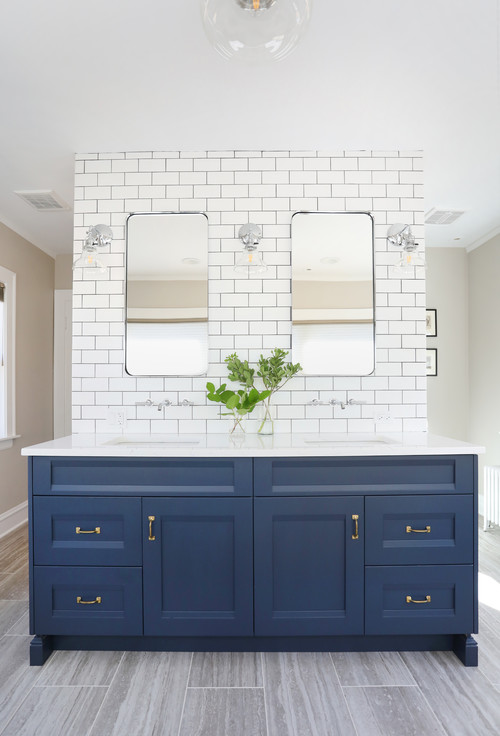 Contemporary Bathroom With Wooden Vanity and Large Mirror
A great design tip for a small bathroom is to put a really large flush mirror over the vanity.
This gives a strong 3D effect making the room seem so much bigger.
Because the vanity is made from bare wood it gives the design in this bathroom a contemporary feel.
Mirrors that are Medicine Cabinets
We all know how ugly medicine cabinets can be!
Here is a medicine cabinet design that is easy on the eye.
In fact, you would hardly know the mirrors were concealing storage, that was roomy enough for all your medical and cosmetic products.
Oval Mirrors for a Glam Bathroom
If you are trying to make a glamourous style bathroom then these are the types of mirrors that will be perfect.
I love that this pair of mirrors is frame-less. Frames can look dark and bulky.
instead the edges of the glass in bevelled in a very effective way.
 Oval Beveled Frameless Wall Mirror for Bathroom, Vanities
Bathroom with an Extra Large Mirror
The super sized mirror in this small bathroom is going to give the illusion of space.
I love the way the lighting is contained in thin strips on either side of the mirror.
Another tip we see used for making a room look bigger is to have "floating" furniture. Like the toilet and vanity unit featured here.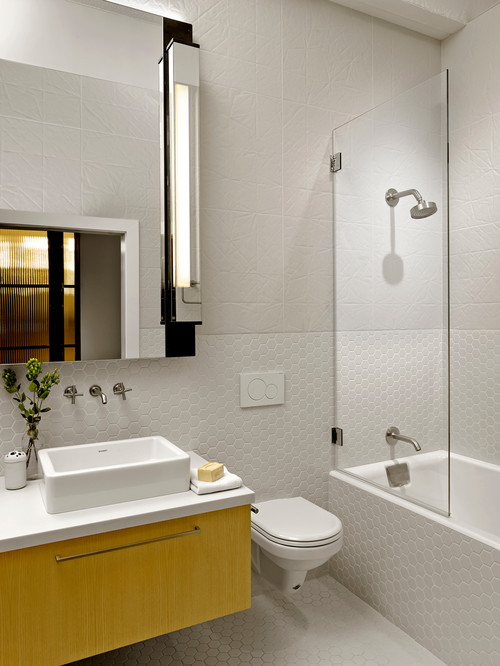 Bathroom Wooden Vanity
For me, you can't beat the classic pairing of wooden furniture paired with white walls and accessories.
A timeless classic bathroom decor theme that gives a fresh clean look.
One accessory I love to see in a bathroom is a plant. The plant here looks beautiful growing in the white basket.
White Vanity Unit with Marble Tiling
Pairing a white vanity with warm light brown marbled tiles is a great choice.
It rather reminds me of a holiday I once had in Portugal. This was the color of the marble in my hotel bathroom really beautiful.
Contemporary Style Bathroom with Clean Lines
Here is a modern style minimalist bathroom.
The vanity here is just pared down to a single countertop, with the sink placed on the top.
A great idea for anyone remodelling their bathroom on a budget.
 Vanity Mirror with This Frame for Modern Bathrooms
Country Style Bathroom
This bathroom is so pretty. The vanity here is just a simple stand with a couple of small drawers and a shelf.
I love the wicker storage baskets just perfect for that "country" look.
The large vase filled with lilac flowers is so pretty.
I always think that a dark floor with white walls is a nice color scheme, it looks really effective here.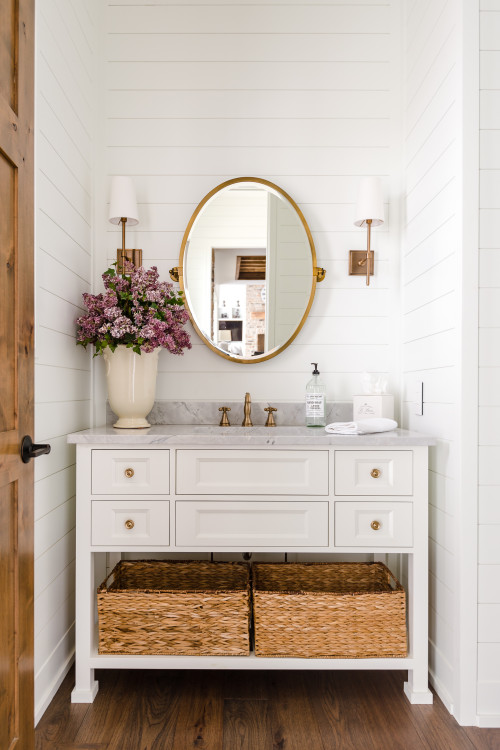 Farmhouse Bathroom Mirror Idea
If you are updating a farmhouse style bathroom, then a mirror-like this adds to the rustic look.
The mirror itself is hung from a metal rail that looks just like the door openings on a barn door.
Bathroom with Blue and White Tiles
The blue and white patterned tiles is this bathroom is just wonderful.
I also like the way the sink unit has a very minimal design. Simple but very effective.
Modern Bathroom With Floating Vanity
This bathroom has been cleverly designed to fit into a quite an awkward space.
A sense of space is given by the large mirror and the floating vanity unit.
Apart from it's beauty it is practical too, imagine how easy this room will be to clean.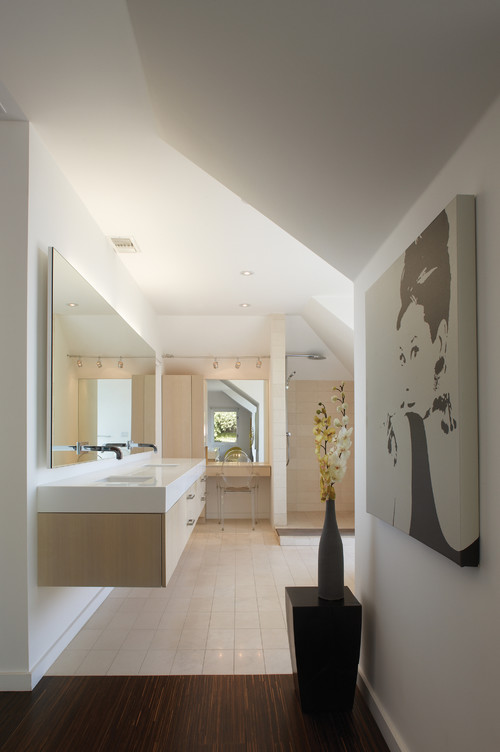 Bathroom With Brown Walls
I love the textured quality of the wooden cladding on this bathroom wall.
You would think this design too dark but paired with a blue-colored vanity with a marble top it coordinates very well and looks bright and airy.
Modern Bathroom With Marble Tiles
Here is a lovely paired down modern bathroom.
It features gray marble on the walls.
I love the simple design of the mirror and the way it is back lit.
 Modern Style Back Lit Bathroom Mirror
Shabby Chic Style Bathroom Vanity with Framed Mirrors
Here a beautiful old-style sideboard, that has been repurposed as a bathroom vanity unit.
I love the distressed look to paint effects on the front of the drawers.
This is a great look if you have an old side board that could be put to good use.
Bright Gray Bathroom Design
This has a bright color palate of gray, white and silver.
This is a very effective color scheme for a bathroom as it looks cool and clean.
I love the two oval mirrors that are lit on the sides.
Also the silver accessories pair well with the marble of the vanity unit.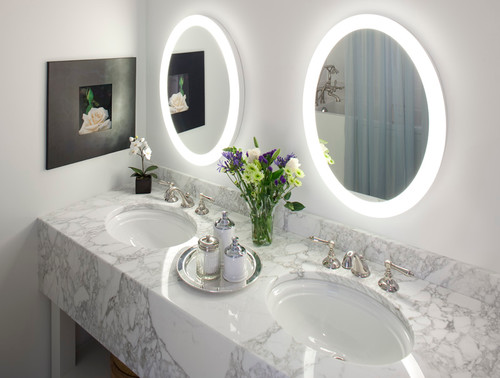 Mirror and Vanity in a Tiny Bathroom
This tiny bathroom is clearly a very difficult space to fit a bathroom into.
The vanity unit here is small but the right size to keep everything in proportion.
The sweet little mirror is just the right size as well.
Conclusion
I hope you have enjoyed the pictures I have selected of bathroom vanities and mirrors that I love.
As you can see there are many different combinations for bathroom vanities and mirrors.
There are sure to be design options for both your taste and your budget.