Welcome to my collection of pictures of bedrooms with daybeds, that I hope will inspire you by helping you to look at different decorating schemes and colors.
When I searched for daybeds, it amazed me! All those different decor styles and colors, I could style them with. From soft and feminine to bold and striking.
Some beds featured here have been custom made to fit into difficult spaces. Consider this if an off the peg bed from a shop just won't fit.
**Affiliate Disclosure: As an Amazon Associate I earn commission from qualifying purchases**
Beach Style Bedroom with a Custom Fitted Daybed
Here is a stunning coastal themed bedroom that has a lovely costume built daybed fitted into the window alcove.
This is a perfect spot for relaxing. I could see people reading, knitting or dozing in this space.
If you have a window alcove measure it up to see if a similar bed would fit the space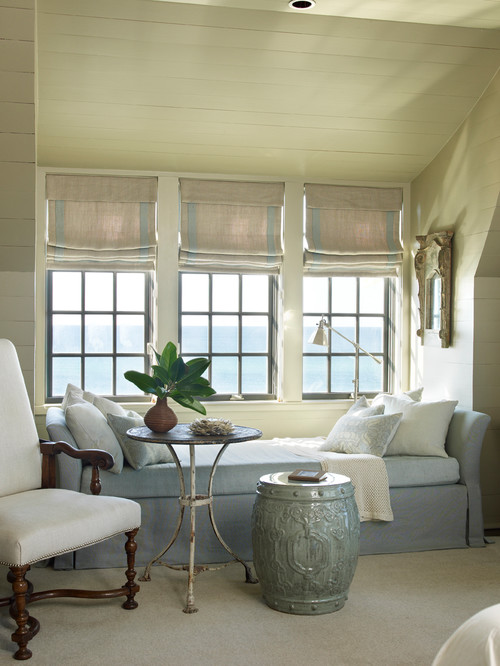 Country Style Daybed Set
These coverings on this day bed give a lovely French country feel to this room. The pattern has lovely large blue roses with white hydrangeas. The tailored bed skirt is in a coordinating blue and white stripe.
It comprises a reversible quilt, a tailored bed skirt, and 3 pillow shams.
Stylish Daybed Dressed in Neutral Colors
This picture is very inspiring, I long to have a restful neutral colored bedroom like this.
It's great to have room for your guests when they visit, but it is nice to have a relaxing nook to use when the visitors go.
I love those botanical prints that hang behind the bed.
Nautical Style Room with Blue and White Day Bed
I love this light and airy room that just oozes style. I particularly like the vaulted ceiling that just gives a great feeling of space.
The daybed itself looks really comfortable and cozy. I like the hints of nautical design in the blue and white pillows that have sea life and nautical images on them.
It's practical too as there is drawer storage built in under the bed.
This setup is just perfect for a guest room.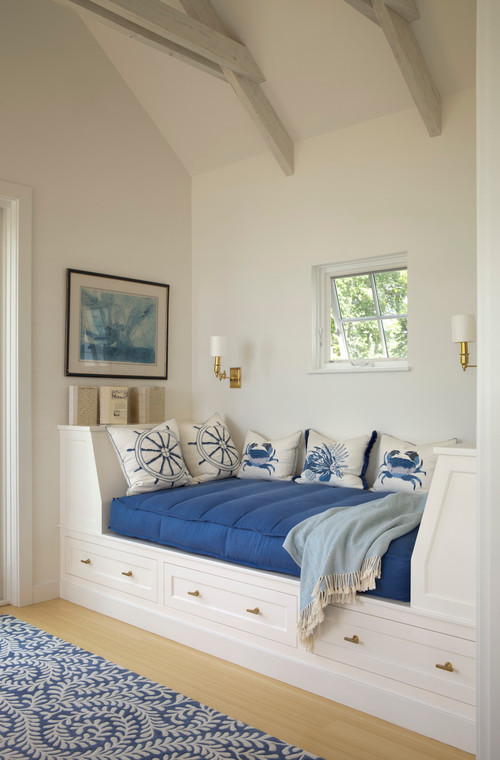 Practical Wooden Daybed With Storage
Here is a handy daybed that features plenty of storage.
It's great that this incorporates plenty of drawers together with shelving space.
This is a great spare bed solution for a child's bedroom.
Boho Style Room
I love the way they decorate this room, using a variety of different fabrics and knitted items. It gives a great strong boho look.
I just love that they store old luggage cases underneath the bed.
They tell a story of travel and glorious adventures.
Day Bed in a Childs Room
Here is a very practical solution to putting up your children's friends for sleepovers. This is a fun bedroom that any child is going to adore.
The children's large animal toys are a brilliant touch, it adds a happy jungle theme to the room.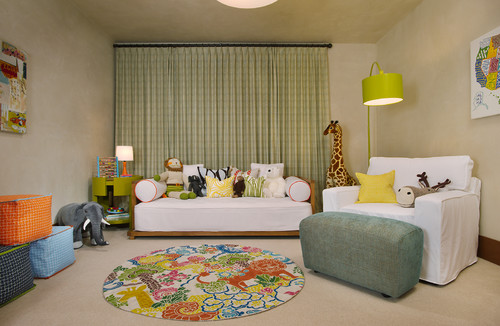 Blue and White Daybed with Throw Pillows
This stylish daybed set comprises a quilt like cover, 3 pillow shams, and a decorative pillow. The pillow shams and cover can be turned over to reveal a predominantly white pattern.
This is a great way to furnish a daybed in a spare room or a large master bedroom.
Gray Painted Daybed
This is the perfect daybed for a young girl's bedroom.
I love the soft gray painted wood on this unit, that pairs so well with soft pinks. Because it is a neutral color, it will coordinate with most colors.
There is plenty of storage provided by the set of shelves behind the bed, and a set of 3 pull out drawers.
Ideal for your children's friends staying for sleepovers.
Day Bed for a Contemporary Room
This is the ideal daybed that you could put in a spare room or home office. A great stylish solution to putting up guests in comfort.
The rest of the time the room can be used as a functional office, a practical solution for accommodating guests.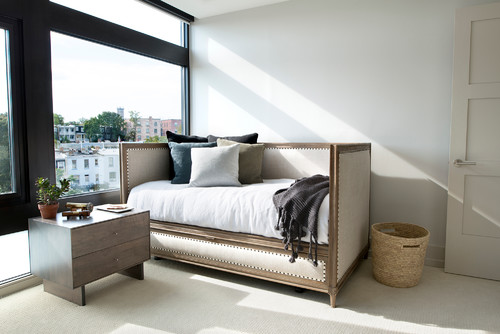 Fun Sea Life Designed Daybed Covers
If you are aiming for a coastal or underwater theme in your room, this is the daybed cover for you.
I love the different colors of blue that make up the underwater scenes.I love the exotic-looking fish, seaweed and starfish in the pattern.
DIY Reading Nook and Daybed
Here is a lovely way to style an awkward space with built-in shelves and a daybed.
Very creative and a lovely space to read books.
I love the color scheme of a pale, dusty pink mattress cover with an olive green throw.
Indonesian Carved Daybed
This decor scheme is perfect if you love deep earthy tones and rich fabrics. The whole look of the room is Morrocan inspired.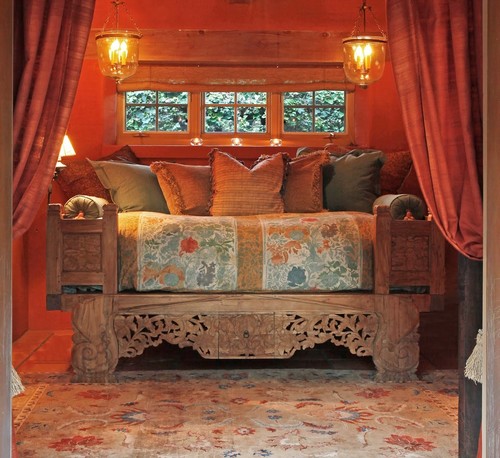 Richly Patterned Turquoise and Blue Daybed
This set features a quilt, pillow shams, and a tailored bed skirt.
The whole look is stunning because of the stunning color combination and oriental style design.
Farmhouse Style Daybeds
Although these are pictured here on a porch, these would still look great in a bedroom.
I love this blue striped material that covers these day beds. What a great space I could imagine spending hours on these beds just reading a book and contemplating life.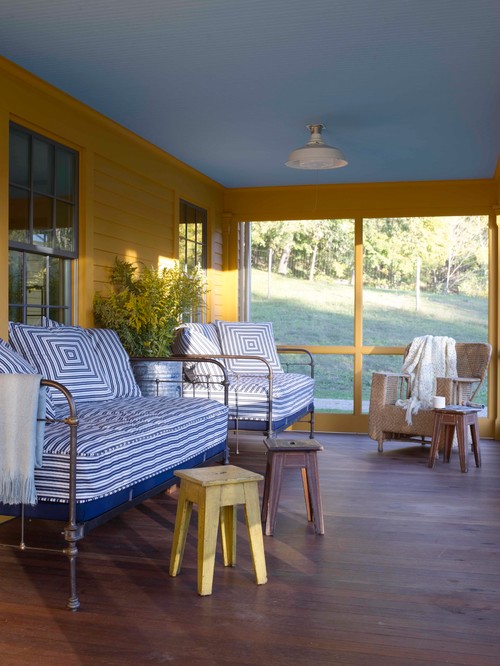 Photo by Hendricks Churchill – Search porch design ideas
Conclusion
As you can see, there is no need to have some ugly old inflatable bed for your guests to sleep on. They are often uncomfortable and can deflate unexpectedly!!!
The solution is daybeds that look both attractive and practical. They should be your first choice for extra sleeping space in your home.
Want More Information on Beds? Check These Out!