Here is my guide to achieving the look of a mid-century modern kitchen on a budget.
I'm sure you will love these ideas, particularly if you are into retro and vintage decor and on a tight budget.
Below is my selection of my favorite mid century items for the kitchen.
How to Get the Look
Achieving the mid-century look is possible even on a small budget.
**this post contains affiliate links for products. If you click a link and buy something I may receive some compensation. At no cost to you**
open floor plan with the kitchens blended into the dining room, with a minimalist uncluttered look.
the design comprises pieces with simple lines with no fussy frills
for kitchen accessories like curtains, and mats choose bold designs in bright color blocks.
incorporate beautiful natural wood pieces that are beautifully designed and finished.
The color palate of the walls is often brown, including all shades from dark brown to taupe, gray and white. Add in more color with accessories and or tiling.
stainless steel and wood often work well together in this style for example in kitchen stools and chairs.
sputnik style pendant lighting over kitchen islands.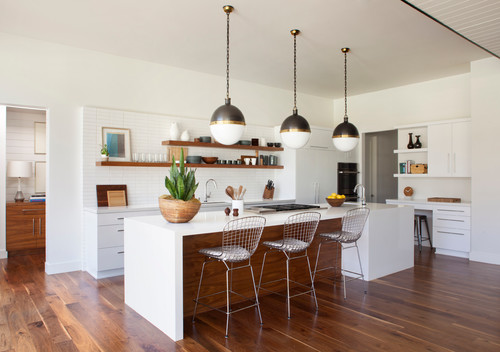 ✅ Wood Mid Century Modern Bar Stools
The Mid-Century Modern design of these stools create a retro statement for your modern kitchen.
They make these barstools with a strong wooden construction with a seat made from light beige material.
✅ Leaf Shape Clock
This is a beautiful wall clock for your kitchen. Place this against a plain painted wall to make a stunning feature.
They construct it from wood and metal wood and leaves.
✅ Pendant Lighting
This mid-century design kitchen pendant lighting is perfect for adding light over a kitchen island.
A modern take on the space age "Sputnik" designs of the past.
✅ Modern Geometric Design Kitchen Curtains
Bright and modern, these curtains will brighten up any kitchen. Great for budget shoppers.
The design harks back to the 1950 and 1960 with geometric designs in bold colors. All on a white background.
✅ Mid Century Modern Kitchen Wall Art
This set of 4 mid-century inspired wall art prints are the perfect update to any kitchen. They are an outstanding example of style you can achieve on a budget.
Add a touch of post modern style to your walls with these beautiful abstract artworks.
✅ Acacia Wooden Canister Set
This pair of stylish wood canisters is made from acacia wood. A great asset to any kitchen countertop for storing coffee, tea or sugar.
The lid has a silicone seal to keep your dry goods fresh.
✅ Wooden Salt and Pepper Grinder Set
This is a very attractive pair of salt an pepper grinders that will look in place in a modern mid century kitchen.
Made from sustainable sources, the manufacturers plant a tree for every unit sold.
✅ Aqua Retro Style Electric Kettle
I love the color of this old-fashioned style electric kettle. It will look great on anyone's kitchen countertop.
With mid century accessories you can always opt to go with a 1950s look.
✅ Bright Colored Kitchen Dish Towels
Treat yourself to 3 trendy dish towels. Swedish artists designed the artwork on these dish cloths in so have that Nordic modern 1950's look.
The manufacturers make them from 70% cellulose wood pulp and 30% recycled cotton fibers. So are absorbent and perfect for drying dishes and hand washing.
✅ Red Retro Style Kitchen Clock
This clock really has the look of a 1950's. it is going to look great in a mid century style kitchen.
I like that the red is bright and clear, so will certainly make a statement to your kitchen decor.
✅ Vintage Kitchen Mason Jar Canister Set
I would love a set of these in my kitchen, they are just so handy to have on the countertop.
The attractive white base is set off with a lovely light turquoise color.
Kitchen Remodel Before and After
This couple used products from IKEA to remodel their kitchen in the mid-century style.
It looked like a lot of work but the result was stunning.
Ideas and Inspiration
In this video we see plenty of mid century modern design ideas to wet your appetite.
Even if your budget is tight, you can incorporate some ideas like the decluttered look, plain walls in light colors and beautiful accessories.
What to Look for When Choosing Mid Century Decor Items for your Kitchen
If you want your kitchen to stand out and be unique, you may wish to invest in mid century style kitchen accessories.
By merging the styles of the past with the functionality and materials of the present, you can create a unique atmosphere in your kitchen.
However, there are a few things that you will want to keep in mind when you are working toward a post modern kitchen design.
Mid-century kitchen accessories look best when used in a modern styled kitchen. A rustic farmhouse or Italian styled kitchen will not look well with this design.
There are original vintage pieces available, you need to look around thrift and antique shop for these. Alternatively, look at on-line auction sites like eBay you may if patient find the perfect pieces for your kitchen.
There are many vintage pieces that survived (we once threw them away as considered out dated) that are suitable as kitchen accessories, ranging from serving dishes, jars and shakers to pots and pans.
It might be worth having a look in your grandparents' attics, sheds or basements for pieces once thought old-fashioned.
When you buy original vintage kitchen accessories, it is likely you will have to pay more for them. The older or more rare the accessory, the more a seller will charge you for them.
There are many mid-century style kitchen accessories available that are cheaper than original pieces. You get the look without paying high prices.
Conclusion
There is a vast selection of mid-century kitchen accessories available to buy online.
If you take your time and consider all of your options, you will make the best choice for your kitchen decor and your budget.
I hope this guide to post modern style kitchen decor and accessories was useful to you.
Want More Kitchen Decor and Accessories? Check These Posts Out!