Enjoy browsing these images of narrow kitchens with islands. It is surprising how even the smallest kitchen can have a practical island.
There are many options you could choose from including
breakfast nooks, with an adjustable size table leaf
island cabinets on casters
bespoke fitted islands
kitchen island table combo
kitchen islands with sink
islands with integrated storage cabinets
I hope you enjoy this variety of different kitchen island designs. Keep these ideas in mind as you plan your dream kitchen.
**Affiliate Disclosure: As an Amazon Associate I earn commission from qualifying purchases**
Tiny Kitchen Island Bespoke
This design shows us that kitchen islands can have different countertops to the main kitchen.
This is an example of a bespoke island that is just perfect for this kitchen, by maximizing the amount of workspace available.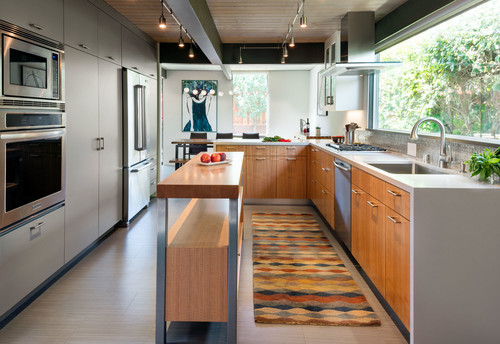 White and Black Kitchen
The designers of this kitchen have managed to put an island here in an awkward spot.
They have made the most of the space by cutting the cabinets and countertop at an angle. This has freed up space so you can easily walk around the kitchen.
Black and Wood Kitchen Island
This is the type of island that can be installed at any time. Maybe you are looking for more work surfaces, or you would like a place to sit down to eat.
This cabinet has a very useful pull out table leaf that extends to 36 inches. This would make a great breakfast nook.
This product is available HERE
Family Home with a Narrow Kitchen
I like how inventive people are with different shaped kitchen island designs with seating, as show here in this practical family kitchen.
Even in this narrow space they have found room for seating, so handy when you have kids to feed.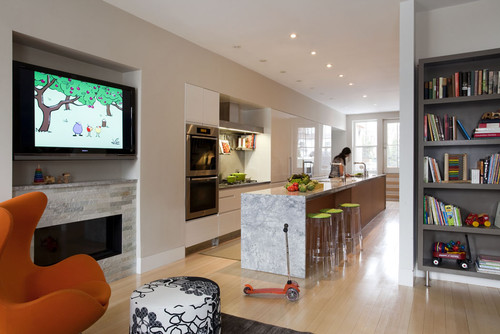 Photo by Walker Architects – More kitchen ideas
L-Shaped Kitchen Still has Room for an Island
Although the countertop connects with the main kitchen cabinets, I would still count this as an island.
Extending the kitchen like this adds a great deal of extra work space in a kitchen. I like the way the sink fits snugly into the corner here, another space-saving idea.
White Narrow Kitchen Cabinet with Butcher Block Top
This island is just so practical. It will provide extra work space in the kitchen and includes plenty of cabinet storage space.
There are 2 cabinets with shelves for storage. It also has two practical towel bars.
I like the design with carved wooden columns on each edge.
This is available from Amazon HERE
Kitchen With Mountain Decor Style
Although this kitchen is long and narrow, it has everything you would want and need to provide meals.
It has plenty of storage, and even the narrow island has room for cabinets and a place to sit at the end.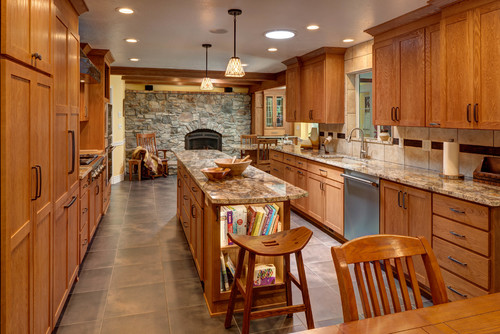 U-Shaped Kitchen with White with Wood Decor
Kitchen islands don't always need to run in a straight line!
Here we have a kitchen that makes the most of tight spaces with an island that makes the kitchen U-Shaped.
Extending Breakfast Bar
In the picture we can see this breakfast with the top surface extended. This gives plenty of room for 2 people to eat breakfast.
After use, you can drop the table leaf down, leaving the island only 25 inches wide.
I could see this kind of design being useful in small apartments.
You can buy this product HERE
U-Shaped Kitchen
This is a small kitchen, yet the designers have put though into maximizing the amount of countertop that is available for food preparation.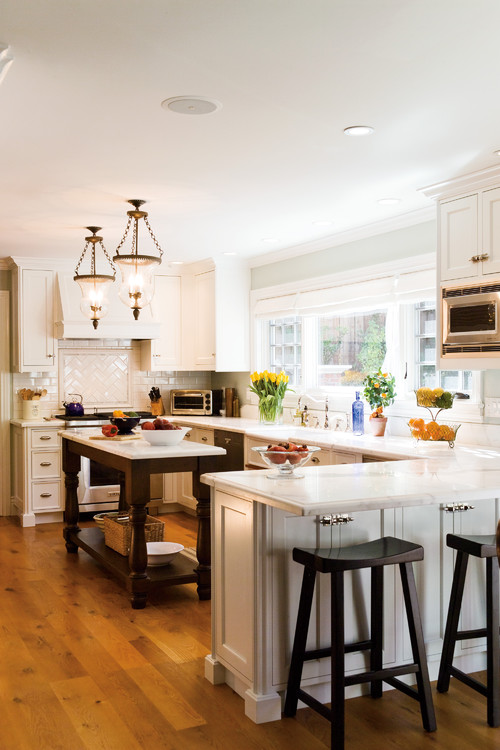 Shaker Style with Wooden Countertop
This product is available, painted in many colors. So there is going to be a version to suit your kitchen decor.
The top features a flip top table extension, to give you more space when preparing meals or as a useful place to sit.
This product is available HERE
Country-Style Kitchen
Wow, this an interesting kitchen in an eclectic country style, quite a bold choice to put a chandelier that size into a kitchen.
It looks great.
In this design, you can see how a narrow kitchen still can have a functional island.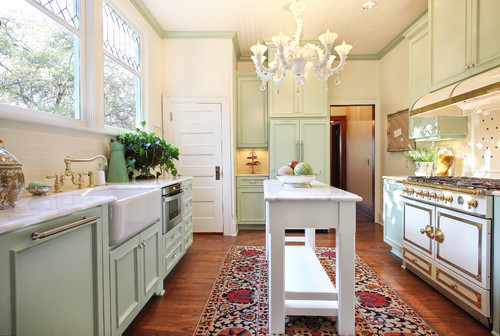 Modern Narrow Kitchen Space
I love the clean lines of this modern white, blue and wood kitchen.
Just imagine how nice it would be to prepare food in a kitchen like this. Easy to clean up afterwards as well.
Kitchen Island on Castors
Such a great practical design that is perfect in a small kitchen. You can wheel this out when you are preparing food, then neatly store the island when not in use.
In the cabinet itself has plenty of storage with cupboards, drawers and a spice rack.
More details about this cabinet island can be found HERE.
Trendy Kitchen With Orange Highlights
Here we have a modern kitchen that has a bright orange walls, stainless steel and white accents.
The entire kitchen fits neatly into the corner of a larger room.
Frequently Asked Questions About Island in Narrow Kitchens
How much space do you need between an island and a counter?
The minimum width you need is around 42 inches. You need to allow enough room so you can safely use your kitchen. So any narrower than 42 inches becomes a bit too tight. Source.
If your kitchen is less than 13 feet wide, it is not recommended that you install an island at all. Source.
What is the smallest size for a kitchen island?
For practical considerations, the smallest size for a kitchen island countertop is 24 inches wide. Source.
Anything less than 2 foot wide is really quite impractical for food preparation, seating and storage, all the things you need to use an island for.
Are kitchen islands a good idea?
If you have the space, they are a great idea. They provide space for more kitchen storage, a place to sit and, of course, extra counter space for food preparation.
Conclusion
As you can see, there is an incredible selection of kitchen island designs to choose from.
It is worth thinking again if you feel an island would be too big for a narrow kitchen.
I hope this post has given you some design ideas, and inspiration for your next kitchen remodel.
More Kitchen Decor and Organization Ideas