Please enjoy browsing these images of kitchens with exposed beams. I've included plenty of different kitchen design styles from modern and trendy to more traditional farmhouse country style.
These pictures should give you plenty of inspiration for your next kitchen remodel or update.
If you are lucky enough to have a kitchen ceiling with exposed beams, you will know how much lightness and a sense of space this brings to the room.
**Affiliate Disclosure: As an Amazon Associate I earn commission from qualifying purchases**
I love kitchens with exposed wooden beams because they look so stylish and airy.
Please enjoy these outstanding examples.
Different Types of Kitchens with Wooden Beams
Example of Exposed Steel Beams in a Contemporary Loft Kitchen
In this industrial-style loft apartment kitchen, the designers have made a bold statement using large steel beams that form a kind of canopy over the kitchen area.
So not only have they made a bold design element, it also emphasizes the kitchen zone within the apartment.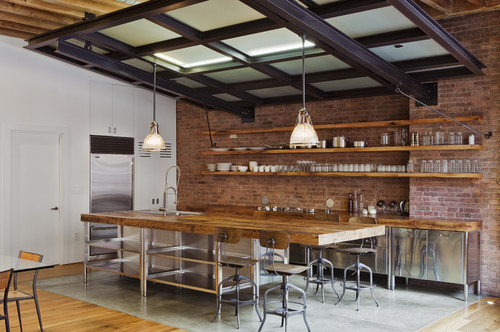 Country Kitchen with Wooden Beams
A very traditional kitchen here with plenty of wood in the ceiling and on the cabinet doors.
Modern features, like the stainless steel fridge and oven, are also incorporated to great effect.
White Kitchen with With Large Metal Support Beams
In this modern white sleek kitchen, we can see that the structure of the ceiling has not been hidden. Indeed, the large metal beam is highlighted by painting it a dark gray color.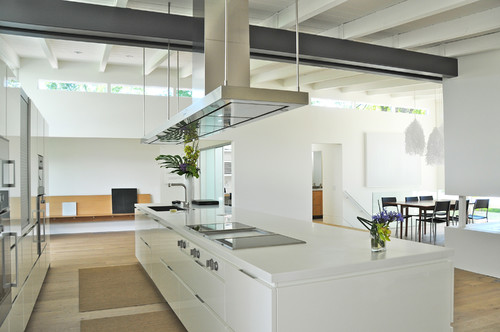 White and Stainless Steel Kitchen with Ceiling Joists Exposed
Here a vaulted ceiling has the support joists on display. The exposed beams become a focal point as the kitchen is mainly white, so it highlights the darker joists.
White Painted Ceiling with Beams
Painting the entire ceiling and walls white here has made a for a light-infused kitchen.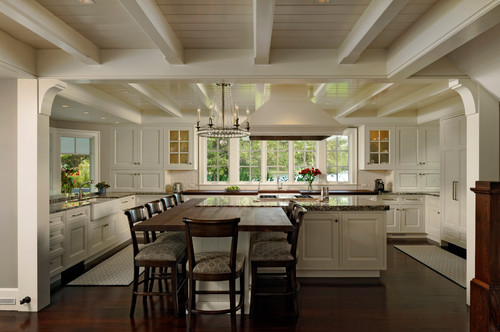 All Natural Farmhouse Style Wooden Ceiling with Exposed Beams
Not only do we have deep wooden ceiling joists exposed here but we see the wooden posts as well.
Vaulted Ceiling in a Country-Style Kitchen
I love a vaulted ceiling, and this one is a favorite. Taking the ceiling away and exposing all the rafters adds a sense of space.
Painting the ceiling white and leaving the wooden beams natural, gives a farmhouse kitchen quality.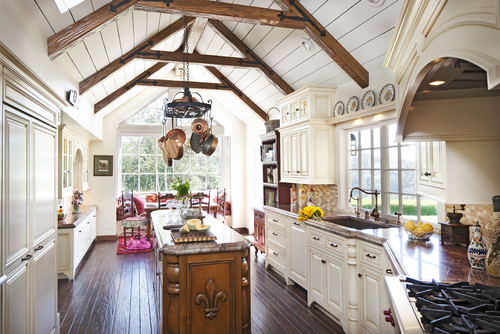 Gray and Wooden Kitchen with a High Ceiling
The design of this kitchen has made the most of the unusual shape of the vaulted ceiling.
Imagine if this space had a ceiling it would look tiny and the cabinet space would be reduced.
Brown Painted Kitchen with Wooden Beams
The interesting thing about this kitchen is the way they have arranged the beams in a pleasing pattern on the ceiling.
If this was my kitchen, I would have painted the wall color in a lighter shade. I just think everything is a bit too dark.
Black and White Country Style
Black and white dominate here, but the wooden beams give a farmhouse country-style look.
Luxury Country-Style Kitchen
The owners have spared no expense in this luxury farmhouse kitchen. Dark wood and marble are used to great effect.
Airy White Kitchen with a Vaulted Ceiling
Blue and black kitchen cabinets and worktops look wonderful here in this space.
The vaulted ceiling gives character and a sense of space. I love the way they have attached the spotlights to the beams to send light up to the ceiling.
I bet this kitchen looks fabulous at night.
Frequently Asked Questions About Ceiling Beams
Are ceiling beams in style?
Ceiling beams remain in style as they will fit in or may be modified to fit into most decor styles.
One popular trend is to expose the underlying supports of the ceiling showing the joists even if they are made from metal.
Wooden beams remain popular in modern farmhouse kitchens. Where they are often left as bare wood.
Which way should ceiling beams run?
Ceiling beams that are part of the structure of your house will run in the best way needed to provide support to the roof or upper floors. So this is something that can't be changed once the home has been built.
However, if you decide to install an imitation ceiling beam that is purely decorative and not structural, these can run in any direction. That's entirely your choice. However, as structural beams run across the shortest length of the ceiling, it would be more authentic to put your faux beams in the same way.

What are Faux Beam Alternatives?
As faux beams are not part of the structure of your kitchen ceiling, it is possible to use all kinds of materials that are light and easy to install.
Materials include
1. High-density polyurethane finished to look like a real piece of aged wood.
2. Styrofoam that you cut to size, stick to the ceiling, and then paint.
3. Cheap wood like pine or cedar, either painted or left natural.
Do faux beams look real?
Yes, faux wood beams on the market today look very realistic. Outstanding examples can be seen here.
What color should ceiling beams be?
You need to choose the color of the beams on your ceiling to coordinate well with your room decor colors. Most people like the keep their beams so they look like naturally aged wood.
Some different ideas include :
1. leaving the wooden beams in their natural state and either oiling, waxing, or varnishing to bring out the beautiful grain in the wood.
2. paint the beams the same color as the ceiling.
3. paint the beams and the ceiling in different colors. Usually, the ceiling is pale, and the beams are painted in a darker color like brown or black.

How do you decorate exposed beams?
These days in modern homes exposed beams are just left plain without any decorations.
For country-style kitchens consider decorations that bring the outside in like swags of dried hop bines.
Low wooden beams can be decorated with all kinds of country-style accessories, like horse brasses and old agricultural equipment.
Conclusion
I hope these pictures have inspired you to consider remodeling your kitchen ceilings with exposed wood or metal beams.
Further Reading
I've found some great resources for anyone researching and interested in having exposed beams, in their home.
Want More Kitchen Decor Ideas? Then Check Out These Posts