This post explores how to decorate a vintage bathroom.
Maybe you have an old period home, and you want the bathroom to stay in period.
Or you have a modern home you want to make vintage just because that is the style you love.
**Affiliate Disclosure: As an Amazon Associate I earn commission from qualifying purchases**
Once you have decided on the period you want to replicate, think about the color scheme, materials and period accessories.
Popular period bathroom decor choices are Edwardian, Art deco, 1960s, 1950s and Victorian.
Finding Vintage Pieces
You could take your time looking around flea markets, antique centers and online auction sites for original pieces.
Finding original vintage pieces is very satisfying. However, you may find it a frustrating and time-consuming business, if you can't find the perfect piece.
Alternatively, you could buy new as there are plenty of modern manufactured goods that look like the original.
Glamorous Bathroom with Traditional Style
An amazing mirror is the focal point of this Edwardian style bathroom. This shows that you don't need to find original pieces to get the vintage look.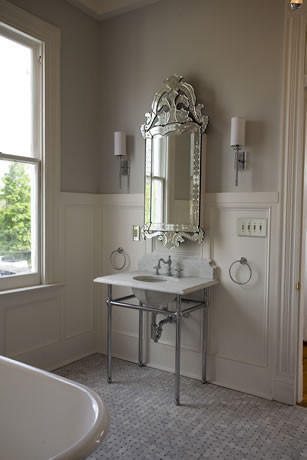 White Vintage Bathroom Accessories
This is a practical set of everything you need to organize your bathroom.
Perfect for a bathroom with traditional styling.
Victorian Style Bathroom
Here wood cleverly dominates this Victorian style bathroom. The blue and white patterned ceramic accessories like the bowl and jug add interest.