Here we explore some ideas and tips on how to decorate a bathroom farmhouse style.
The range of rustic and farmhouse style bathroom accessories and decor pieces are endless.
However, to achieve a farmhouse look you need to focus on adding items made from natural materials like wood, rattan, stone, bamboo and metal.
**Affiliate Disclosure: As an Amazon Associate I earn commission from qualifying purchases**
Inspirational Pictures of Farmhouse Bathrooms
Here are a selection of pictures of farmhouse bathrooms to act as inspiration.
Rustic Log Cabin Style
Here is a log cabin with plenty of rustic charm. Farmhouse and rustic style elements include the distressed wooden floor, copper tubs and antler decorations.
Wood and Enamel Bathroom
A stunning farmhouse style bathroom here with a smart enamel sink, wooden vanity and wickerwork accessories.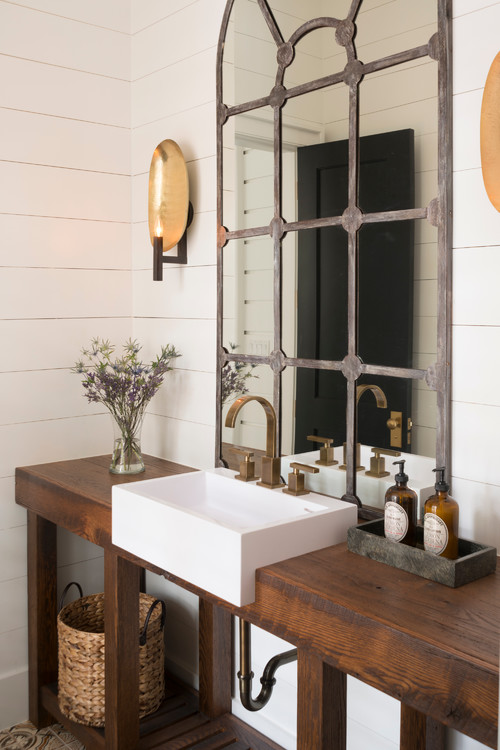 Galvanized Metal and Wood Toilet Paper Holder
I love the organic forms of the stone sink pictured here. A real statement piece.
Copper Vessel Sink Idea
Here copper adds a note of farmhouse style to this pretty bathroom. I love the upturned tree stumps that is acting as the sink pedestal.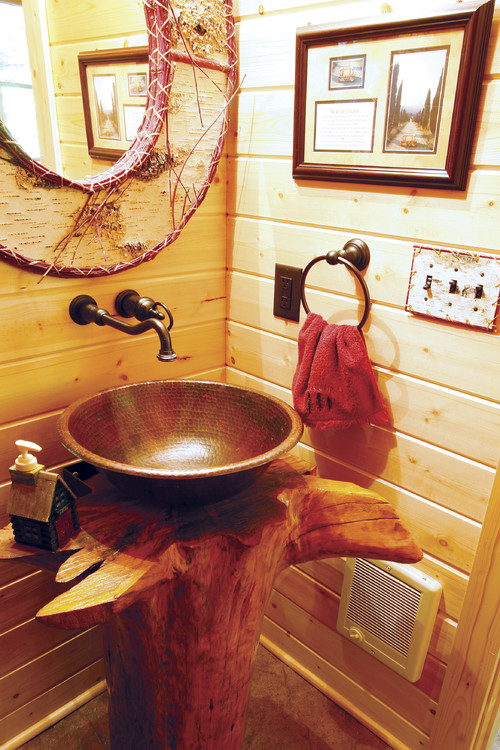 Add Large Wooden Framed Mirrors
A large wooden mirror looks impressive, set on a white wooden plank wall.
Conclusion
Choosing bathroom accessories for farmhouse or rustic bathrooms is easy if you stick to simple organic accessories.
Buy new by all means but just make sure that it looks old either in design, material or with distressing.