Welcome to my guide of the different bathroom sink styles available. A sink is one of those fixtures that are essential. The bathroom simply wouldn't function without one.
Think about all the various tasks we use a sink for, from cleaning teeth to washing our hands. However, just because it is a necessity doesn't mean it needs to look old-fashioned and lacking in style.
Today there are so many different bathroom sink types I'm sure you will find the perfect model to fit in with your bathroom decor style.
**Affiliate Disclosure: As an Amazon Associate I earn commission from qualifying purchases**
What Function will your Sink Have?
When choosing a sink you need to consider the way people will use it.
Family bathrooms that are busy will need large practical sinks that are easy to clean. No room for a fancy bespoke glass sink here.
Small cloakrooms could have a statement piece sink in stone, glass or wood as you only need it for washing hands.
consider different shaped sinks that will fit into small bathrooms or awkward spaces.
the most practical choice for a sink are those made from vitreous china porcelain.
you can add powerful design elements to your bathroom with sinks of unusual colors, shapes and designs.
Sink Types Available
Wall mounted sinks
Also known as a floating sink when the sink is attached to the wall without a pedestal or vanity unit underneath.
Wall-Mounted sinks are the most familiar and common form of bathroom sink fittings.
Made from ceramic materials. They are practical and long lasting.
You attach the sink to the wall with brackets without contact with the floor, at any height.
the plumbing fixtures under the sink are on show.
has the advantage of using little space, so perfect for a small bathroom or cloakroom.
great choice for budget shoppers.
not very modern or stylish.
easy to install
Pedestal Sinks
pedestal sink comprises a porcelain sink sitting on a column also made from porcelain.
There are a couple of advantages, first is they cover over the ugly plumbing fixtures and pipes and the whole design looks slim and attractive.
These are perfect for small bathrooms, where a vanity unit would be too bulky.
The downside is you are missing the storage available when you have a vanity unit.
if possible choose the pedestal sink and sink as one package so there is a unifying look to the bathroom decor.
need to be mindful of the height of your sink as this can't be adjusted.
Semi Pedestal Sink
here the pipe work is concealed by a cover that extends down from the sink.
You can hang them at any height
great for small bathrooms and cloakrooms because the fitting does not extend to the floor you have a sense of space.
Undermount Sink
here the sink is installed underneath the countertop meaning the countertop extends neatly over the edge of the sink.
these sinks require expert installation, as the fit has to be watertight and perfect.
As the side profile of the countertop material is exposed. This design is suited to more expensive countertop materials like, granite, marble or stone composite.
Pros
easy to clean
available in a wide range of styles and materials
have a top end look that could increase the value of your home.
cons
you can't install these sinks into plastic laminated or tile countertops.
Holes for the faucet will have to be drilled into the countertop material or fixed to the wall behind the sink.
Drop-in or Self Rimming Sink
Popular choice that is is easier for a homeowner to install themselves (provided reasonably handy).
Designed to drop into a cutout hole in the countertop of a vanity unit. Here only the top edge of the sink protrudes.
easy to install into any existing vanity unit.
affordable designs are available
these sinks come in in many styles and materials so will fit into a wide range of bathroom designs.
looks attractive, neat and tidy.
might be harder to keep clean as there is an edge where dirt and bacteria can gather.
If the seal is breached then water can damage the vanity unit.
Vessel Sinks
These are bowl shaped and designed to sit on the bathroom countertop. You install the faucet either from the back of the countertop sink or from the wall behind the sink.
You can select unusual faucets to use with these sinks like, waterfall designs to enhance the beauty of any bathroom.
Pros
Makes a stunning design statement in any bathroom or washroom.
look attractive come in a wide range styles, colors and materials.
very easy to install.
they come in a wide range of contemporary designs, colors and materials.
Cons
you might find the faucet gets in the way when washing your face.
might be too small to be practical in a family bathroom.
DIY Vessel Sink Project Ideas
You could use any vessel that is watertight and will take a hole drilled in the bottom for attaching the plumbing fixtures.
For example, old copper cooking vessels or stainless steel salad bowls, and a galvanized tub.
Perfect for DIY home projects on a shoe-string budget.
Turn a Stainless Steel Salad Bowl Into a Sink Idea
How to Turn a Galvanized Tub into a Sink
Great project for farmhouse and shabby chic style bathrooms remodel on a shoestring.
Small Bathroom Corner Sink
Suitable for the smallest spaces, either a small guest bathroom or a washroom.
They come wall mounted and may include a pedestal. In tight spaces a half pedestal might be a neat solution.
Probably not a good choice for a family bathroom.
The installation does not need a bathroom countertop.
Console Sink
This design combines a wall mounted sink with a metal leg supports.
It comes with either 2 or 4 legs. Available in contemporary or Edwardian styles.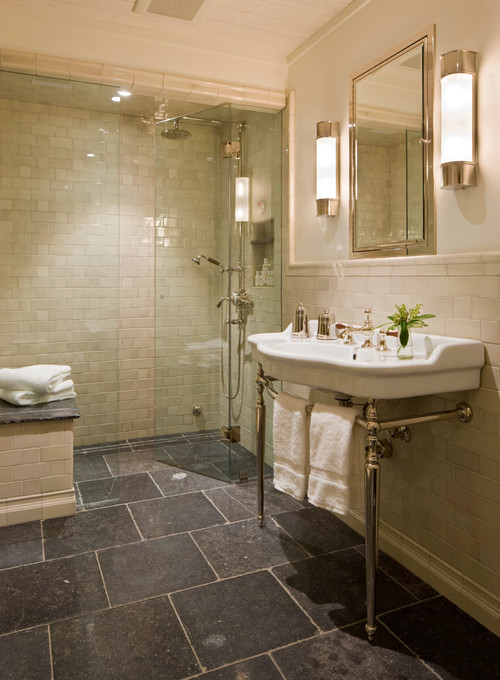 Pros
Easy to install
Makes a strong design statement, some people will love.
The plumbing fixtures are in full view, choose chrome finishes for a pleasing look.
Some mount sink designs come with towel rails and shelves.
Cons
less storage than a vanity unit cupboard.
grooming and cleaning materials may be on view.
probably not suitable of a family bathroom where large quantities of toiletries and grooming equipment need to be housed unseen.
Trough Sink
These are sinks that are long thin and wide. Designed to accommodate two people. As there is enough space for two sets of faucets.
They come either as drop in or wall hung sink designs.
A practical choice for a family bathroom. Or a master bathroom where a couple have to get ready for work at the same time!
Ideal as a bathroom vanity sink.
Integrated Sink Yes or No!
Here the countertop and and sinks just come in one piece. They give a sleek minimalist look.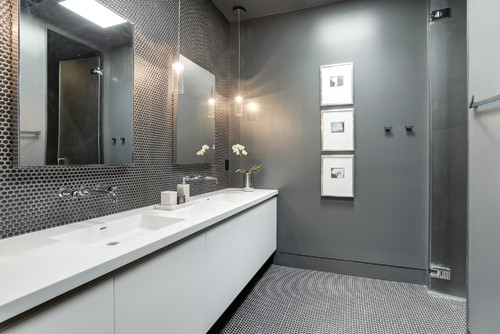 Pros
Easy to clean and maintain. As they have no corners and edges to harbor dirt.
Cons
If you damage if one part of the integrated unit the entire unit has to be replaced.
more expensive than other countertop and sink options.
Bespoke Sink Designs
For a top end bathroom remodel consider commissioning a bespoke sink to the exact design you require.
You need to work closely with the manufacturer to get the perfect design for your remodel.
Think about how practical the sink will be. No point in having a beautiful piece that will be a nightmare to use and clean.
Be prepared to pay top dollar for this service.
Bathroom Sink Material Options
Stainless Steel Sink
Stainless steel is commonly used in the kitchen where its durability and toughness makes it a practical and popular option.
Why not consider a stainless steel sink in the bathroom too. This material has plenty of advantages.
Pros
easy to clean using none abrasive cleaning materials
will not rust
long lasting and with care will maintain that as good as new look for many years.
fits in with modern minimalist style decor style.
affordable price
Cons
water stains can build up
using the wrong cleaning products could develop scratches over time
Ceramic
Ceramic or porcelain is undoubtably the most popular choice for bathroom sinks.
Pros
come in a wide range of colors and designs.
affordable option for budget remodels
long lasting and durable
stain resistant
Cons
Can chip or crack under high impact. Once cracked it is beyond repair.
Acrylic and Polycarbonate Washbasins
I have lumped these together as they are similar in looks and similar properties. Both materials are strong and excellent materials for bathrooms sinks.
Pros
resistant to scratches and staining
available in a wide range of different colors and styles.
often available as part of a coordinating bathroom set
readily available
Cons
Care needs to be taken when cleaning. Will scratch if you use abrasive materials (eg steel wool) and substances when cleaning.
not as durable as stainless steel or enamel.
the polycarbonate is soft so is prone to gouges and deep scratches.
Vulnerable to damage from petroleum-based products. So don't clean brushes with turpentine after painting for example.
Composite Materials
Considered to be the most durable and practical material for bathroom sinks.
They are manufactured with a mixture of stone particles bound with resin.
Here is a fun demonstration of just how durable composite materials are.
Pros
wide range of colors and styles available.
built to last
Cons
can be damaged with improper cleaning
can be more expensive than other types og sink materials e.g. acrylic.
Tempered Glass
These come in an amazing range of designs, colors, textures and shapes. Making these a real statement piece.
We think that glass is fragile, but they have manufactured the tempered glass to withstand normal hard wear and tear.
They are generally available as a vessel sink basin.
In this blue glass we see an example of a matching waterfall faucet.
Pros
durable and resistant to heat
hard wearing and scratch resistant
Cons
stains from hard water show up and can be hard to remove.
they are more expensive than ceramic or polycarbonate sinks.
Wooden Sinks
Usually made from tropical hardwoods, wooden sinks provide an interesting design statement.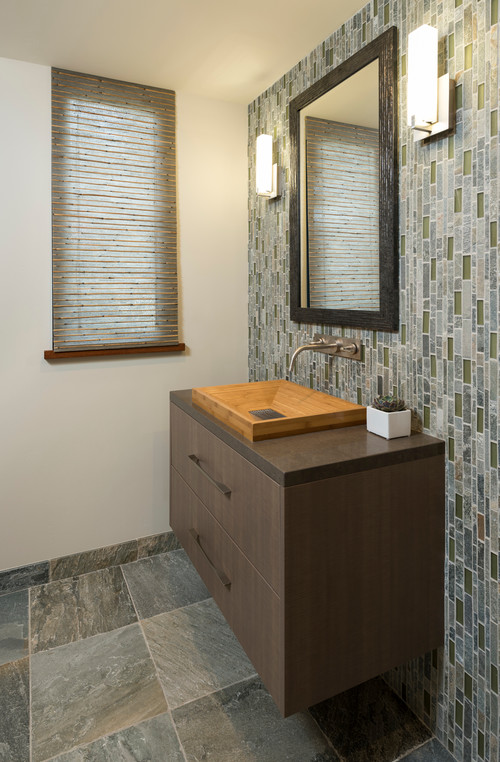 With care these sink will last years, during that time they may change color and patinate so they age beautifully.
This is a bathroom sink style you will either love or hate.
Pros
Beautiful organic feel and touch.
An interesting design feature for a spa style bathroom.
Cons
You will need to dry the sink after use.
the sink needs to be treated around 4 times a year with teak oil to keep the surface water resistant.
Water should never be allowed to stand in the sink for lengthy periods.
Copper sink
It is entirely a matter of taste whether you would consider a copper sink in your bathroom or not.
You need to accept that copper will produce a wonderful patina that is unique to your home. Some people love the aging qualities while others simply hate this idea.
Pros
Long lasting and durable.
Stunning design statement
Cons
Requires simple yet ongoing care with cleaning.
some people may not like the way copper patinates with age.
Natural Stone Sink
Beautiful sinks carved from solid rock. Materials include marble, granite, onyx, quartz, soapstone and petrified wood.
Pros
beautiful unique designer pieces for top end master bathroom suites.
very strong and durable
Cons
very heavy, make sure the vanity unit will take the weight.
stone is a naturally porous material meaning the sink needs to be sealed or oiled regularly.
using the wrong cleaning methods can permanently damage the stone surface.
may stain from the minerals in hard water
Further Reading: Information on stone sinks
Bathroom Sink Shapes
Bathroom sinks come in three different shapes. Although bespoke sinks can be made into any shape or size. Every other shape is a variant of these.
Round
Ideal for a smaller bathroom where space in tight.
Oval
Practical shape that is pleasing on the eye. The shape means you can have a sink with a decent water holding capacity without it taking up too much space outwards into the room.
Rectangular
Rectangular and square shaped sinks have become trendy in recent years.
They are attractive to look at and take up little space.
Bathroom Sink Sizes
Bathroom sinks don't come in any standard sizes. The sink you choose is a matter of weighing up what is practical and aesthetically pleasing.
Just consider the size in relation to the bathroom and vanity space. For example, a small sink in a large master bathroom will look out of scale.
Another consideration is the number of people using the bathroom at one time.
Choose your Sink Faucet Types
There are two kinds of faucets that can be installed with your sink.
The first type is where the faucet fits into pre manufactured holes in the sink.
The second type is installed either behind the sink drilled through the vanity unit, or attached to the wall behind.
You can see in the picture here that the faucet is wall mounted.
Conclusion
Choosing the right sink is vital to the look of your bathroom and will enhance your bath time experience.
You May Also Like!