Here we are going to discuss how to decorate a bathroom with towels. Enliven your bathroom decor using towels as decor pieces.
Use towels in bright colors to lift the mood, or use subtle natural tones to create a soothing atmosphere. Alternatively, you could go for a sophisticated scheme with gold, black and white.
If you are looking for a way to spruce up your bathroom? Read on to discover how to decorate a bathroom with towels and find out how towels can brighten up bathroom spaces.
**Affiliate Disclosure: As an Amazon Associate I earn commission from qualifying purchases**
Towels are not just for drying off anymore. They can be used as a decorative element in the room and bring it to life with color, texture, or pattern.
With a little creativity, you can create an inviting and beautiful bathroom that reflects your personal style.
You don't need any special tools or skills; all it takes is a few budget-friendly items together with towels you already won together with a dash of imagination.
How to Decorate with Towels in a Basket
How to decorate your bathroom with towels in a basket is a great way to add interest and texture.
It's also the easiest way to make your bathroom look like an expensive hotel room.
Decorating with towels in a basket is easy: start by folding your bath towels into neat, even squares, rectangles, or tight rolls. Then add them to the basket in a pleasing arrangement.
The effect is an eye-catching display that adds color, texture, and style to your bathroom.
One of the most effective looks is pure white towels displayed in seagrass baskets.
How to Decorate a Bathroom Towel Rack
This video shows us a way of decorating a towel rack, that is perfect for your guest bathroom.
Any guest will feel special when they see the trouble you have gone to.
I love the navy and white color combination shown here but use your own colors to match your own bathroom decor.
How to Decorate Bath Towels with Ribbons and Tassels
Discover clever ways of decorating towels with ribbons and tassels.
There are a lot of reasons to decorate your bathroom with towels, but the reason I do mine is that I love how they look.
It's a cheap way of making a bathroom look more elegant and interesting. You can color-coordinate or have fun with different patterns and textures.
This video takes us through easy towel display steps.
Decorative Towel Folding Techniques
Ever wondered how they fold those pretty towel displays in hotels?
Here is an easy-to-follow tutorial showing ways to fold your towels into your own display.
Try these techniques yourself and soon you will be making your own 5-star display.
Ways of Arranging Towels to Decorate a Small Bathroom
When it comes to storing towels in a tiny bathroom, you may run out of space. Folding towels neatly and simply stacking them makes a lovely display.
Stacking neatly folded towels takes up very little space.
Hanging Bath Towels for Display
There are a number of different ways to hang towels up so they create an attractive display of your towels.
Ladder Towel Rack
A ladder towel rack is a great choice for displaying your towels in a way that makes them easy to grab.
Using an old ladder as a towel holder allows you to maximize space and put your best towels on display. Great idea for a farmhouse-style bathroom.
Stylish Towel Rings
Hanging hand towels neatly from wall-mounted rings makes a nice display of your hand towels. A great idea for a guest room.
Plus, you'll have the opportunity to show off the decorative bath towels you own.
Stacked Towel Storage
Have you considered storing your towels on open shelving?
I love this type of open shelving for storing towels since it gives the impression of "openness" and everything is on show.
I also like the industrial look of this shelving because of its simplicity.
This is perfect for a bathroom that has modern or industrial-style decor.
Open Towel Stack
Ideas include stacking folded towels on open shelving, a pretty chair or on the vanity unit.
Choose towels with coordinating colors that match your bathroom decor.
These ideas here are not only stylish but also pretty practical.
Any one of these is a sure way to add an element of style to your bathroom decor at a low cost!
Place the biggest towel on the bottom of the stack and work your way up in size to make a pyramid if you have multiple sizes of towels.
Try to make the stacks no more than 5 towels high anymore and the stack becomes unstable and will start to make the bathroom look cluttered.
Basket Storage Solutions
Here we see how effective large woven baskets are positioned beneath the bathroom sink, holding folded towels.
Tip: To make this towel display more useful, add a matching basket to collect used towels ready for the laundry room.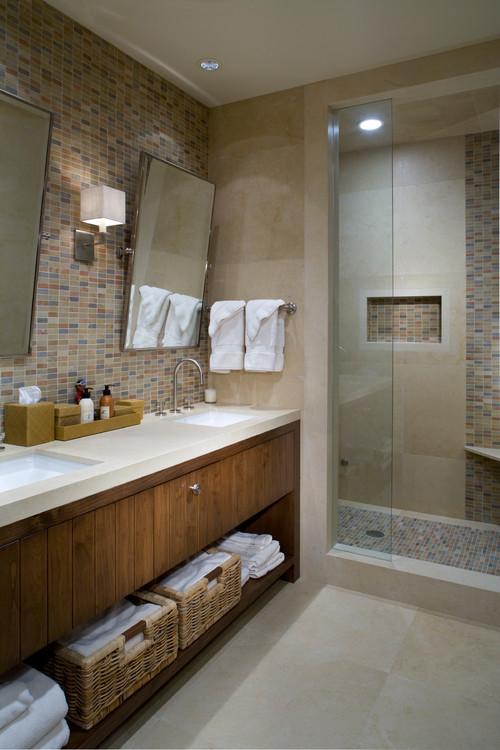 Clever Rolled Towel Display Idea
Here towels are rolled up and placed neatly on a triangular-shaped stand.
A great space-saving idea for a small contemporary bathroom.
I like the way they have used white towels that contrast so well with the bathroom decor.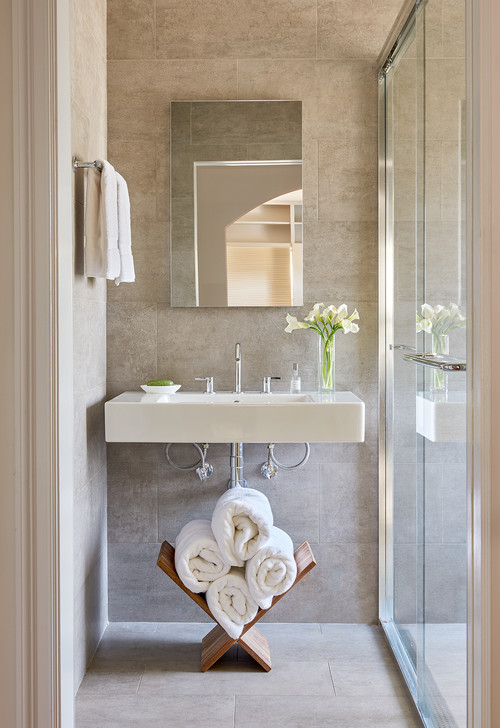 Industrial-Style Storage
This free-standing tower shelf unit is a great choice for housing your towels, bathroom supplies, storage baskets, and more.
Made from a sturdy metal frame and eco-friendly wood, the industrial design will add a touch of modern chic to any space or room in your home while providing maximum storage capabilities.
The multi-leveled tower features 4 spacious shelves that allow you to store a wide assortment of towels and necessities while freeing up valuable space in your bathroom.
Tower Storage for Towels
This white tower storage unit is a sleek and modern way to store towels in a small bathroom.
This simple storage unit is a great place for you to display towels.
The tower has three shelves and fits right into the corner of the bathroom without taking up too much space.
Small bathrooms can always benefit from extra storage, so consider adding this to your bathroom if you need more storage space.
Wall Mounted Towel Rack
This wall-mounted towel rack provides space for up to 6 small bath towels neatly when neatly rolled up.
It is made from durable metal wire with a rust-free finish. As it attaches to the wall saves valuable space in a small bathroom.
How to Roll and Display Bath Towels
I like to roll towels for display because they look so much more interesting on a shelf than folded towels.
Plus, rolling the towels rather than folding them allows you to fit many more in a given space.
If you've got the floor space and consider displaying rolled towels in unusual containers like baskets, wine racks, and wooden boxes.
In this tutorial, we are shown an easy way to roll towels so they don't unravel during storage.
Hanging Towels on Hooks or a Rack Decoratively
Decorating your bath towels by simply hanging them over a rack creates an interesting and colorful display. Great for a guest bathroom.
The secret to an effective display is in the folding technique which has been beautifully explained here.
This is a lovely way to hang towels in bathrooms so that they look like decorative pictures hanging on the wall.
Ways of Displaying Towels in a Black & White Bathroom
Here is a stunning bathroom with white towels that are neatly folded and placed on a shelf under the sink unit.
The black and white decor is offset with a beautiful wooden shelf that is perfect for displaying towels on.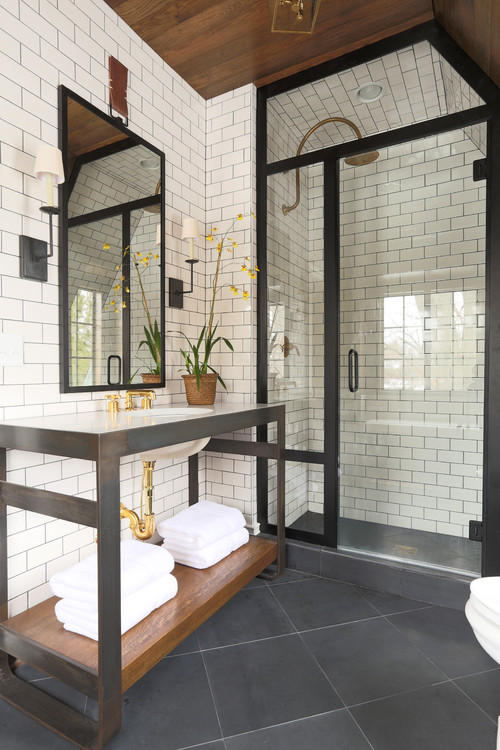 Conclusion
In this article, we've provided a variety of creative ways to decorate your bathroom with towels.
Including ways to decorate your bathroom with towels so that it not only looks fantastic but also saves on space.
We hope you enjoyed it and found some new ideas for how to freshen up the look in your own bathroom!