Here is my guide to the best bed skirts you can buy for bedroom.
If you have the kind of bed that leaves a gaping hole underneath then a bed skirt is essential.
Perhaps you use the space under the bed for storage and you want to cover this area up. Or your upholstered bed is looking unfashionable or scruffy.
**Affiliate Disclosure: As an Amazon Associate I earn commission from qualifying purchases**
Also, if you change the decor of your bedroom you can buy a bed skirt to match.
As you go through the different options it is worth noting that most are available in many different colors and sizes.
✅ Pretty White Bed Ruffle with Adjustable Drop
Adjustable with a 15 to 18 inch drop.
This product is made from a polyester cotton mix
Also available in a lovely soft ivory color
I could see this beautiful ruffle in a country style or shabby chic style bedroom. I has a lovely romantic feel.
 Eyelet Design Ruffled Bed Skirt for Country Style Bedrooms
✅ Detachable Bedskirt with Split Corners
Available in 14" drop, 18" drop and 21" drop
Easy-care polyester cotton mixture non-iron fabric
This is just so practical as you can take the skirt off without having to move the mattress.
This product comes in a wide range of different solid color options. Will fit a bed with posts.
 Detachable Bedskirt Easy Care Non Iron
✅ Best Wrap Around Bed Skirt
the cover featured below has a 18-inch drop but this product is also available with a 14-inch drop.
made from microfiber.
This design of ruffle is just so practical as it has elastic that grips hold of the sides of the bed, and you don't need to move a heavy mattress to remove or replace it.
This product is available in many different solid colors to go with all kinds of different bedroom decor shemes.
 Long Dust Ruffle Bed Frame Cover Easy To Attach
✅ Pretty White Lace Bed Ruffle
Made from easy to care for microfiber
Drop of 14 inches
This is going to look great in any feminine style bedroom. I would match it with pale pastel walls, carpet and curtains.
 Lace Trimmed Elastic Bed Wrap Easy Fit Dust Ruffle Bedskirt
✅Brown Stripe Cotton Tailored Bed Skirt
14 to 21 inch drop options in the range
made from polyester
This product just makes the edges of your bed look so net and tidy. I just love the subtle stipe in the fabric.
This design would fit in well in a contemporary or mid century modern style bedroom. It also comes in a wide range of different sizes and colors.
 Cotton Stripe Pattern Tailored Skirt With a Long Drop
✅ Pretty White Voile Dust Ruffle
Made from cotton and polyester
Split corners
This product is available with drop lengths of 15 inches or 18 inches long.
This voile dust ruffle will add beauty into your bedroom decor scheme. Perfect for a country, French or shabby chic style bedroom.
The voile itself ( the material that is on view) is 100% cotton. The voile is attached a to a polyester liner for strength.
 Pretty White Cotton Voile Dust Ruffle
✅ Dust Ruffles with Split Corners
14 – 18 inch drop available in this range
As you can from the small squares of color in the picture between there are many 16 different color options to choose from.
The ruffle in this design is attached to a platform that goes right underneath mattress for a snug fit.
 Bed Ruffle with a Long Drop and Split Corners
✅ Daybed Dust Ruffle
made from brushed microfiber polyester
available in drop sizes from 12 to 21 inches.
This is such a practical bed skirt that will cover up all the items you might store under a day bed for example throw pillows and, comforters and bedding sets.
 Day Bed Dust Ruffle Bed Skirt with Split Corners
✅ Sumptuous Gold Satin Dust Ruffle
Available in drop lengths of 11-15 inches
Comes in a wide range of rich bright colors.
Made from pure 100% silk satin
Can be machine washed
This is really the height of luxury, I just love the gold but this is available in other colors like voilet, white and royal blue .
Just perfect for a glam style bedroom.
 Luxurious Gold Satin Bed Skirt Dust Ruffle
✅ Budget Pleated Bed Skirt
16 inch drop
polyester microfiber so easy to care for.
16 different colors to choose from
This is a great product that comes at a reasonable price. It looks smart with a lovely pleated design.
 Burgundy Pleated Bed Skirt Cheap
✅ Romantic Ruffled Bed Skirt in Pale Blue
15 inch drop
made from soft and comfortable microfiber
comes a range of 13 different colors to choose from
This pretty multi layered ruffle skirt is just so pretty. I could see this is in a girl teenagers room or a romantic master bedroom.
 Pretty Romantic Multi Layered Ruffle Design Bed Skirt.
✅ Blush Pink Budget Bed Ruffle
16 inch drop
Made from easy care polyester
available in 16 different colors
If you a re on a budget then this is the skirt ruffle for you. There are many colors to choose from so there is bound to be an option to your taste.
 Budget Ruffled Bed Skirt Pretty Pale Pink
✅ Bed Skirt for a Crib
14-inch drop
made from microfiber
available in four different colors for girls, boys or gender-neutral babies rooms.
With babies and toddlers comes lots of "stuff" use a pretty crib bed skirt to camouflage the items you store under the bed.
 Double Layered Dust Ruffle for a Crib
12 – 21-inch drops available
made from polyester
comes in many sizes from twin to king size
10 different color options available including white, burgundy or sage green.
 Wrap Around Bed Skirt Elasticated With a 12 Inch Drop
✅ Pleated and Tailored Bed Skirt for a Crib
Made from 100% Cotton
14 inch drop
Comes in a variety of different colors
Use these useful skirt to hide all the babies paraphernalia.
An easy way to hide all the items you have stored under the crib.
 Crib Bed Skirt Pleated 100% Cotton
✅ Smart Tailored and Mitred Bed Skirt with Split Corners in Black
14 inch drop
Made from microfiber polyester
This smartly tailored bed skirt comes in a choice of 6 different colors. This design is going to appeal to people that love a neat and tidy minimalist look.
 14 inch Tailored Easy to Fit Bed Skirt
✅ White Box Spring Cover with a Gathered Ruffle
14 inch drop
made from Polyester & Polyester Blend
available in a wide range of colors including brown, red green and yellow.
 Gathered Box Spring Cover with 14 inch Drop
What is a Bed Skirt?
This is a strip of fabric that goes all around the sides of the bed. This fills in the gap between the bottom of the bed frame to the floor.
Usually it is made from the same material as your bedding set for a fully coordinated look. Often a bed skirt is included in a large bedding set that also has sheets, pillowcases and comforter covers.
Alternatively you could choose a nuetral color that will go with both your bedroom decr and coordinate with your bedding.
What are the different types of bed skirt?
The simplest is a wrap-around elastic bed shirt. This is a length of material that has elastic inserted into the top so it holds in place around the bed. Because they are gathered they have a ruffled look that is not to everyone's taste.
A box spring cover is designed to go right over the box springs and under the mattress. Attached to the flat cover is the bed skirt. These are often designed with box pleats in the corners. These look great in a contemporary bedroom and some people prefer this look over ruffles.
Will a bed skirt work on a bed with corner posts?
Yes you need to look out for products that describe themselves as split corner bed skirts. These have a split in the corners so they can fit around the bedposts, giving a neat look.
If you have a bed skirt without a corner split and you are handy with the sewing machine. It is possible to modify the bed skirt by cutting the corner edges and putting in a net narrow seam.
nedds to be finished ***how to make a bed skirt with elastic
What can I use instead of a bed skirt?
No need to worry if you have need a bed skirt and you sheets that are spare.
Here is clever way to make a bed skirt that is no sew!!
Here is another way to make a DIY no sew bed skirt that coordinates with bedding you already have. It just requires a matching flat sheet. The end result is really effective.
Do you really need a bed skirt?
If you have a bed with upholstered sides and the materail is in good condition then you certainly have no need for a bed skirt.
However, if the upholstery is a stained or frayed then a bed skirt will make a good job of covering this up. No need to buy a new bed frame.
Also if you change the color and style of your bedroom decor, a bed skirt can be used to coordinate with the new color scheme.
What color should your bed skirt be?
Of course a bed skirt can be any color you want. However most people choose soemthing that will cocordinate well with the decor in the bedroom.
If you don't like the idea of haveing a bed skirt that coordinates with the reat of your bedding then choose a neutral color that will match. For example sold , white, cream, gray or light brown.
How do you measure bed skirt drop length?
Here is a comprhensive guide to measuring you bed frame or box spring to ensure you have the right size bed skirt or box spring cover.
Is a dust ruffle the same as a bed skirt?
Yes generally speaking the two names refer to the same thing. However, a dust ruffle is more generally used to those skirts that have a gathered look.
What is the average length of a bed skirt?
Should a bed skirt touch the floor?
This is entirely up to your own personl taste. I like to have the bed skirt jsut skim the floor. The job of a bed skirt is to uhide aything that is under the bed so I don't won't anythinbg to peek throuhg.
Some people like to rise the bed skirt a half to an inch above the floor. This gives a smart contemporary minimalist look. This may also help when you are cleaning the under bed spaces, particularly with a vacuum cleaner.
Are bedskirts out of style?
I certaily don't think they are out of style, simplyt because they forfill aneed of filling up that space under the bed.
Well for a contemporary look more people would furnish their bedrooms with an upholstered bed that doesn't require a bed skirt of any kind.
In case I'm not explaining myself properly this is the kind of bed I mean. Youc can see the upholsterd bed dosn not reqire a bed skirt.
The modern look is to tuck the bedding under the mattress, instead of letting it hang down around the sides.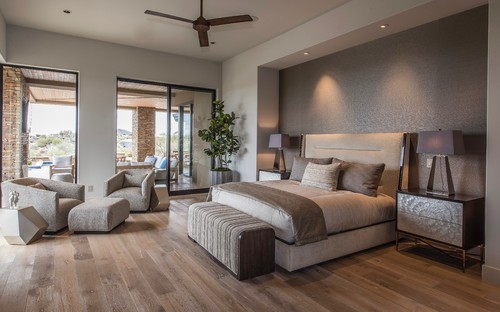 Another look that makes it optional is to have the gap showing under the bed as we can see here is this photograph of a country-style bedroom, from HOUZZ.COM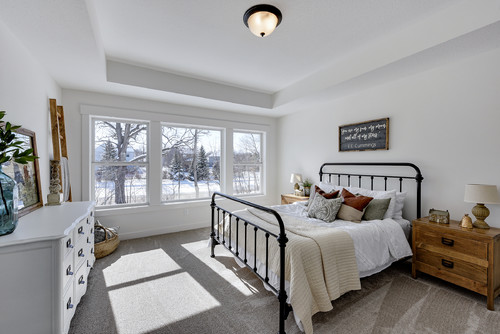 However, if you have a bed already you don't want to spend money on a new one then a bed skirt will be needed. The skirt will cover up a mutitude of sins!!!
Conclusion
As we have seen there is a great deal more to bed skirt than you could imagine.
The great advantage to bed skirts is they cover up that area under the bed we would rather other people didn't see.
I hope this comprehensive guide has helped you make a great choice for your own home and bedroom.